Women are cheated!

United States
October 14, 2011 4:01pm CST
We as women I feel are cheated when it comes to us searching and buying clothes! That's right because have you noticed when we women go shopping for a shirt or a pair of pants or maybe even a nice dress suit for your job. And you are walking through the clothes section and down the aisles and you see so many kids clothes that you wish they made for us? Yes!!

It makes me so angry. And makes me wish that I could sew!

Does this as a woman make you angry?
6 responses

• United States
15 Oct 11
Nope, I hate shopping for clothes. So I shop on-line. I don't mind shopping for my husband or nephews. I just don't like shopping for myself. I have never wanted to sew. I can't even imagine what the clothes would look like when I finished. But I can imagine not wanting to wear it when I was done.

Best Wishes!

• United States
17 Oct 11
I have never shopped for clothes on line because I am scared I might get the wrong size and have to go through the trouble to return and wait for the right size. But I have thought about it.

• United States
18 Oct 11
I like it. I don't have to worry about the pushy sales people stand over me while I browse the racks. That just irks me. I would just leave the store when they start stand over me. They make me feel like a criminal and I've never even been arrested. It's sad if you ask me.

• United States
14 Oct 11
I have a sewing machine nd my sister inlaw said she will teach me to make clothes. If I wanted to learn bad enough I could learn on my own. Anyone could do that if it meant that much to them. It does not make me mad either.

• United States
14 Oct 11
We have a sewing machine here that my mother left, But I have really bad eye sight and I do wear glasses when I really need to but I have not been back to the eye doctor in a long time just don't have the $ and I have tried to sew before and I just can't get it right?


• United States
15 Oct 11
I can't follow a pattern so I don't do it. I will learn something this summer..

• Vietnam
15 Oct 11
nowadays, there is few women know how to sew, even just with a small hole. My girlfriend like that. why do you want to sew by yourself? You think you can sew a beaytiful shirt. I don't think so. today, there are too much wellknown clothes brand. Why don't you choose one of them? I think they will not cheat you because they always have to keep their pregtige in bussiness. anyway, I hope someday you can sew a nice clothes by yourself.

• United States
15 Oct 11
It doesn't really make me angry..while I think girls clothes are cute, they wouldn't really work for me as an adult. That being said, I'd like to learn how to sew because I'm very petite and it's so hard to find clothes that fit me!

• United States
17 Oct 11
I used to be small so I know what you mean.

• Australia
15 Oct 11
Well, us women are the main shoppers and we simply fall in love when we see a really nice top or dress that we like so shops kinda use us as an advantage. I went to a unisex clothing store because it had all my favorite brands. I saw a bunch of shirts on sale for $8 and I thought wow! Such a good deal. Once I have chosen my shirts and lined up at the checkout. I saw the guy section and their shirt were all $5

All their jeans were like half price of that of women's jeans and pants. Also, the clothing fashion for women are really frilly and the tops look weird with random holes everywhere and they are so expensive! It's hard to find proper shirts these days. All the female stuff are always more expensive. We are getting cheated!



• United States
17 Oct 11
L.O.L. I agree!! We are cheated! Yes We Are!!


• Philippines
15 Oct 11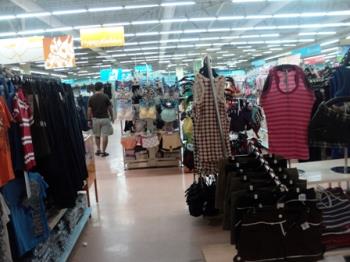 I don't really feel cheated that way because although children's clothing are cute I don't think those would fit my age. But you know when I shop I also do feel cheated in one way or another. This is because, I noticed prices have gone up really high but I have no choice. When I really like the clothes I still have to buy just the same even if it is pricey. I just have to purchase with my eyes closed. Also there are branded clothes which are ridiculously priced above their real quality and appearance but people buy them just the same all because of the brand. Isn't that a way allowing oneself to be cheated?


• United States
17 Oct 11
Yes clothes and a lot of them are overly priced I think for children and adults! That is why I would love to learn how to sew.