If You're Not Here (By My Side) by Menudo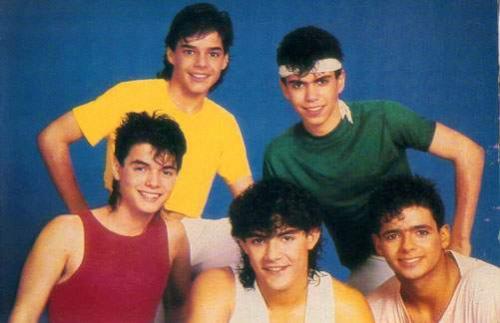 Philippines
October 15, 2011 9:46pm CST
I loved this song so much when I was young. Me and my friends sang this a lot during high school. Whenever we are looking for old songs, this song would be one to always turn up. Like recently, I've been looking for songs from the 80's and this song just popped in my head so I downloaded it.

The song is just so sweet and romantic. And to think that a young boy is singing it which I don't think already has the experience about love related to the song. Still, the singer was able to give the emotion to the song and the lyrics... If you're not here by my side... Can't hold back the tears I try to hide Don't think I can take it I know I won't make it... Make it without you...
6 responses

• Philippines
21 Oct 11
Oh my gosh I love this song. I'm born in the 90's but I always hear this on the radio and one time I asked my mom about it (she's a teenager in the 80's) so she told me about this song that it's by Menudo. I downloaded it too, and now I can always hear it whenever I want. I still hear this on the radio sometimes. It's a really beautiful song, and also the voice is very beautiful.

• Philippines
22 Oct 11
I think it's Ricky Martin singing this song. He was part of Menudo before.


• Philippines
16 Oct 11
Oh,who can forget the cute and super gorgeous Ricky Martin. Okay, he's still gorgeous today but he's really cute before (ahaha) I do like him before and always listen to their songs and buy posters :) But my favorite singer will always remain "Barry Manilow" Have a great day sis


• Philippines
21 Oct 11
thanks for the br mark and have a great weekend sis


• Lapu-Lapu City, Philippines
22 Nov 11
this is one of my favorite songs of the group Menudo. i still remember them and even have other songs of the group in my phone and computer. oh yes, they always bring me back to my teen years.


• Singapore
19 Oct 11
i just listened to this song as i was responding to all my posts and it's nice. It's easy to sing along, touching lyrics and length of song is not too long too. I like the overall feel of the song, and as i was checking out this song, i found another song, "Somewhere in my past". It's a nice song. I've always like such songs, sad songs, they are good for my runs.. haha



• Philippines
16 Oct 11
I remember the song very well. We used to sing and hum it during those days, too. The group was very popular then. I am wondering now what has happened to them. It was a well composed song, yes, i do agree with you. Lots of us could very well empathize with it. The love need not be meant for a girlfriend or a boyfriend alone. It can be widened to include all sorts of love which cause one to feel just like it. The next type that comes to my mind is the love shared between husband and wife and, the love of a mother to the children. However, it is always ticklish to remember how my daughter would always be so very sad whenever I would go away for any reason and I don't tag her along. At times, she would get sick and so, I would be taking care of a sick daughter by the time that i get home.