Horseradish was my favorite always

India
October 24, 2011 12:02am CST
But I don't take it anymore after I had high level of blood sugar, my doctor advised not to take anything that grows under soil. A friend who suffered from sinus had got cured by including horseradish in the form of curry with gravy daily for about 6 months. Today I read in a our local newspaper report that German researchers say , this speeds up blood flow to the sinus cavities, helps to open and drain clogged sinuses and heal sinus infections more quickly than the decongestant sprays do. One can take its juice, one teaspoon twice daily. Since many in our country suffer from sinus and horseradish is available throughout the year, hope many will be benefitted. In my language it is called, SARU or KOCHAI. Hence I am sharing here. Are you fond of this horseradish, how you call it? Please respond, share and comment.
Kalyani

God bless you 11/24/2011
3 responses

• United States
30 Oct 11
I love horseradish, in my country you can buy it shredded in a glass jar ready to use. I love to eat it with meat, it adds a nice flavor. Also to put it on sandwiches. It sure clears the sinuses :) it's called Meerrettich in German :)

• India
31 Oct 11
Thnxs for the response and sharing the German name.

Happy posting, cheers.
Kalyani

• Garden Grove, California
14 Nov 11
kalyni sorry I misspelled your name before its a really pretty name. soleil I love horseradish on roast beef its so good.

• United States
24 Oct 11
I use horseradish, it's great for keeping my sinus clear, and I don't get as many headaches. I have never, ever, heard that horseradish is not to be used by diabetics. Interesting. My father was a diabetic, having to take shots twice a day, along with numerous blood sugar testing. His Dr did not ban horseradish, but let him use it with meals because it increased his circulation. He was also allowed to eat things that grew under the soil (potatoes, carrots, etc), but he had to count the amount of carbohydrates and all that. All starches ingested eventually turn to sugars in the body. He had to eat balanced meals so he could get all of his proper nutrition: vitamins and minerals from natural sources. Horseradish has only 6 calories, and 1.4 grams of carbohydrates in it, and zero fats (for each tablespoons worth), so I find it a little surprising that your Dr would not let you eat it, (unless you are eating it in sauce as opposed to in it's natural & ground up form.) I think horseradish is great, and there are so many healthy benefits from using it.

• India
31 Oct 11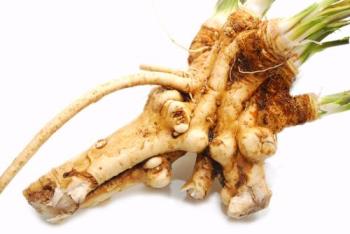 Hi Joy Thanks for the detailed information, here is a picture of horseradish available in daily market

Happy posting, cheers.
Kalyani

• Garden Grove, California
14 Nov 11
hi Kayni oh I love horseradish on meats. but here we never get itl; I imagine your doctor is thinking of the sugar in some root vegetables like yam, sweet p otatoes, carrots for me drive me nuts as they shoot my blood sugar up yet the staff in the kitchen use then so often here. they are high in sugar content.You know it makes sense with horseradish juice for a decongestant as the chemical decongestants I used to take make your nose actually swell more after so much usage

.we call it horseradish here in the uSl I really like to use it on food, a little does go a long ways though. lol. I used to grind it for my mom and it wo uld make my nose run and my eyes water too. oh but it is so good on roast beed. uh you do not eat beef though do you? Probably your diet is more healthy than ours. bu t I do not eat a lot of meat though. I just wish we got more fresh vegetables but we get cooked mixed vegetables so that good I guess.