Are you decorating for Halloween?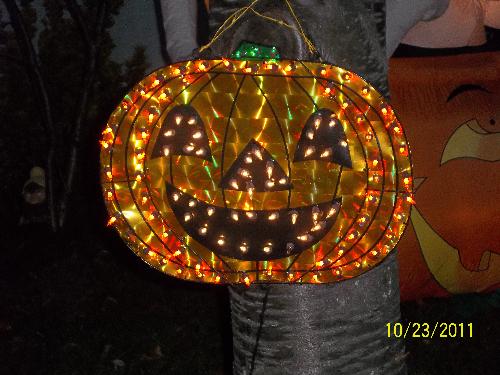 United States
October 26, 2011 7:19am CST
We are living with relatives right now and she has put up a few decorations on the inside of the house.Before,when I lived in my own home I put up decorations in the windows facing outward as well.

I had pumpkin designed leaf bags.We filled them and put them in the front yard,as to great the children when they came up the walk way for trick or treating.

We also put some orange colored lights up and mock gravestones in the yard.It was fun! When we move I plan to have fun again with more Halloween decorating.

Do you decorate for Halloween? If so please describe it.
5 responses

• Onaway, Michigan
26 Oct 11
I don't decorate my place for Halloween don't have decorations and I am not a creative person to come up with something.

• Onaway, Michigan
26 Oct 11
I think once we get our own place I will start getting into decorating more. I think the most I have ever decorated is putting window clingy things on the window.

• United States
26 Oct 11
Tina,stary1 is right,you don't have to be creative.Those window clings work great.I got them when we had a place and will get them again when we move. Good Luck



• United States
26 Oct 11
stary1,"Happy Birthday"!!!!

It is fun to decorate and I cannot wait to get our own place and decorate.

• United States
26 Oct 11
Thank you! We are going to probably have to move from this area unless I can find another way to make some more money besides just myLot.Or possibly a temporary place till the school year ends. I don't blame you for fishing!


• United States
26 Oct 11
I tend to decorate more for a season then for a particular holiday, when I first got my own house I decorated for every holiday but I found it to just be so much work it felt like I was always putting up or taking down decorations, this is why I decided to start putting up decorations more for the season I decorate in September with a fall theme and leave it up till Thanksgiving then switch to a winter theme that I dont take down till spring when I start my annual planting.

• United States
26 Oct 11
I think that is good if that is what suites you.


• United States
26 Oct 11
We don't really decorate for holidays anymore around here, since I'm older and it's just my mom and I who live here. Our old neighbors used to decorate a lot, they went out of their way to make their yard look extremely festive...That's the one thing I'll miss about having them around here! I love holiday decorations, they definitely get me into the spirit of Halloween and Christmas more.

• United States
26 Oct 11
Hey,you are never too old to decorate,my mom will be 73 next month and she love's decorate.Especially at Christmas time.She loves Christmas decorations.


• Philippines
26 Oct 11
We don't decorate halloween in our house.But in the office we have and during childhood we usually decorate our class room.