when i am dead - no flowers please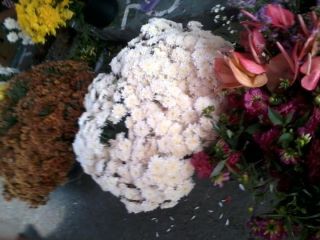 Philippines
October 31, 2011 5:45am CST
Yes no flowers! It is the day before nov 1 - all saint's day and this is the time where we go look for flowers and buy flowers for the DEAD! the DEAD! but cmon! the dead won't be able to appreciate the flowers.. they wont be able to smell it.. and what will the flowers do? just beautify their graves.. yeah i know it has something to do with tradition and respect of the dead and we do it once a year but do we need to buy those expensive flowers?? nooooo but mom says we have to! oh ok so me and hubby went to go and buy flowers but sooooo expensive i was overwhelmed by the prices!! a stalk of a flower costs 90 pesos!! hell that is too much and we are going to visit 5 graves..darnn! so i told hubby if you are planning on buying me flowers when i am dead, go and buy those now and give it to me in that way i can appreciate it and get to smell it and see its beauty..not when i am dead and rotting and won't be able to see it!
8 responses

• Philippines
31 Oct 11
Well, i can understand what you are thinking Jazel. I guess, i would like it to be that way too. No flowers only candles, lighted and mass offered. I always tell my daughter, when we die she should have us cremated. And i have seen just recently on TV , that the ashes could now be placed in those small stone like containers, that could be used as a bracelet or necklace. At least that way, my daughter can always remember us , each time she wears them.


• Philippines
31 Oct 11
wow now that is cool! hahaha i will have that in mind and tell hubby. We were on our way this afternoon to buy the flowers and i was ranting how much the flowers costs and he said he would rather be cremated and i said i do too! and if he have me cremated, he must put me in an urn and in the bedroom hahaha.. but since you have a better idea, i might go for that too!


• Philippines
31 Oct 11
And one thing more jazel, i don't want people to see me in a coffin. So, they will just see me in an urn already.


• Philippines
31 Oct 11
It's very simple if that is your preference, just put
"please omit flowers"
in your obituary and have it engraved in your tomb stone, no hustle really




• Philippines
1 Nov 11
yes this is a nice idea.. i might have books instead of flowers, children's books instead..to be donated to children who does not have access to books or education.. nice nice idea


• United States
31 Oct 11
I have also never understood the tradition of leaving flowers at a grave. We do not only do it on one day a year but many times a year ... not me personally, but members of my family. I know that the person's physical body is buried in that spot, but I do not think that is where their spirit is nor do I think that they appreciate the physical things like flowers the way that the living do, so I don't understand why people do it.

• Philippines
1 Nov 11
Yes my mother also do go to the grave and put flowers more than once a year..more like twice a month..well i guess that is her way of comfort.. but there is no point in explaining it to her, she follows tradition religiously.


•
31 Oct 11
Yes I see your point but flowers do add something nice to what is a very sad and bleak occasion. Words can't ease the pain but flowers can take the edge off of a very harsh occasion. Even at the aged of 61 loosing both parents in the same year was hard but having family friends and flowers around made things a little easier. I know they are expensive and I don't agree with burial as grave maintenance can be expensive as graves look so sad without flowers. Graves are I know a place where you can remember your loved ones but that can really be done anywhere.

• Philippines
31 Oct 11
I believe that is mostly the reason why people put flowers on grave because the event alone is sad no matter what..cemetery is creepy..flowers ease it a bit huh? well i still purchased the flowers even if it was a bit off the budget


• Philippines
31 Oct 11
We usually put flowers on gravestones to pay tribute and give honor to those who passed away. But I do agree that we should be more practical in choosing the pots or bouquet of flowers. It's the thought of giving that counts. :) God bless!

• Philippines
1 Nov 11
yeah but still can't prevent people to do the traditions done over the years

• United States
4 Nov 11
I would be tempted to buy flowering plants early in the spring and raise nice flowering plants to put one on each grave. Here we can often get a six pack of starter plants for less than three dollars. I do not know how that compares to your pesos. Bright red geraniums would be pretty and would at lest last longer than a cut flower. I understand the fact that flowers should be a gift for the living.

• Holiday, Florida
31 Oct 11

actually i feel the same about flowers while im alive. i dont like cut flowers, beautiful but they die and leave a dreadful mess.

why not buy live flowers to plant or in a pot so they can be watered and enjoyed?

• Philippines
1 Nov 11
Hi bunny! Well i feel that way too..and when we went to the cemetery my husband's sister in law did bring a pot of plant with flowers in it..all she need to do is water it and it will be alive all year long.

• Singapore
31 Oct 11
jazel_juan, While I can understand your prerogatives and arguments here, I just want to point out that the flowers does play another role for the deceased close family members. You are spot on that the deceased may not enjoyed and/or appreciate by the deceased but you should remember flowers are the best medium of expressing one's feelings. The fragrance, freshness and types of flowers make them unique. Although flowers might not last for a very long time, but they play a vital role in strengthening of bonds and compliance with the tradition of culture that brings about some sort of closure. Liken to flowers being the best gift for the special one in your life whilst they are alive, I have to say that they are just as special and relevant when they are not around anymore. Flowers wither but the memories remain etched in the heart of the giver. So, I have to say that it is not really your call especially when one is already deceased to begin with and the choice of the giver.