This is the best look for Halloween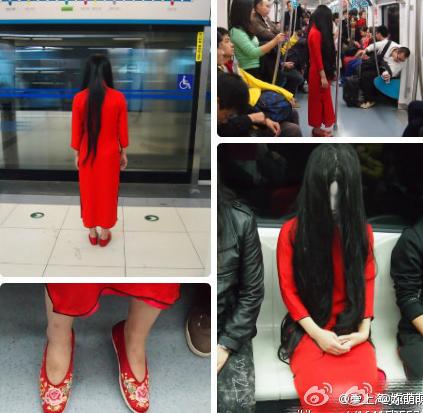 Guangzhou, China
6 responses

• Ipswich, England
3 Nov 11
Well i like the ghost look she is having there :) Halloween is unlikely to really catch on here in Bucharest in the nearby future, partially because people don't like it (although there are some who do, like me and my girlfriend) and probably because it's hard to go treat or trick around here as most people live in flat apartment blocks.

• Philippines
3 Nov 11
That's the Sadako look! She should have worn a white dress to make it look more like Sadako and she should not have been wearing shoes.


• Bulgaria
3 Nov 11
Wow, really nice one. I thought that she tries to immitate the girl from The Ring, but why the red outfit? Anyway, thats what I call "to get into a role". I would never have the courage to go out looking like that, even on Halloween

• New Zealand
3 Nov 11
Halloween its kind of new in New Zealand. This year i was into the Halloween thing i kind of enjoyed it, i look forward to next year

• South Korea
8 Nov 11
OMG!! that was scary and I would be convinced she wasn't a human being if I saw her. I think her outfit was perfect and the hair and everything



• Philippines
7 Nov 11
i think the best look would be that of a witch.

done in black robe, face painted red and the eyebrows drawn like a thick sharp mountain outline with white eyeshadows and black lipstick and of course uncombed topsyturby hairstyle. i guess everyone would run away.

but isnt halloween something to make people scared too? not just trick or treat.