There is going to be a midget contestant next season

Calgary, Alberta
November 11, 2011 6:26pm CST
[b]If you dont watch survivor, dont post [/b]Throughout the history of survivor we had seen some people handicapture or differently abled who played the game before. It started with Christy from survivor Amazon, she is deaf and she makes it the final 6, Then in Vanuatu, we have Chad who is an Amputee in makes in Final 8 in Vanuatu, Then have Kelly bruno, who is also an amputee who didnt reach the merge of Nicaragua. Also I think we had some people who are obviously bipolar who makes it on the show but I wont mention names. Next season ,it was said that a person with dwarfism makes it next season, Its pretty intriguing cos we never have a midget contestant before. Well in the Amazing race we have Charla, and she did well in Amazing race, she is proven she can compete despite of her condition. Do you think this contestant can go far? Will this person be seen as a threat on the game or will this person be underestimated? do you think this person can do well in the challenges? I'm very intrigued with this person already, I hope the rumors are true. I hope this person will go far and wont suffer the same fate with Kelly Bruno.
3 responses

• United States
12 Nov 11
Haven't heard that and don't watch Amazing Race, but do remember the other Survivors you mention. They played well with their disabilities..very amazed at how well! I don't have a problem with them offering handicap folks a chance, but I think that the way the game has changed now...to where it is all about alliances and who likes whom...I don't know that they will accept a smaller person..just for the sake that they don't have the strength for the challenges. I always notice that hte challenges seem greatly put together for all sizes, strengths, and male/female, young/old...but the height of one person when everyone else is taller..could be a problem. I mean, like in a ladder...those rungs are apart for the regular height, but a shorter person had shorter legs and might not be able to climb the ladder..thereby now being able to do their part for the team. I don't know tho...maybe they can create challenges that accomodate height too. Guess we'll see! just DOn't bring back a prior player!!!!!

• Calgary, Alberta
12 Nov 11
Its confirmed no returning player, which great, though there are rumors someone from another reality show might crossover, but it doesnt matter cos that person is at least a survivorvirgin.there is a possibility this person might sit out in challenges, I guess if this person is good in puzzles she will have a chance. I hope the rumors about this person is true. I want to see how it will play out.

• United States
12 Nov 11
Other than cooking challenge shows....Survivor is the only reality show I watch, so I dont' care if they come from another reality show. I think that is probably the general feeling...viewers are tired of the returns!

• Calgary, Alberta
14 Nov 11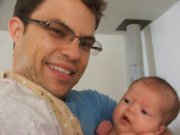 damn, source are inconsistent,some say the short person is male, some the short person is female. I wont mind having 2 midgets next season though. The spoiler sources dont give out full spoilers anymore, they tease people with small information slowly. this is the Picture of Leif Mason, He is the rumored first midget contest of survivor (I thought its russell

) I cant have any first impressions of him.

• Philippines
12 Nov 11
Really now? Hmm.. interesting. I wonder how that will play out with some of the challenges. But remember that one from The Amazing Race? She seemed to fair well with the competition. Would be interesting how it goes with Survivor, tho.

• Calgary, Alberta
12 Nov 11
I think this person should play the way Chad from Vanuatu played his game on premerge,he manage to be an asset to the tribe and not be a threat on premerge. he manage to get alliance. Unlike Kelly Bruno who is not given the chance even if she is a tribe asset cos Brenda thinks she is a threat. I wonder how tall this person is. I just found out, that the short person is a female.

• Philippines
12 Nov 11
That is good to hear. Yeah, I think Chad played a good game and even had a good chance of outlasting them all, if only they were not outnumbered by the women post-merge.

• Calgary, Alberta
12 Nov 11
I hope this person will be inspirational and not a laughing stock. What this person need to survive is first,not be a weaklink, 2nd not be a threat no matter what. It would be surprising if this person ends up as a mastermind villain instead of an underdog.

• United States
12 Nov 11
Its hard to tell if a person will go far until the show is aired and we see what tribe he or she is on and the tribes reaction. I think the person will be viewed as a weak link. I'm just basing this on past tribe reaction when someone is older, handicapped or a woman. I hope this person goes far because I'm tired of seeing the same cookie cutter people on Survivor. And unless it is an all star season, I dont want anymore repeat players...they had their chance.

• Calgary, Alberta
12 Nov 11
indeed previous players should only play with previous players, Let the amateurs play by them selves cos its unfair,If this rumor is true, this person will have a very challenging game, he or she must proven his or her worth to the tribe but this person also have to make an effort to not become a threat. Since handicaps never made the finals for they were seen as threats.