Its time to set my Christmas Tree . How about You?

Taiwan
November 11, 2011 8:30pm CST
Some people set their Christmas tree in november, some in the beggining of december some at the very same day . Today is a beautiful day and I am planning to set my Christmas tree. I am expecting a friend over, she wants to help, together with my kids are going to set it. I am going to cook something good for dinner (I dont know what yet haha) I am going listen some christmas music and put ornaments around the house. I really enjoy that , for Us Christians , Christmas time is very special. When are You planning to set your Christmas tree?
6 responses

• Philippines
15 Nov 11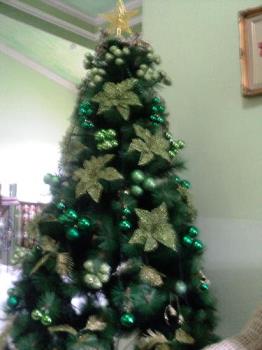 Oh yeah!

I do understand your excitement for that is the same feeling I experience whenever Christmas is approaching. Actually this year I am doubly excited so I purchased a taller Christmas tree and as early as October 15 I already decorated and set it up in the living room. I want to feel the Christmas for longer period so I started putting Christmas decorations that early. I loved doing the decorations. My son was playing old-time Christmas songs while I was doing the Christmas tree and other decors because he knows I love listening to old-time Christmas songs a lot. My husband's duty was setting up Christmas lights outdoor. I do all the decoration inside the house.



• Taiwan
15 Nov 11
Beautiful. Is that Your Christmas tree?? Good , I am happy to hear that exitement from You . You I am doing some ornaments also for the windows and to hang around I want to make my star too. So, this way I will have my kids busy too, because they are helping me to make them , they get so exited too. Thanks for commenting and sharing. Have a great season my friend.

• Philippines
15 Nov 11
Thanks a lot! Yes dear, it's my Christmas tree and it's even more beautiful with the Christmas lights on. Nice to hear your kids are enjoying doing the decors as well. Christmas is really a time for the whole family to enjoy whether it be doing the decors,shopping, eating or whatever.

I wish you a very wonderful Christmas season as well.


• United Arab Emirates
14 Nov 11
I am planning to set the Christmas tree on the first week of December. I ordered a pine tree and it will only be delivered on the first week of December. But I already bought some decorations for the tree. I already took out old Christmas lights so I can put it there when the time comes.

• Taiwan
15 Nov 11
Yes , guao a new Christmas tree , must be beautiful, long before I used to buy fresh natural trees but , not anymore. I love all those activities for christmas time. ahh I enjoy it a lot. I went today to buy some material to do some christmas ornaments to put around the house , I was so happy in the store , maybe tomorrow me and my kids will start to making them ,. Thanks for your comment.

• India
12 Nov 11
wow i think you people will celebrate the Christmas for two months.This was your biggest festival.I love to celebrate this festival with my friend as we don't have tradition of celebrating this festival at our home.Happy Christmas friend have a nice day.

• Taiwan
15 Nov 11
Thanks, You sound so kind. I think doesnt matter if You are Christians or not , here in taiwan many people set Christmas tree and they are not necesary Christians , I know that is the nativity of Jesus Christ that we celebrate , even some people say that , that date is not the real Jesus s birthday , but , Since I remember We celebrate it in this season , I think it doesnt matter the thing is that we have that loving and caring spirit for others, which is the whole meaning of Jesus Christ for Us. Thank you very much for commenting.

• Philippines
12 Nov 11
Haven't set up Christmas Tree yet but already done with the lights.My brother done it and put it in the terrace.

• Taiwan
12 Nov 11
Good You have some already. Iremember in my house with my parents from the beggining of december we started painting and cleaning the whole house and then put all the lights , for me that was being at the doors of Christmas and exited me so much , later we used to set the christmas tree. thanks for sharing my friend.


• United States
23 Nov 11
I am no longer too interested in decorating. But, I have some things in my closet. Usually, around the second week of December, I pull out one of the decorations. Once I see how pretty it looks, I pull out something else. Then, I start getting in the mood again.