We're thinking of adopting a cat.

Canada
November 12, 2011 9:03am CST
Hubby and I were thinking of adopting a cat sometime in the new year. Not sure, though, I think he's leaving the decision up to me (like he always does, lol) I have a big question, though, are they very expensive to maintain, though? We're on welfare and trying to pay down a big fat debt too, and that's one reason why I don't want to get a cat yet, but in a way we would all love to have a cat for company, and it's fun. I grew up with cats as a kid, both of my foster mothers had cats, and also Hubby's parents always did have one or 2 cats. So, ya, is it expensive to maintain a cat (food, vets, litter) or is it cheaper than I'm thinking. I"m guessing $50-$100 per month extra...but I"m not sure though. We just rent a 2 bedroom flat and our landlord says it's okay to own a cat, just not a dog.
9 responses

• India
12 Nov 11
wow get one happily..my good wishes to you..for us no cost is associated with having cats as we have many of them pondoring in my house and they just live on with my family though they are not allowed to rooms but they are free to survive with us like other mammals like ten types of birds that stay and nest in my little garden and those three types of snakes that too reside in my garden and breed and give birth to their offsprings each season even cobras giving birth in my back yard but never hurt us any way..owls and hawks came in different times so also many other birds do come..different species of snails,some squirrels and so many insects also do share my yard and all for free.Even I am trying to upload the photos I have taken but not yet successful I want to show others the smallest snake in the world which is often called threadsnake and here we believe that there is no antidote to their bites and they too sharing my yard.I will upload the photos very soon so others can see.

• Canada
12 Nov 11
Sounds like you guys have outdoor cats that can hunt for their own food.

• India
13 Nov 11
yes they are all free cats they come in share my home,they hunt outside and also get food from our house on a daily basis,I can remember there was one cat which used to ask my mother for food whenever she felt hungry and she trained her kittens the same way to ask for food and they will not disturb us in any way, sometime they deliver their kittens in my yard and I and my kids have to play the role of watchman so the men cats do not hurt or kill the small ones..so basically I am sharing my life with nature at least some part of the nature.

• United States
12 Nov 11
Well I will say this. The best litter on the market is tidy cats for small spaces and the big tub can be $15 and the small on sale can cost up to $7. That is if you don't want your place to smell like amonia. I know so many cat owners and that is the only litter they used. I bought the $15 tub every month for a few months and it was fine. I bought naturals cat food only along with canned because I did not want him eating all tat junk with meat by products. The food was about $6 a bag for about two weeks or less. We did not have him long enough to take to the vet. But,lion we took to the vet it cost us over $100 for the vet. he needed shots and all. I think is yu can manage him with his shots your going to do good. we recently gave tom tom to a friend because we were not home to feed and change his pan. so,his friend had mice and we gave him to him. the family loves him too.

• Canada
12 Nov 11
Hmm...I'm just thinking here, it may still be a bit much, since I don't allow myself much money, and I"ll be footing everything (bill-wise). I could probably swing it, but on the other hand my rent's due to go up this September coming up, and I don't know how much that'll be.

• United States
12 Nov 11
I know what you mean.. My rent goes up every time I make money with avon. I have to report bac to them but am waiting till after Christmas to go tell I made more cash. LOL Then we are said to be getting and increase with ssi and that will raise the rent. I was so glad to not have to buy cat supplies I did not even realize it till i went to the store. I would not get one if I were you. we now have a fish tank and that is fine because our turtle eats hot dogs when we run out of his food.

• United States
12 Nov 11
Well I think that it all depends. A lot of cat owners don't take their cat to the vet unless it's absolutely crucial. The litter can add up but if you can find coupons or great deals on it, or maybe even a recipe or two online (baking soda being the main ingredient, heck maybe oatmeal being another). I guess what I am trying to say is there is always a way around the expense of anything like that. Cat's are picky about food though, atleast any cat I've ever known and so while they may be happy with one type of food for awhile, they may want another later.

• Canada
12 Nov 11
I admit I never paid cose attention to caring for our cats (as a kid) like I did playing with them, haha. sounds like a lot to learn :-p But probably easy..........I hope? :-p

• Philippines
13 Nov 11
For me yes you adopt so that your life became meaning full keep up the good work.

• Canada
13 Nov 11
It's just something we're seriously considering as a family, we might have to wait a bit, though.

• Netherlands
12 Nov 11
Will you keep your cat inside whole time? If so it will use a litter (mine goes outside have a garden). You can buy something for that also use a piece of old newspaper (we get plenty of them for free everywhere and with the mail). You just need to pick up that and throw it away otherwise it will be smelly. But to be honest I think a cat smells always so does the litter. If you buy quality food your cat will eat less and there is less poop also. Also you will have hardly have health problems (kidneys, hearth, overweighed, diabetics etc). Even better is to feed your cat raw food (flesh and fish). With that your cat will hardly smell, same with the poop/pee, drink less, and poop less. Also you will have less teeth trouble or constipation (problem of many cats). Don't feed can food please! It's very unhealthy and there is a lot of sugar in it. Then it's better to add some hot water to the dry food. That is what my cat gets just once in a while some dry food but mostly the neighbours are feeding him also. My cat is over 12 years old and never been ill once. The others I had were also never ill, but at time I lived in an area where at certain point some cat hater shoot at cats and beaten them up. So not save to keep them outside even once. My cat never had any shots, according to my vet these animals are the most healthy ones (he should not say that as a vet) since also vaccinations are risky and side effects of them can be fever, allergies (all kinds of), the illness itself (if not at the first time it can be at the next), cancer, cardiomyopathy etc. But even a vaccinations is not that expensive as you think. Also if the cat stays in there is no way it can get a disease from an other cat. Cats don't get any diseases from human beings or dogs either. For my barn owl, cat and 10 ferrets I am not even spending 50 % a month. They all eat raw food and I partly litter made of wood pressed into pellets. I am allowed to put this in the green container so compost will be made out of it.

• Canada
12 Nov 11
That is a very informative bit of information you gave, thank you very much. I often wondered about commercial cat foods, and think about feeding them fish and meats, as that's what they would naturally eat if they were in the wild. My cat (if I get one) would have to be inside because that'll be the landlord's rule. Also neutered and declawed, since we have one piece of furniture that's an antique and we want to keep it for a long time.

• United States
12 Nov 11
I have three cats, and I do not think it is that expensive. We buy one huge bag of dry food, and for the ones with dental problems, I make their food. They eat some dry. I think it is cheaper than the cheap cans and also they do not end up at the vet as often. Keeping the fleas away is a big issue though. I have not found anything that really works. Initially the cat will be expensive as you will need shots, and spay or neutering, and buy the litter box and stuff, but maintaining is not that bad. Many of the shots they only need every three years, especially if they are indoor animals. I had one that liked to ride in cars and in a bicycle basket once. Just this year I read that it was common for the breed. I thought it was just a mix type of house cat, but have found pictures on the web this year, and the personality was great. Maybe your family would like to view getting a cat or kitten as a Christmas gift to yourselves. If there is any place you can get a cat called a Turkish Van, go for it. They are social, like water

and enjoy riding and things like that. Love kids. Look them up on the net, they are a cool cat. My current cats are all strays, but if I were getting a cat and could choose I would get a Turkish Van.

• Canada
12 Nov 11
I'll look up Turkish Van, but I just remembered that our rent is going up this coming September and we wont' know how much it'll be and how much I can beat down. But we'll see how we can budget after the rent increase, I'm thinking next Christmas now instead of this Christmas, not sure, though.

• United States
12 Nov 11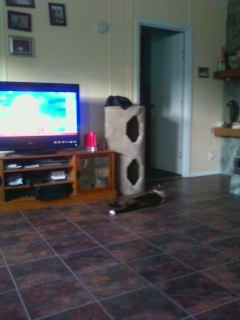 I have a very good vet and he does not overcharge for annual checkup and shots. I have two cats and get charged 100.00 a year for them. Then food I keep them on a good quality food (Purina Natural with Minerals) It contols their hairballs etc. That costs me 6.99 for a 3.5 lb bag that lasts my cats a month. I offset it with a bag of Fancy Feast to give them a good diversion catfood and switch out the flavors (there are three) That is 6.99 a bag too. Their treats is temptations which I buy different flavors for them but there is a hairball temptation treatment that you can feed them every other day as their treat. These packages run around 1.50 per bag. Watch the grocery stores and Petsmart and they will have buy one get one free. Target also runs sales on these treats a lot. Other than that toys and cat scratcher and kitty litter box. I bought my first kitty litter box in the kitty litter section. Geeez was I dumb Now I watch like after christmas when they have those big tupperware bins on clearance for like 5.00. I buy a couple of them and use those for my litter box. I get them deep enough they can't knock out their kitty litter and short enough they can get in. Sure beats 20 to 30.00 for a square cat pan in a pet section! I have a big scratching post for them but they usually lounge on or in it more than scratch on it LOL but I bought them one of those round ones that have the card board scratcher in the middle with the little ball they can chase on the outer ring. This has really been a good dual purpose. My one cat will really scratch deep in it. I think I paid 13.99 at Petsmart for it Once you get the basics out of the way maybe buy something a month til you get what you need then get your kitty. You won't notice the pricing so much as buying it all at once Kitty Litter I buy the 20lb box of clumping litter so all I have to do is scoop the clumps out. add as needed. I clean out my litter box completely every 10 days and wash out. I use 40 lbs of litter a month. So you are talking about 20.00 a month for litter. I have one cat that wants a small can of cat food at night my other cat will not touch it. so I get the fancy feast small cans. that way I know there is no waste and i am not throwing half cans in the fridge and forgetting about them (old age here) So hope this helps you with your decisions and what to do. But being on a budget which I am I sometimes think out of the box on getting some things for the cats like the litter pan. Will look forward to hearing you got your new kitty!

• Canada
12 Nov 11
Thanks for your detailed response, I"m still humming and hawing over getting one, though, especially since I know my rent will be going up this September coming up. We might wait a year to see how we'll fit with the rent increase, and decide after that, since we don't know how much it'll be.

•
13 Nov 11
i have a cat and she is much cheaper to keep than my dog, but she is quite a timid little thing, and for some reason i have never understand only likes dry food, so she is quite cheap and easy to feed. she has not yet needed to go to a vet, but i have a supermarket round the corner from where i live that sells pretty cheap cat litter. you could, if you wanted to be very naughty, get a female kitten and then when she's about a year old allow her to have her own kittens and sell them, though the cost of feeding the kittens prior to selling them means you wouldn't make any significant money from it. but thats a naughty idea you should ignore unless you would really enjoy doing that. but i think a cat is nice, definitely a cat is much cheaper than a dog, but mine does cost a bit of money, but to me its the sort of money that could easily be wasted on something else, like if a few times a week i walked somewhere rather than get the bus then that money saved pays for the cat.

• Philippines
13 Nov 11
I have nothing against cats, but unlike you, I'd rather have more dogs and puppies than having cats. :) I don't like it when cats try to climb over dishes and lick just about anything yummy or not and for me their poops are more malodorous than dogs. I'm not trying to disappoint you with kitties, I love looking at 'em or just any kind of animals but definitely not having one at home. :D God bless!