Huntsman, Paul HARDWOODED in debate, despite poll results.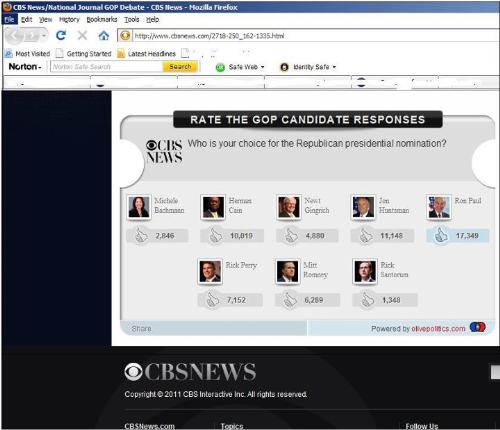 Lancaster, New Hampshire
November 12, 2011 10:44pm CST
Please, first take a look at a screen shot from the actual CBS online poll. The results were as dramatically lopsided even this afternoon. I voted and you can only vote once. Despite this poll, CBS showed it's disgusting bias by giving John Huntsman and Ron Paul a serious shafting. In a debate that was aired on tv for 60 minutes on most affiliates (with an additional 30 minutes online), two men were glaringly ignored. The number of questions and follow ups, which were 60 seconds and 30 seconds respectively are summed up in the following stats: Perry - 5 questions, 2 follow ups Newt - 5 questions, 1 follow up Cain -? 5 questions, 1 follow up Romney - 4 questions, 1 follow up Santorum - 3 questions, 2 follow ups Bachman - 3 questions, butted in a follow up Huntsman - 2 questions, 1 follow up Paul - 1 question, 1 follow up...(a total of 89 seconds of speaking time) The one guy who actually holds a definable differing opinion (and the most informed one in my opinion) on foreign policy is given the least amount of time in a foreign policy debate?
7 responses

• United States
13 Nov 11
Yup, that's just the way it's been. It's even worse for Gary Johnson on the rare occasion that he gets invited. I can't even watch these debates anymore. I actually had this one for a while, and then looked at the screen and thought "Is Ron Paul at this debate?" He was, I just never saw him speak. I've heard enough from, and am tired of, Bachman, Perry, Romney, Cain, Santorum, and Gingrich. I think it should be clear to both Perry and Bachman that it's time to throw in the towel since both of them barely register in the polls anymore after being at the top. I'd really like to see a debate with Huntsman, Paul, and Johnson. I'm not a fan of Huntsman, but at least he's different than most of the generic candidates so I'd like to hear what he has to say.


• United States
13 Nov 11
The single biggest issue I disagree with Johnson on is abortion. At the same time though, I like that he has the guts to SAY he's not pro-life since, aside from Ron Paul, every other candidate just says they're pro-life when I think half of them are not. I would definitely like a Paul/Johnson ticket, sadly though, the media blackout has worked well enough to bring Paul's numbers down. I remember when he was number 2 in most polls while the commentators kept talking about 1, 3, and 4. I totally agree with you on a Johnson-Biden debate. I said I'd like to see more of Huntsman because most of them are just like a broken record whereas I occasionally hear a different point of view from him. If you turn on any debate and listen to Romney you will hear the EXACT same thing being said at each one.

• United States
13 Nov 11
Paul, Johnson and Huntsman should maybe branch out and see if they can create a groundswell to rival the predefined debates. Inevitably, Bachmann and Perry are going to implode. Rick's just too much of a tool and ol' Michele is starting to come across like the east side of Pelosi Street in Batsht Crazyland. So if they can get hot elsewhere, one of them might be able to surge as the time draws near.

• Lancaster, New Hampshire
13 Nov 11
The situation is worse than I realized. Not only did they pull the poll off the website after the debate...they LIED ON AIR ABOUT THE RESULTS..... Watch, especially at the end of the video: http://www.youtube.com/watch?v=DeWowc3HTtQ

• United States
14 Nov 11
In one breathe, they try to say they are unbiased by inviting all the major candidates then they prove they are biased by not giving equal time.

• United States
17 Nov 11
I am not a Republican, so I cannot vote for any of the people in that election, and honestly, I don't like any of them. They are all horribly flawed. I honestly wouldn't vote for any of them if I could. As far as their debates go, no matter how much time you give them or how many questions you give them, they seem to not answer anything to my liking, or I cannot agree with anything that they have to say. I don't think that the time and the amount of questions they are being given are fair because I think everyone should be given equal questions and equal time, but I guess it all depends on how the people running the debate want to handle it.

• United States
14 Nov 11
I have to say, I was quite relieved by that poll! It's GREAT to see at least one that doesn't have Huntsman, the ONLY sensible candidate with a heart and a brain, with only a small handful of supporters. He's the only one who wouldn't scare the heck out of me if he were to be elected! Now that I got THAT out of the way, with which I know you disagree, I'd like to add that I agree with YOU for the most part here. I don't think any debates featuring more than two or three candidates are ever fair to everyone. Maybe it's just not possible in the short amount of time that's allotted, I'm not sure. I think they need to either have longer debates or fewer questions when they have so many candidates because I think they all deserve to have their views heard. Even if someone has little or no chance of winning the nomination of his or her party, his or her views can still add to the conversation and bring notice to points the others may be overlooking. Foreign policy is the one are on which I agree with Paul and he's definitely been muffled throughout these debates. Annie


• United States
15 Nov 11
"In a debate on foreign policy, they effectively shut out the ONE man with a contrasting ideology on foreign policy turning it in to a war party rather than a debate." They also shut down the man who has more foreign policy experience than all of them plus Obama combined.

• United States
20 Nov 11
X, I've no doubt there are areas in which I agree with each of the candidates but my opinion of Paul wasn't formed by the media or by sound bites. Am I wrong to believe he's opposed to the minimum wage laws, he's against universal health care, he doesn't believe in a STRONG EPA, he's not for improving public education rather than giving the rich vouchers to send their kids to private schools, he's against a woman's control over her own reproductive health, he doesn't think companies like BP or mining companies should be held accountable for "accidents" and he really thinks business owners should have the right to discriminate or segregate due o race and that "the market" will take care of it? Just one of these issues would be a cause for concern with me but all of them makes it a definite deal-breaker. Annie

• United States
13 Nov 11
That just shows you how frantic the media is trying to influence the choice of nominee. They want R's to choose someone Obama can defeat. I don't pay any attention to the debates (I can never find them in my TV listings) or the polls unless I want to keep up with media manipulation. I read the candidates' interviews and listen to them on radio appearances. Unless a miracle happens and people suddenly wise up and discover they have brains and can make choices aside from what the media tells them, we will end up with a nominee that will go the way of McCain. I'm a firm supporter of Herman (Honk**s for Herman! as Neil Boortz joked

) but if another person is more capable of winning office I'll vote for them in the primaries. Wow, I did not know that "honk**s" was on the myLot no-no list!


• Lancaster, New Hampshire
13 Nov 11
Lol, yeh, that filter is awfully weird sometimes. This was quite possibly the WORST run debate so far. Not only was it poorly moderated (inexcusably poor), it was the MOST glaring example of bias I have seen so far. I swear it's like all the media outlets (this includes Fox) are all reading from the same script. And speaking of Fox...their headline controversy this morning? How Bachman was not given enough time in the debate last night..

• United States
13 Nov 11
I just watched this debate. What a frickin joke. Nobody wants to hear Perry or Romney anymore, they repeat the same crap over and over. Lets look at Huntsman, Paul, Gingrich, Santorum and Bachman. These are the candidates that get the least time so therefore would make more sense to question. Sheesh, the media just can't help themselves from being backward... They wonder why most "thinking" people don't give them a second thought. Then, to lie about poll results to suit themselves. What we need are ETHICAL reporters that will simply report the facts and let people decide for themselves.

• United States
13 Nov 11
It's just another example of how the media can inject their bias and influence into the election process. They are the ones who decide what and who they are going to cover and who they are going to ignore and downplay. They also decide, when they do cover someone, how they are going to be portrayed. They can report on someone in a good light or make them look bad at every opportunity. It can be something as simple as which picture of the person they are going to put into the story or up on the screen. We've all seen that. If they don't like a candidate, they use the picture taken at an inopportune moment, with their eyes slightly closed or their mouth open. They try to make them look like an idiot. If they like a candidate, they always use the professional portrait photo that makes them look perfect. In the case of Ron Paul, the media has been intentionally ignoring him for years. No matter how popular he really is or how much of a following he has, the media people do their very best to downplay him, ignore him and make him appear insignificant at their every opportunity. And it's not just the left stream media either, he is ignored and scoffed at by Fox News as well. They all considered him to be too far out of the main stream. He has what they consider to be "radical" ideas for change and the powers that be don't really want real change. They want the status quo because they're not sure how real change would affect them and they have a big stake in the present industrial and governmental "machine". Ron Paul's so called radical ideas have recently been coming into the main stream though. Other candidates have been embracing things like abolishing some of the over-bloated and useless government agencies, even though they might not be able to remember which ones... People are starting to think, "Hey, you know, that might not be such a bad idea." You would think that they would start embracing Ron Paul for coming up with the ideas in the first place but not so. It's like the mainstream Republicans in the party can't acknowledge that they were wrong. Paul and any other candidate that isn't part of the "good old boy" network in the government machine will continue to get ignored and ridiculed by everyone in the system. They are outsiders that want to upset the applecart. They want to really change the way government works and that scares a lot of people in the high circles of power. That's why it's going to be so hard to achieve actual, meaningful change in government and corporate America. Getting people elected that will actually DO it and not just talk about it, is going to be very hard. Not enough people realize yet that it's what needs to be done. They are too locked into the conventional Republican and Democrat candidates because they feel "safer" to them. If enough people finally come to the conclusion that we have to elect people that will actually walk the walk and not just talk the talk, maybe we can start fixing what's wrong in America.