There's a woman who had a lot of plastic surgery, would you want to date her?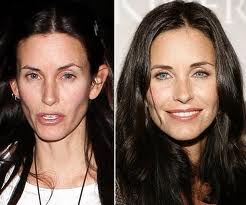 Philippines
November 14, 2011 12:18am CST
For the guys out there, or maybe even for the woman in mylot? If you happen to know a person and find him/her attractive then you were told that its all fake, and they are attractive now because of plastic surgery... Would you still consider dating the person? I remember my brother telling me about his friend's girlfriend who happened to have money and then well she looked totally different now (more beautiful, of course) but he said, thinking about it.. well if they get to have a child, of course the child would not look like the mother who has had several surgeries. hehe so, what do you think? would you date someone who has had several surgeries?
5 responses

• Delhi, India
14 Nov 11
Hi! I think it is hypothetical question. If I love a person, I won't mind if she goes for a plastic surgery or not. I would love her for her internal traits and over all personality and not for her outwardly appearance.

• Philippines
14 Nov 11
thanks for your response to the discussion. I think that is true that you have to accept the person as yo do trust her and love her whatever she looked like or whatever her / his preference is. Personality is of course better and it is the person's heart that matters.

•
14 Nov 11
That quite tricky question. I wouldn't marry someone like that unless first she tells me why she has done the plastic surgery, then I could suggest for a medical consultation with a counsellor to make her feel better about herself or raise her self esteem. If she agree with me, then I would have no problem marrying her provided she doesn't do the surgery again.

• Philippines
14 Nov 11
thank you mashnn. I guess often we would be attracted to the physical beauty that we see, but then we would realize that fades through time.. and start a family with the person... if we had not known we would have been surprised why or how it can be possible that our offsprings are too different from her or from him. heheh

• Malaysia
14 Nov 11
No. I dont want her to end up like MJ. haha. Just find natural beauty and you'll have beautiful child too.

• Philippines
14 Nov 11
There's nothing wrong about cosmetic surgeries as it enhance people's look and lift up their self -esteem but we must also remember that no matter how good the technology is, natural still beats it. I doubt if there will come a time that gene surgeries will replace this cosmetic surgery and the natural thing is a real goner.

• Philippines
14 Nov 11
thank you edna. I do not mind enhancements as well. I think beautiful people can still have their features enhanced... but you are right, the real genes, our true color or face features would still show even with our children and that we cannot be rid of.

• Guangzhou, China
15 Nov 11
I am not quite sure. But perhaps I may not be interested in a man who cares about his appreance so much. I don't like him to have plastic surery so many times to have a better look. If he pays attention to his look so much, he will ignore many other things. I love China