what is the first precious gift latest gift you given your lover/friends?.......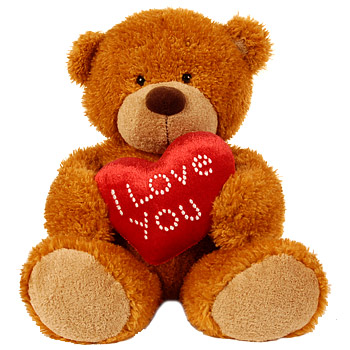 India
November 16, 2011 10:43am CST
i give my first gift to my lover for her birthday. and no more gifts i have yet given. my lover was only 17 year old and was childish in behavior and she always like teddy bears..that i know.. i planned to give her a teddy bear as her birthday gift as a surprise. i just buy one and send to her school by courier services. unfortunetly...the school authorities dont allow her to have it.because i dont put any send name or address. but she knew that i have send that. my all plan go in vein. but she was so curious and so she go to the courior service in the evening and have that. she said to me it was a precious gift . and i was realy glad to know that. now she is not with me ,but i think that my teddy bear is still with her. whats your experiance?
7 responses

• India
16 Nov 11
Oh sorry...I don't have such experiences Lijoos..But it was really interesting..Nice to hear that....Teddy bear...I like to see that...But not much....I like barbie dolls...And Baby dolls... ALL THE BEST....

• Philippines
17 Nov 11
I am giving my bf with a scrapbook full of our pictures with a little description on it, "OUR ADVENTURE BOOK" that's what I call it. It's kinda unique and cool, got it personalized..=)

• United States
17 Nov 11
Give? Let's see I gave a very expensive wacht to my first boyfriend and I think he liked a lot,his fisrt gift to me was teddy bear almost my size that I called with his name but shorter,by the years the bear got full of dust and was too big to have it in any place,now I don't remember what I did with that,but it was a good detail, and I loved on its moment.


• Philippines
17 Nov 11
Hmmm! let me think of the latest gift that i receive from my friends or lover! That was christmas celebration we were all having a party at home and enjoying the party i mean traditional one having "manito" "manita" games. We are exchanging our special and memorable gifts between families and friends, neighbors or anybody who wishes to attend at that time. Anyone can give freely no matter how many gifts you gave and you received. It was so exciting and memorable one for me because i didn't know i have that "special and precious gift" from my husband although i also received gifts from my friends too. When i opened that gift everybody were so excited, curiosity arose, some are silent, others are giggling and laughing. They can't wait to see what is inside of it. At last, i saw " gold bangle " an indeed precious, so adorable, unique and i really really like it of course ! I was so speechless at that time and don't know how to say even an instant thank you ! hahaha. You know, unexpected gift will give us an even shock feeling ( it might be feeling of appreciation or lack of words). That was so satisfying and so precious to me! i kept it and wear it and everytime i do i keep treasuring the moments he did gave it to me. May this will serve a good inspiration for married couple like me to all of you or to those who are in present relationships right now. Actually it doesn't matter how much is the prize or even the cost of the gift, it is the feeling of how much special you are to the person and how much effort had been made. I thought of it for a moment, that giving precious gifts does have a great impact especially when you treasure most of your relationship and giving gift is just another one thing that keeps the relationships even grows more flowing and growing...

• India
16 Nov 11
when she told you it was a precious gift and now also keeping the teddy bear with her then you forget all your sufferings you have experienced for sending the gift to her,that reward is very great to you. we also experience such moment last month my son who is outside india send through his friend a cake to us on our wedding day it was really precious for us. we can't forget the gift in life.

• United States
16 Nov 11
I love teddy bears as well that was a great thing you did. I can she her childish because of her age. I hope your not too much older than she is. I bought my man clothing and I always buy his bath and body supplies. Today,I am making him a gift basket with his sneakers I bought.

• Netherlands
16 Nov 11
Is it childish to love teddy bears? I know plenty of adult who love them and I gave my brother one as he became over 34 since he never had one. If it's precious I don't know. Perhaps I never gave anything that really turned out to be precious? Only all the receivers I gave so many things can tell you if it is/was or not.