May I borrow your comb?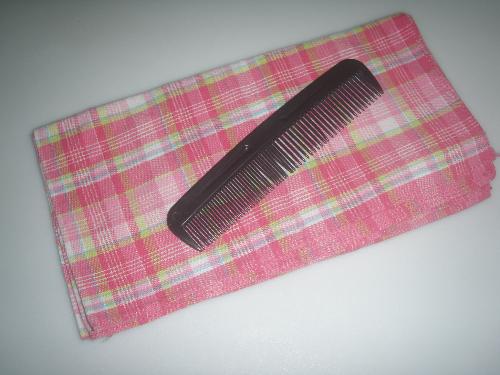 Philippines
November 20, 2011 8:30pm CST
May I? I hate it when someone even a friend borrows my comb. I had a new friend who borrowed my comb for several times. At first, I told her why she didn't bring hers. She said it's so big that's why she left it in the locker. She should have gotten my point that I didn't want to lend my comb. The next time, she asked me again, I told her, you should bring yours. Comb is like toothbrush, it shouldn't be lent to anyone. She told me that she does not have lice and insisted that she'll use it again. The third time, I did not lend my comb to her. I told her that she's already abusing me. I also told her that combs are so cheap and she can buy three to five smaller ones if she would like to. That's the end of our friendship...
6 responses

• India
5 Apr 12
I think it is not a good attitude from your friend. I have also some good friends and we share every things which we need but not such items like towels and combs. We all bring such things by our self. I think that borrowing such things is not good attitude of thinking

which can cause you to have bad health problems. Friend ship ever means that you have to share everything you have. Each of the relations have it's limit. I think you need nod to break your friend ship for such silly matters. Try to understand your friend that what are the consequences of sharing such items. He will surely get you

. I hope you will have a good friend ship with him. All the very best


• Philippines
5 Apr 12
Yes. It's not a good attitude, thewonderboy.

It's not silly for me. The fact that she treated me indifferently when I didn't let her borrow my comb only means that she never got my point and will never do. I don't have any regrets especially now that I'm no longer working in that company. It's not because of comb issue of course.


• India
8 Apr 12
So now are you satisfied at what you are now ?


• Philippines
31 Mar 12
Wow. What kind of a friend is she. I was in the same situation 5 years ago. I had friend who always wants to borrow my comb. But she has lice and kutos!

And every time she wants to borrow my comb I always have to think of an excuse so that she can't use my comb and at the same time she won't be hurt. So I gave excuses all the time and one time when I cannot think of an excuse anymore, I said directly that I don't want her to borrow my comb because she has lice. She got hurt and that's embarrassing for me but I cannot really let myself be infected with hair parasites. She still talks to me after that but maybe because she understands me.

• Philippines
31 Mar 12
Hello, autumndreamer! You're better than I am in making excuses.

It's not always easy to be frank because sometimes we'll hurt them. I salute you for being so frank.

If I were your friend, I would already hint that you don't want to lend your comb. I don't know why there are people who are very thick-skinned. If I were you, I would advise her to consult a doctor so that she can get rid of those lice. When I was a kid, I heard that kerosene is the best treatment to kill lice, but I don't recommend it for I haven't tried it yet, and I don't have lice, so I can't try now. I also think that kerosene is also toxic to humans though I don't also have any proofs yet.

It's better to consult a doctor.

• Pakistan
22 Jan 12
yes you can borrow my comb

•
21 Nov 11
yes, I also do like others use my comb, as if I do not like others wear my cloths.

• Philippines
21 Nov 11
I get you. I don't like lending my combs (or borrowing, for that matter). There are things that I consider too personal to be lent to others. But, really, that ended your friendship? It seems a bit too trivial to cause a rift in friendship.

• Philippines
22 Jan 12
Hello, gloryacam!

Yes. My comb is mine alone. It's like toothbrush. I don't want anyone to use my toothbrush!

Yes. I strongly agree with you that this issue was so simple. But after that incident, she avoided me. I also avoided her. She was offended because of my lecture. She cannot accept the fact that I didn't want her to use my comb and I frankly tell it to her. Most people always want to hear good things from us, from their friends. In this case, she can't accept the fact that I declined her very simple request. But it would be everyday! My God! She always told me that her comb is too big that's why she couldn't bring it with her. There are a lot of small combs, why not buy one? I remember another coemployee who also requested to use my comb. It was our first week of working in group. I let her use my comb, it's my reserved comb. I brought one after the other incident. So, it's not what I'm using. It's reserved for borrowers.

Do you know what she said?
Oh my gosh! What kind of comb is this. I'm badly hurt.
Good thing my other officemate told her,
You're not using it properly. It's for rebonded hair. You shouldn't use it that way, you'll be really hurt.
But she kept on complaining telling me that she'll never ever buy that kind of comb. I told her the same thing. It shouldn't be used like what she did, and I got my comb and left.

• Philippines
21 Nov 11
For heigenical purposes,you shouldn't let anyone borrow your comb. They might have some parasites in their hair which can be transferred to you if they use the things you use. If they cannot bring a comb for themselves and always rely on you even after you told them to bring their own comb, bring a separate comb which you will lend to them but never lend them the once you are using.

• Philippines
22 Jan 12
Hello, jtj_hello!

You have a very nice suggestion! Do you know that one time I really did? I brought another comb. The problem is it's the same with my original comb. It has the same color, size, style, everything. When she asked me again for comb, I gave her my reserved comb. The problem is after my shift, I can no longer tell which one is my original comb and which one is my reserved. How sad!