Who Inspired you to bake?

Philippines
November 20, 2011 10:12pm CST
Each one of us is inspired to do a certain thing that they find amazing or a relaxing way to get rid of stress.For me baking is one of those things that inspires me and it unwind my mind from stress.I'm just wondering who inspired you to bake breads, cakes, cookies and etc.? For me my Mom inspired me to cook but she is too good in cooking so i tuned to baking which easily become my niche in the kitchen.I can still remember the first banana cake i made, it wasn't perfect but i was overly joyed that time.Then I become inspired by some Filipino pastry chefs like Heny Sison, Jill Sandique. Nigella Lawson also become one of the celebrity chefs who amazed me on how cooking and baking should not be scary and fussy, it should be fun, fast and yummy. I also read baking book particularly from Paula Figoni and Tish Boyle and get some inspiration from their books. So I just wanna know who inspired you to bake?
6 responses

• United States
21 Nov 11
I use to love watching my grandmother cook as well as my Mom and my Aunt. I took Home Economics classes in Junior High School and High School, plus technical school classes (such as baking bread, microwave cooking, cake decorating). I got a lot of good tips and recipes from my mother. Once I had graduated from High School my Mom encouraged me to cook on Monday's when I had off of work, and while she went to her ceramic classes. I had a wonderful Home Economics Teacher that made cooking interesting and fun. I think I really got into the most cooking, canning, baking, etc., when I got married. I got many different cooking tips and recipes from friends and family, and made them for my family. I had a neighbor who showed me how to can and that is when I got into canning and preserving. I used a lot of my Mother's and Mother-In-Law's recipes so that I was making what my husband and myself enjoyed to eat. I like to watch cooking shows and take tips and techniques and apply them to recipes I already use. So I guess I would say my Mom inspired me the most, as well as many others.

• Philippines
22 Nov 11
I like to watch cooking show as well especially those that shows cooking should be easy.I like to watch my mother cook and help her prepare everything when i was still young and even now. Its really amazing how good food inspires us to cook/bake for our family, friend, and special someone. Food pushes us to make people happy, satisfied, and appreciate the work we have done to make a food taste good. It warms our heart when they smile at us because we made them food. have a great and wonderful day Mary =)!

• United States
22 Nov 11
It makes one feel good when we see that others enjoy our food, bakery, cake decorating, etc. It just makes our day and encourages us to keep making delicious things for our families and friends to eat. I love to set out food also and display it nicely. If I have a large crowd we use our island counter top to display all the foods. It looks so decorative and good enough to eat. You have a wonderful day as well Pepai.

• Philippines
22 Nov 11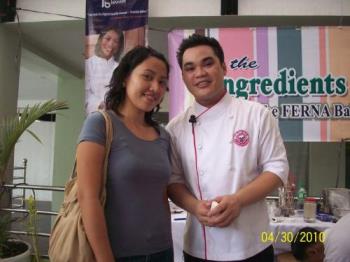 Cooking and baking has been my interest and they just make me happy. the people who inspire me i baking and cake decorating are those people whom I consider as my teachers too. We don't have physical meeting but through their shows and tutorial videos, I have improved and learned a lot. Among Pinoy bakers and chefs and cake decorators, my favorite are Chef Heny Sison, Jackie Ang Po, and Chef Ronald Donado. I also am so thankful to those people on youtube who share their skills not only on youtube but also through their other websites. Among them are Mayen, who is a Pinay, tonedna (Ms. Edna dela Cruz), aine and serious cakes. Thank you so much!

• Philippines
22 Nov 11
True we might not meet those professional pastry chefs in person with the help of their blogs,videos, recipe we get inspired to follow what we really want. I really admire Heny Sison and Jill Sandique they make their cakes and pastries with ease. I think i saw Chef Ronald Donado on TV making lemon cheesecake it looks really good, his ferna creation are really wonderful to watch. Maybe on of this day when i finish my BS Hotel and Restaurant Mngt. course I might enroll in a pastry and baking course =).

• United States
21 Nov 11
My grandmother and my own mother. I baked with both of them.....and now I have baked with my granddaughters. THe youngest stays quite a bit and we usually bake something. The last two times it's been cutout cookies. They are her favorite to make.

• Philippines
22 Nov 11
That must be very fun, so that means your a third generation home baker and your passing it to your granddaughters =). Your youngest sure loves to help you in the kitchen. Have a great day jill =)

• Portugal
22 Nov 11
I can't remember the first thing I made all on my own, because I remember hanging around my Mom in the kitchen and I started doing little odds and ends. I would break and separate eggs then evolved into cakes and since I do some things in the kitchen, I don't think I am a good cook, but my food is tasty and filling. For q while there I did not really feel inspired, and would make simple dishes like lasagne but watching cooks on-line, normal people making some tasty and even exotic meals makes me want to try making different types of food.

• Philippines
25 Nov 11
hmmm i guess you are inspired by simple people who cook for their family and their self.People who make demons online and such? have a great day =)!

• Boise, Idaho
22 Nov 11
My grandmother inspired me. She baked bread and biscuits ever Monday. She made everything from scratch. My mom too. SHe was a great cook. Make up her own recipes and they were always so new and interesting. She introduced me to fudge. She would make it alot after work. So good!

• Philippines
25 Nov 11
Its very nice to have a great bonding with our mom you feel safe and happy. have a greta day =)!

• Boise, Idaho
26 Nov 11
I think Mom's and children have the tightest bond.

• Philippines
11 Dec 11
I dont bake but i like to eat baked they are so good especially pandesal I like to dunk it to my coffee every morning watching TV.I can cook very well but not bake