the dentist..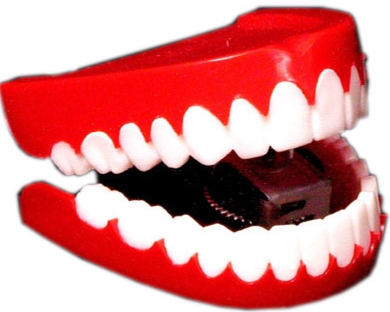 November 21, 2011 7:55am CST
I hate the dentist. And I'm sure a lot of people feel exactly the same way as me where this is concerned! The mask, the instruments, that really comfortable chair that lulls you into a false sense of security.. then BAM! Your mouth tastes like cloves and your missing 3 teeth, and have a cotton wool cylinder shoved against your gum. Ugh.. I hate it! BUT.. I don't think I could possibly hate it as much as my partner is going to hate it this Thursday! My wonderful fiancée decided 5 years ago, it would be a fantastic idea, to stop going to the dentist. She got a tooth out, it broke, the shattered pieces went down her throat and over her face.. and well that was the last experience she ever wanted to have in the dentists chair. So never went back. That is, until last week, a part of her tooth completely broke off in her mouth! If she had of been eating something chewy or hard I could have understood, but she was eating bread and jam. Possibly the worlds softest food aside from candy floss, and out it popped. So muggins here had to phone round all the local dentists to see who if anyone was taking on new patients! And eventually found one. And.. she went. Scared. Terrified even. But she went.. only to come to my work after and produce a bit of paper with a bill of £145 for the 9 fillings and one tooth out she needed! Moral? Look after your teeth! What do you think of this?
8 responses

• United States
21 Nov 11
Yeah, I've always heard how important it is to regularly go to the dentist and that your experience is usually worse when you don't go for years. Where I live, some dentists do sedation dentistry and you can have your teeth done while you're knocked out lol. I also hate going to the dentist. I haven't really had any bad experiences aside from the occasional stab in the gums. I think I hate going because I don't like the sound of the instruments scraping my teeth. It's just one of those sounds that gives me goosebumps.

•
21 Nov 11
the stab in the gums!! what do you mean no bad experience apart from that? that is one of THEE worst experiences! those tiny little needly instruments sticking away in your tender pink gums? thats like torture! haha!

• United States
22 Nov 11
haha you're right, but compared to your fiance those little stabs are nothing. But..when I had braces getting them adjusted was the worst experience. The lady dropped the little thing that was supposed to go around the tooth and it fell down my throat and I had to cough it back up for her. She also tightened the wire and got my lip caught in it so the wire was tight in my braces and my lip was pulled along with it. Lol so needless to say, I get a little nervous whenever I have people working in my mouth.

• United States
21 Nov 11
My husband would always say that we can't afford to go to the dentist, even after we got good insurance, and I think it is because he just has problems with his teeth that make going to the dentist a nightmare, one of which like your partner, when he had his wisdom teeth pulled, they broke and he had a lot of irritation. But that is NO reason to not make sure his children get a checkup. My daughter also has the same problem as my husband, even a simple filling is a nightmare, but it still needs to be done and thanks to her, both my son and I were able to get our teeth check out and fixed where needed. Unfortunately, the ones I knew had cavities for years and would not have cost much if I was taken right away, had turned into many root canals which would cost a fortune if not for the insurance. In other words chicks, even if one has a bad experience with a dentist, he or she still should go, because there is a difference in pain and cost where a simple filling and root canals are concerned. I also think that your partner is fortunate that her fillings were that, fillingsand only one tooth removed...

•
21 Nov 11
well when you put it like that carm, i guess she is lucky. she could have ended up with one filling and nine out haha!! root cancal! ohhhh the devils work! my mummy had root canal done to a tooth twice, only to have to get the bloody thing out in the end anyway! and after thousands of pounds! terrible thing that "treatment" is that what you had done?

•
22 Nov 11
Well I lost my one tooth after I ate the softest roll. I visit dentist when I'm in my native country or I go to see polish dentist.. I have bad experience with dentist in this country. You know that wisdom teeth can be very irritating. So after few days of pain I decided to visit dentist. When she tried to pull out the tooth she grabbed my head. Can you imagine that? And she did not wait for anesthetic would work. I thought that I would kill her after. Polish dentists are cheaper and I know what I should expect. I don't need additional stress.

•
22 Nov 11
oh my goodness thats horrendus!! i had my wisdom teeth out, 3 of them in total, and my 4th is coming through which is apparently quite rare for someone to get all 4 wisdom teeth! but i was put to sleep to have them taken out! she grabbed your head? i really cannot believe that! however, i'm in northern ireland, and although we are part of the UK, i have heard horror stories about english dentists compared to our northern irish dentists!

•
22 Nov 11
I also had 4. £ of them were taken out while I was in my country on holidays few years ago. But the last one started to be irritating while I got back to London. I was in pain all the time and I thought well I'm in hell already can be something worst? Believe me it can. She was crazy. I thought that finally she will put her need on my head to pull out this tooth hehe. I can laugh now but then it wasn't so funny. After all that I stood up from the chair and I said that she is mental and I left. Never again. Polish dentist are really good and really cheap. Did you know how many British people going to Poland and treating their teeth there? With flight and hotel still is cheaper than here.

• Portugal
22 Nov 11
Dentists are one of those words that brings dread to most people when they hear the word, never mind having to go to them. I try to avoid going to the dentist, because well a few years ago I went in because of a sore tooth (only reason I ever go) and the dentist gave me anaesthesia but not enough, every time she touched one part of the tooth, a nerve which was still 'awake' lets just say my brother who had given me a ride to the dentist could hear me in the waiting room. I never went to that dentist again, even when one of my teeth broke doing the silliest thing, I was biting a kernel of popcorn that did not pop when I just felt my tooth give way one half chipped off, I searched for another dentist that my friends told me was quite good to take care of it and the dentist said I must have just hit it at the wrong angle fortunately it did not infect and was not painful. I know that tooth infections are very dangerous, I know of at least two people that had severe health issues because of infected teeth - one's blood pressure spike in to the high 200s and another had the infection spread down towards her arm in a matter of hours, but I still avoid dentist as much as I can. Just on a side note, did she have all nine teeth fixed on the same day? My dentist will only do one or at most two teeth, as long as they are in the same vein where she injects the anaesthesia, at a time.

•
22 Nov 11
nope, i think it's 2 fillings, and then descaling.. and then she pays for that. then another appointment for another 2 fillings. then another 2. then another 2. and then a filing and an extraction in one go lol! oh my goodness, i too have felt your popcorn kernel pain! it's the most horrdendus thing biting down on those nasty little balls! i didn't chip my tooth thankfully but it really did hurt!


•
22 Nov 11
ohhh well get to the dentist asap!!!! don't put it off incase it's something serious that could get worse!!

• Australia
22 Nov 11
I hate the dentist too! It's so scary! I rarely go to the dentist, so far, there's nothing wrong with my teeth and it's quite fine but eventually I'll have to go for check ups or when my last wisdom teeth grow which is too big to even fit in my jaw

But I have been there, and I was so scared! I had to get some of my teeth taken out, The dentist took out three and I was almost freaking out when he gave me like 4 needles into my gums. I don't like the chair either, I just hate it when he dentists asks me to lie down and open my mouth. It makes me feel really uncomfortable and I get pretty nervous. But once it's all over, I feel good! Luckily I don't need to get braces, my friend got braces recently and like every month she needs it to get tightened and it looks really painful. She can't bite into anything and braces look really annoying.

She has to wear it for like 2 years, getting it tightened each time, ouch! Not so great when you're dentists isn't very nice...

•
22 Nov 11
ohhh i had braces!! i had too many teeth for my mouth too, and i got 4 teeth removed, and then got braces to close the gaps lol! but i'd braces when i was very young so i didnt really mind lol! haha! lie down and make yourself comfortable! and you're like, are you serious? you are about to shove mental things in my mouth lol!

• United States
22 Nov 11

Going to the dentist can be such a chore. Having someone messing around with your mouth and youer teeth when you would rather be doing anything else. sometimes the pain and discomfort of the unknown is more unbearable than the truth of the matter.

•
22 Nov 11
i totally hear you. because it really isn't that bad afterall. i mean when you get up and walk out of the dentist, you're like.. hey that wasn't too bad. but actually GOING? ohhhhh terrifying!


•
22 Nov 11
i had braces too and i NEVER got used to it, but see to be honest with you.. the dentist i went to was a complete witch and i think she was rough with me on purpose. my mum even told her once to stop leaning so hard on my face! lol!