once upon a time...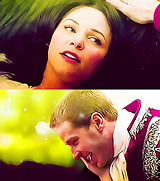 Philippines
November 23, 2011 6:46am CST
I found this new series starring Snow White and prince Charming played by Ginnifer Goodwin and Josh Dallas...and they also have all the other Disney characters and Brothers Grimm too.

Cinderella, Belle,Pinocchio, Jmminy Cricket, Rumlestiltskin, Red Riding hood and Grandma, fairies- etc.. The characters are good and their chemistry is great- the scenery is very beautiful although it can look very computerized a times.. The story is about breaking the curse that put the fairytale characters in the real worlds where there is no happy ending.. The love story they created for the leads are quite good with lots of action and fun dialogues. You should check it out.
3 responses

• United States
27 Nov 11
So what is the new series?


• United States
27 Nov 11
Oh I see! it's called "Once Upon a Time"


• United States
23 Nov 11
They had the previews of this show on for weeks teasing us to watch it. It was well worth the wait. Isn't the storyline awesome the way they weave the then storybook characters with todays life? I missed Sunday's episode. Sometimes I forget what is on and what day. I will probably watch it tonight on abc.com I have watched it from the beginning. I also like Pan Am. My father worked for TWA the same time stewardesses were introduced to the airlines.

• Philippines
26 Nov 11
Yes, it was a really grate idea to put all those storybook characters that we loved when we were kids, and still do...

The bad part is there are more scary villains too. Oh well, I still believe in happy endings even in the real world.

• United States
5 Dec 11
Thanks for best response. your answer to my response believing in happy endings must be the reason I still enjoy going to the Magic Kingdom at Disney World LOL


• Philippines
26 Nov 11
Yes, I agree their writers are definitely good- it was a nice idea to put most of the fairy tale characters in one setting and see how they connect and interact.. I hope I can see the next episodes soon- they are still on hold until Dec. 4.