My daughters cat!

United States
November 23, 2011 3:41pm CST
He thinks and I think he is a person!! he he he he L.O.L.. I remember when my cat was alive and she got real sick before she passed away

But when she was throwing up I promise you he some toilet paper off the roll and went back into where she was and covered it up for her!! He he he L.O.L. And now if his litter box needs to be cleaned he will in therE and jump right out and come to you and just meow meow mew and he wants you to follow him in the re to look at it like he is saying hey!! Its time I am not going there until you do!! he he he he L.O.L.. He is a trip!!

10 responses

• United States
23 Nov 11
Cats are smart little beings. I don't have any pets. Its good to know people are treating their furry friends right. Cats seem mild tempered and calm. Is that true?

• United States
24 Nov 11
Cats are like people. some are sweet and laid back, some are high strung, some are sneaky, a few are mean... I have smart ones, I've had stupid ones, I've had loving caring cats, I've had cats that hate other cats... Pretty much, if you look around you at people, the mix you see of people you will see in cats. I've had cats who love kittens and will take care of other cat's kittens if they need help. In fact, in my avatar is a black and white kitten, Oliver, and a big tabby and white cat, Rygel. Rygel got into the nest we had made for Oliver when Oliver was 4 weeks old and taught him how to be a cat. And Rygel still helps us with kittens, he's our "uncle" cat.

• United States
24 Nov 11
I wonder if a cats personality is based on horoscopes. Something to think about!

• United States
24 Nov 11
ElicBxn is right there are so many differnet types of cats out there and I think they all have their own personalities


• Philippines
24 Nov 11
Your daughter's cat is so cute! Yes animals are like us too. They think like us and sometimes smarter than us. They just can't speak but if they do speak I am sure some of them are more mature than us in thinking. I remember my cat before she always like to sit on my lap and play with me. I missed him.

• United States
25 Nov 11
I can imaginE what he would be saying! he he he L.O.L.

• United States
23 Nov 11
I wish my cats were as sensitive as yours sounds. Mine just decide that if the litter box isnt to their liking then they will dig all the litter into the hallways, or they will go around the back of the box so you dont even know that they did that until you move the box to clean it and there is a mound of poop there. They are boogers. Mine have also taken a liking to destroying my blinds so that they can try to escape. I have had to go to the extreme of pinning the curtians to the walls and the window frame so that they cant get into the window. But i love them none the less and they do have their own feelings and ways of thinking just like we do.


• United States
28 Nov 11
It sounds like a good idea, but cats are so hard to train. One of my friends once told me this "There are a maajor differnce between cats and dogs. A dog is like oh this person feeds me and gives me a warm bed and loves me so much HE must be god. A cat is like oh this person feeds me and gives me a warm bed and loves me I must be god" lol seemed appropriate. Now my big one Garfield is knocking all the balls off the Christmas tree and batting them around its so funny I dont think that I could even yell at him for it.

• United States
24 Nov 11
LOL! Smart cat. When my children get sick, I try to get them outside. However, it doesn't always work. They look at me with pitiful little eyes. I just want to pick them up and give them loves. I don't know about your house but the children allow us to live here. Because we feed them. My guess is, if we didn't feed them regularly, we would be looking for new place to live.


• United States
25 Nov 11
Yes cats are awesome!! I love them!!


• United States
24 Nov 11
Sounds like a great and smart cat. Im looking at my cat right now lol they are very smart and I am very grateful that they use litter boxes unlike dogs who use the bathroom anywhere. Some cats are so smart that they even try to talk. Including my cat they have different types of meow sounds and at times they will try to mimic what you say if they are attentive enough.

• United States
25 Nov 11
Yes they are great to have! I love them!!



• Malaysia
24 Nov 11
Hi, What an intelligent cat you have. I bet you are very proud of him. Our pets actually develop their character and attitude by the way we treat them. Just like our kids. So, I guess that I can safely say if one wants a good and well-behaved animal then it should be taken care with lots of love and kindness.

• United States
25 Nov 11
Yes he is so funny to watch along with the other one they both are so fun to watch!1


• Australia
23 Nov 11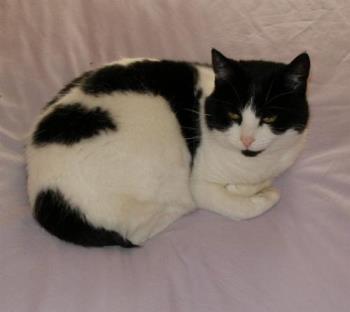 Cats are adorable little creatures, my cat is such an independent little thing and doesn't want to be seen as enjoying being patted but you can tell she really wants more, I love my cat so much, your cat sounds like it may have been a human in another life.


• United States
24 Nov 11
Aww!! She is so pretty!

And yes I think he might have been he he he L.O.L.


• United States
23 Nov 11
Very smart cat! I think dogs and cats are much smarter than we give them credit for. Cats and dogs will sometimes think like humans because they are raised by humans. Of course they learn from the things we do for them and around them. I don't doubt what you said at all. I have a Chihuahua that puts his toys away when he is done with them. He has seen us put them up when he is done, and we just tell him to do it.. and now he doesn't even need to be told usually.. because he will put them up. I don't want his toys out for me to trip on and he is really good about putting them up.

• United States
23 Nov 11
I believe it too! Smart dog! he he he That must be great to see! I love to watch the animals and how they act like people it is a great thing!!


• Philippines
24 Nov 11
cats nowadays are smarter than before. My daughters cat also thinks and acts like that.Since she is small ,we always have a hard time looking for her.Most of the time we will find her under my daughters bed,because she know that when we see her around will take her outside the room.