Sweet Peas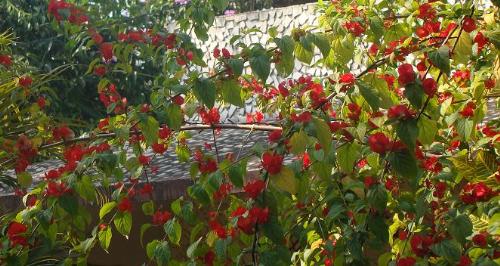 India
November 23, 2011 11:21pm CST
When I was in school we had a subject called 'Handicrafts' where we were taught among other things making paper flowers. I remember making sweet peas and had never seen a real one until I started taking interest in gardening and now I am happy to say I have these flowers growing in my garden profusely. What has been your experience in this field?
8 responses

• United States
24 Nov 11
Hello allknowing. When I was in school we didn't have any thing like hand crafts. The only flowers I learned to make were those made from Kleenex where you gathered them like a fan then put a wire in the middle then separated the sheets making them fluffy.

The picture that you have doesn't look like the sweet peas my grandmother raised.


• India
24 Nov 11
And that's what perga... above is also telling me. What do you think then, this flower is called

We were making these flowers when we were in school and the nuns said they were sweet peas.

• Canada
25 Nov 11

Thanks...deebomb! One vote for me allknowing, unless, of course, North America grows a totally different varietal!



• Australia
24 Nov 11
Sweetpeas aren't peas (that taste sweet)?

Oh dear, I'm so embarrassed.


• India
24 Nov 11
Sweet peas are flowers. Don't ask me why they are named so!

and so do names of so many objects whose origins we do not know. But let's enjoy them real or artificial!


• Canada
24 Nov 11

Just an almost direct translation of their latin name; Fabacaie is the legume family...Species is lathyrus..Odoratus is their genus! Latin name is "lathyrus odoratus" loosely translated to "Sweet Pea"! Odoratus; odor (aroma, fragrance)...and NOT edible, in quantities as the lathyric acid is residual! My little lesson in greenery this morning!


• United States
24 Nov 11
They are lovely flowers. They have great scent too. I haven't got any in my flower garden yet though. I have been working on a healthy rose bush..lol. Maybe I'll get some Sweat Peas in the spring. It's much too cold to try right now.

• India
24 Nov 11
I had the yellow variety too but my gardener pruned it very deep and killed it. Sweet peas are easy to maintain and they can be propagated by cuttings. I wish I could send you one!


• Netherlands
24 Nov 11
I wonder how you made these kind of flowers. Did they really look that way? Since it's amazing. I only like or should I say mostly like to have things in my garden I can use/eat. I don't like to pick flowers, but I do like my grapes.. the leaves I can use for cooking, pity enough the grapes taste terrible.

• South Korea
24 Nov 11
I loved handicrafts as a kid and I still do. Sadly though we never had a subject for handicrafts but did have small projects where we could get extra points for the things we made. That is how I learned cross stitching. But I did handicrafts a lot. My aunt is a really creative person and she has taught me a lot of handicraft stuffs.. I learned knitting and flower making and bag making from this plastic kinda fibres.. I wish i had more time these days to do some more.

• India
24 Nov 11
I never liked needle work and that was also a part of our learning. My older sister would help me with the homework. I must admit I am not good in any of these crafts. My interests are different that keep me merrily on my toes. To each their own I guess.

• Australia
24 Nov 11
I used to love making paper flowers, I used to love making carnations and roses I think they are easier than sweet peas, and I must add I haven't seem sweet peas actually growing in the garden for years, a very pretty flower

• India
24 Nov 11
We too were taught to make different flowers. I had seen them all in gardens but the sweet pea I discovered only recently. I have a plant of the sweet pea that yields in winter.

• Philippines
25 Nov 11
Nice flowery plant you have! Gardening has always been enjoyable.

It is delightful to see the plants you yourself tended are blooming. I do love gardening and have lots of plants around and those flowers and fruits my plants bring never fail to delight my heart.


• India
25 Nov 11
I am in a predicament inasmuch as I am told that this is not called sweet pea. Then what is it!


• Philippines
26 Nov 11
My dear I don't know either.

Actually at first glance I thought that photo is of Bougenvilla, an ornamental plant from South America which also blooms plentifully and this is of thorny, woody vines. However when you placed a close-up photo of the flowers in one of your comments around here I confirmed it was not bougenvilla. They must really be sweet peas. I know sweet peas have different variety and yours must be one of them.


• India
26 Nov 11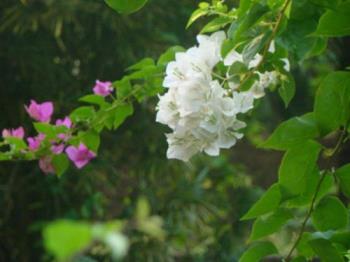 Hopefully!

I have bouganvillae in my garden in several colours. Here is an image


• Garden Grove, California
25 Nov 11
hi all knowing oh my I was born and raised on a farm in South Dakota and my mom always had at least three or four rows of sweet peas in bloom in the summer time . we always had big bouquets of them in our house. those and lavender lilacs. so sweet scented and honeysuckles. I have been here in Southern California for years and seldom see sweet peas in bloom here while there are tons of other flowers and roses and star jasmine.Lucky you to have them growing in your garden. they are so lovely and smell so wonderful.




• India
25 Nov 11
I have been 'attacked' here as these flowers they say are not sweet ease

. Then what are they?

• Garden Grove, California
25 Nov 11
ugh typo made a hit not mad. dyslexic fingers

• India
26 Nov 11
I checked but that is not it. Pl have a look at the video clip in perga...'s box for a better view. I would be delighted if someone could tell me the right name. The nuns told us that they were sweet peas.