Old School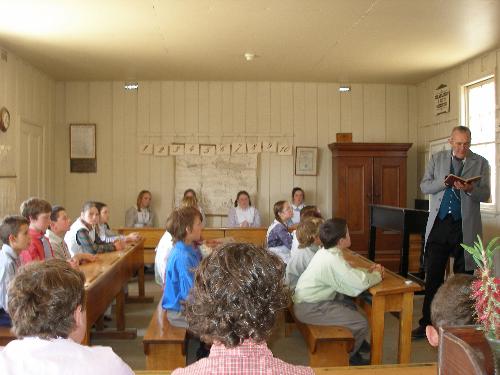 Australia
November 24, 2011 4:11pm CST
I was recently surprised when I visited an old tourist town in ballarat Victoria that they actually had a real school set up, all in dress of those days, don't you just love going to these old towns to see how they lived years ago, has been a long time since I was at school, I don't suppose they have black boards any more, I actually spoke to another tourist and her son and he was telling me they no long have school books they read everything on there ipad, things sure have changed.
6 responses

• United States
24 Nov 11
Yes, things have certainly changed. When I was in school, there were no computers. If we wanted to read books, we borrowed them from the library. The blackboards that were once in classrooms have been replaced by promethian boards.

• Australia
24 Nov 11
yes things have changed a lot, I must admit I liked the old blackboard and used to have one at home that I always played with, the ols chalk so much fun for a kid.

• Boise, Idaho
25 Nov 11
They have blackboards in the grade schools still. I visited Friday Island in the San Juan Islands and they had a little school there like what you describe. And then we went on to Victoria Island. Lovely there. I would love to see it again at some point. And British Columbia, Candada.

• India
30 Nov 11
Hello my friend lilaclady Ji,
Well, It is sinces age that our country ancient time, learner would sit underneath the tree and teacher would teach withoiut any aids including waht you said latest ipads etc. I wish those days to come back, but for that a big chjange has to occur. Let's wait for the time. May God bless You and have a great


• United States
25 Nov 11
I love going to the old villages or museums where they dressing the the clothes of the era, with all of the other items of those eras as well. I have heard that many schools have switched over to computers for their school books. To me that is not the wave of the future. I think they will find out in the long run that is will not work as good as they think it will. I know that some of the school have gotten donations or funding to allow each child to have a computer. Now for the schools that don't have the donations or funding this is impossible. Some families just can't afford to have the internet or a computer for their children to use for schooling. Things definitely have changed. We shall see if it will be for the better or not.

• Canada
25 Nov 11
wow I don't think it is like that here, I think the kids still have books here in Montreal, but I will check with my daughter in law to make sure

•
25 Nov 11
The Welsh folk museum at Cardiff Wales UK has a similar set up . Where children from local schools come on visits dressed in period costume and are treated to time in the classroom being treated like children of the time. Visitors can view the lesson being conducted in the old fashion way. I dare say the children go away with a new view of their modern classroom.