He should have done it in the first place!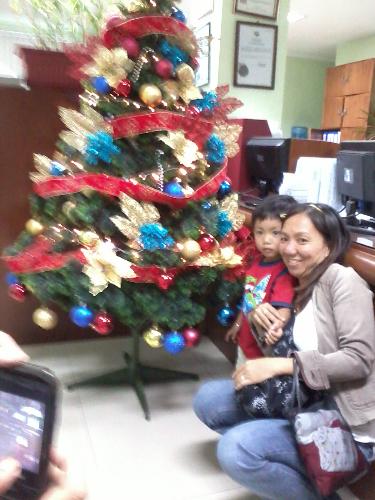 Philippines
November 24, 2011 6:13pm CST
We did decorate the office christmas tree and for our taste. it looks lovely.. i mean yeah i like robust healthy looking trees..lol but then manager said something is not right..in other words he did not like it! Hmp! Now its early morning here, 8:08 to be exact and he comes here taking all the decors off and doing it again..getting all the ribbons off as well..oh well if he did not like he should not have asked us to do it in the first place..all the efforts! darn.

9 responses

• Philippines
25 Nov 11
hello jazel, Uh uh,, and you said
HE
? Was he is really a he (joke) Maybe he is too more of she that is why (opps..again hehehe) You know what i mean and yes...s/he could have been done it in the first place.



• Philippines
25 Nov 11


Maybe.... he seems to be meticulous and all that. They can put on some pink ribbons next year


• Philippines
28 Nov 11
yes Jai.. he is a HE - he is even married lol i guess he is just meticulous!


• Philippines
25 Nov 11
Maybe he wants it done some other. Why not ask what it is that he wants done? Some people could be obssessive about some things.


• Philippines
25 Nov 11
I dont know what he wants, he is weird he rearranged it now and took the ribbons and made it the way he wants it..it is less robust now..so i guess thats who he wants it.. lol

•
28 Nov 11

haha you ought to buy him the black and white santas hat that says 'bah humbug'. I bought 2 one christmas for 2 guys in our office. They weren't as bad as your manager, but I did used to tease them about christmas and the decorations, presents and cards as they were always grumbling. But they loved the hats! our decorations in our office have been up for over a week now and no one has objected to them...yet!

• Philippines
29 Nov 11

well he isn't that bad..he is just way over too picky!


• Philippines
29 Nov 11
lol we are late in decorating even my friend, here in Philippines we start decorating when the months are in the "ber" months!


• Philippines
25 Nov 11
Sorry to hear that but sometimes, boss can be just like that and ask you to redecorate again. Now I do hope you learn your lesson from that scenario, that whatever you do, confront and ask your boss about his/her taste or opinion so that you won't be wasting time and effort. Cheer up!

• Philippines
29 Nov 11

yes i guess we should have but then he was the one who said we should take over it since we are ladies..weird!

• Philippines
25 Nov 11
awww wasted efforts on your part!

I'm on your side on that, he shouldn't have asked all of you to do it if he is already picturing out on his mind what kind of look the tree should be. Next year if he asked you all to do it, just don't do it.

• Philippines
25 Nov 11
agree agree agree!

or we make it the way he made it this year..men!!!!

• United States
25 Nov 11
That tree loos great I don't know what he was talking about. I would love a tree in my house that beautiful. I am glad Thanksgiving is over no so I can put up my tree. My tree fits on my table and I will be pulling it out this week.

• Philippines
25 Nov 11
me too! i was even joking around here if i could take the tree home lol..my kids would surely love this but i have not yet put up the decors will be doing it this sunday

• Netherlands
25 Nov 11
So what exactly does the tree need to look like? Did he tell you? Otherwise you might be busy for the next weeks decorating it and doing it all over again. I wonder if the manager prefers a natural robus healthy looking tree.. you can leave everything out and see what happens. Anyway it can be fun to do the tree instead of ... Enjoy your day!

• Philippines
25 Nov 11
well he did it all by himself lol we were just looking at him and he seems to be enjoying himself..so we left him at it!


• Philippines
25 Nov 11
Cool down, sometimes those supervisors are collapsing to some extent that tend to give an open hole between office staff relationships. IT is very annoying after what he did.. Could you get the ribbons there and roll him down there then decorate him in that healthy robust trees.. In which he is wrapped/rolled, put also a christmas card with written words like these " Im wasting my staff efforts" Merry X-mas" then put his name under as with love, MANAGER ROLL..


• Philippines
25 Nov 11

i guess the only thing we could do is laugh about it rather than get mad or something..we just let him do it again, its his time that is wasted now..well i do not think next year we will be having a new one..he is our manager for the past 3 years! lol