Do you do this?

United States
November 26, 2011 5:22pm CST
Say that it is late at night and you find yourself flipping through numerous channels to see what is on and really that late anymore nothing is on! Not like there used to be! But anyway this one thing that came on the television has stuck in my mind fro so long! I just can't get over how I can no forget it. There was this reporter who had went way down to the bottom parts of Mexico and they had to take a small boat down the rivers to get there and there were these people there that were only wearing sheets and had nothing! I mean nothing and so they showed them how they lived and they would hunt the animals for food. Then they showed them how they had got some tequila from a plant and smoked something from a plant and they had to wash their clothes in the river water. Then they had showed them where they went up a huge stairway to go on Sundays for church. This sort of thing really touches my heart because If I could I would help them. It brought tears to my eyes and made me so mad and thinking why doesn't the Government help these people? And it is not only there it happens in Africa and other parts of the world! What is up with this? God if only I could do something for them I would! Do things like this make you sad and angry at the Government for not helping them? Or do you think that they do all that they can? Because if that is all they can do it in my world is not enough!! What are your thoughts?
2 responses

• Chile
28 Nov 11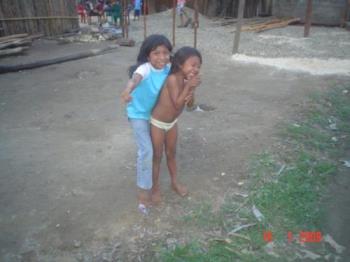 There are many places in the world like that, friend. I worry about their hunger, but not about their clothes. Not all the people of the world want to dress like you or me. They have their customs and we should respect them. The problem arises when the water they drink is not good or the food is not enough. I went 2 years ago to visit the proud kuna indians in Panama. They still live as they lived before Columbus came and they have not lost theit ancient language as you and I have.

• United States
28 Nov 11
It just makes me so sad that I am not able to help them and that some of the Government it seems like they don't even care about them or act like that sort of thing doesn't exist when it does! The pictures of the children there were so cute!


• Chile
28 Nov 11
I play daily at freerice, a site that donates rice and other things to people all around the world. I feel it´s so unfair that we feel poor when we don´t have enough to buy some things that for other people are luxuries


• Philippines
27 Nov 11
I've seen a similar documentary on our local TV too. There are some parts of our country that are not civilized yet. They are what we call the Aetas here. They only wear their traditional piece of clothes. 'Though some of them already have been modernized somehow in the way they dress, some old folks have chosen to embrace their traditions. Younger ones and some older people too, were taught how to read and write by some volunteers who travel up the mountains. I admire those people who volunteers, they don't get something from it. The government can actually do something about it. Provide them a good and civilized place and provide funds for a school and give them more teachers.

• Mexico
27 Nov 11
It is not strange thing :( thats really sad to hear . We should live very similar and not very hard differences but well other land and other politics . Hard when people dont have to eat and we have 24342 chanels to see and lose our time. And they are just dying for eat , the basic things for live.