Hope the picture of my completed weaving that I gave my brother for early Christ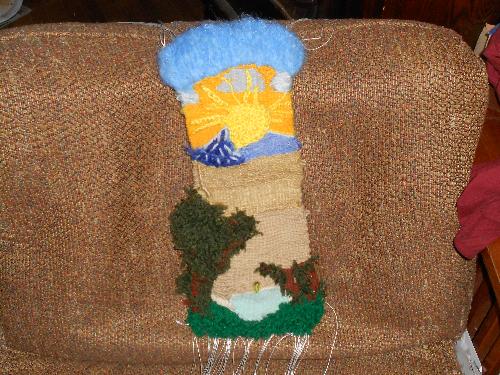 United States
December 1, 2011 12:54pm CST
-mas shows up. I did the picture first and it's supposed to come up. I had a ton of trouble with the sunm the clouds, and the mountains. The rest wasn't bad. I keep having to buy stuff to keep going. You know? You have almost what you need, but not quite. Hope it does come up and you enjoy it. It makes me happy because my brother, "Got it." He said, "It's likea slice of my property." That's exactly what I was trying for. Usually, no one knows what I'm trying to make.

I used weaving, rug hooking, and crochet even though I can't crochet. I did a single chain and sewed it together even though I can't sew. But the "whip stitch" as one of my friends here says, I can manage that. It's hiding all the knots and "saves" that are a challenge. Despite all the problems, I came out pretty good. I made lots of mistakes, but now I know to just weave the clouds in like I did the middle cloud. The same for the sun and mountains, too next time. Or do it off from the weave and whip stitch it on. So have you ever made something from scratch? This was fiber art from my head. My cousin wanted to help me with my patterns, but I didn't have instructions. Her mouth just fell open. She always makes stuff from a pattern or directions. She couldn't believe I was trying to make something from my head. But I try doing things like everyone else and I can't. The tree has a moving part. the grass, if you run your hands along it, you can find a trail. The right cloud has a silver lining if you push some of the strands to the side. I named it, "Hidden" because I hid so many things. I wanted to hide more like a butterfly in the inside of the tree. But I only had so much time. So do you have pictures of what you made? I'm so happy, I even learned how to use my husband's digital camera, but I don't know if I have the right pixal size for here. If it comes out, I've got other things I want to show you, too.
3 responses

• United States
3 Dec 11
Obviously the image shows up. I am just having problems with images today, and at least a third of them do not show. I will have to look again tomorrow. I like the things that come out of my head better than the pattern things. I think it takes a special talent to follow a pattern, but I will take creativity any day. I hope I get to see it later.

• United States
3 Dec 11
No pictures, not even avatars are coming up for me today. I start topics with pictures and this happens.

• United States
3 Dec 11
I am still only getting half of mine, including avatars. I will keep looking back.



• United States
3 Dec 11
Thanks, are you getting any pictures right now? Nothing is coming up.

• United States
3 Dec 11
I'm getting none and GardenGerty said she's only getting half. You're right, it has to be mylot.

• United States
2 Dec 11
That is a beautiful piece of art! You are very talented, having done that with a pattern I'm not sure I could either and to have hidden things! Did you show your brother the hidden things or will you let him find out for himself? Beautiful!

• United States
2 Dec 11
I just sent him directions about how to find the hidden things. The path in the grass by gently "sweeping the grass back and forth with your fingers." The cloud with the silver lining by gently pushing some of the silver part on the top right cloud. The tree moves back and forth, the line coming down is fairly obvious. Shaking it, inside I have a hidden present that will fall down into his lap (he uses a wheelchair).

• United States
2 Dec 11
Sorry, I meant gently on the gray cloud yarn to reveal the silver behind it.