Are you depressed during the holidays?

United States
December 1, 2011 8:24pm CST
I have tried decorating, doing some shopping, and cooking holiday goodies and all through the day every day, I find myself crying for absolutely no reason at all. Do the holidays do this to you? Is it common? What causes it? How do I get rid of it? Help! I'm drowning in daily tears.
5 responses

• Philippines
2 Dec 11
I don't feel depressed during the holidays. Unless when I have some problems that I have to resolve. It is not easy to be depressed during those special days. If you feel like that, don't think of sad memories or anything that could make you cry. Feel the spirit of Christmas my dear.

• United States
3 Dec 11
Alas, having lost our home, my husband's health, a beloved shih tzu, and moved to another climate to be near our son and daughter-in-law, we are primarily housebound. I will work on climbing out of this blueness and try to enjoy the twinkling colors of Christmas.

• Philippines
2 Dec 11
Hello mysticmaggie, I am sorry to hear your story. I hope you will get over the depression and sadness that you are feeling right now. Maybe there is something inside you, something that might happen in your childhood that is related to holidays. I hope you can sort things out and you may have a merrier holidays. As for me, I am not depressed on holidays especially that I have a kid in the house. He is so excited for the Christmas and his spirit is bringing excitement in me also.

• United States
3 Dec 11
My husband is totally disabled and my 32 year old daughter was born with Down's syndrome. She knows Christmas is coming, but doesn't go into high excitement about it. It's quite lonely here on holidays, even when my son and daughter-in-law come for the holiday meal. Almost as soon as the dishes are washed, they are off to other pursuits. As I said above, though, I will strive to raise myself up by painting the house. It's something I enjoy.

• Philippines
2 Dec 11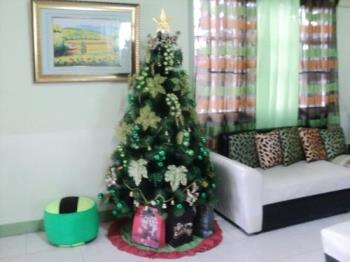 What makes you depressed my dear! There could be some reason behind. Do you have sad memories that you can't get over?

Christmas to me is the most wonderful time of the year so I never ever get depressed. It is actually a season where I get really excited. I love to be busy doing the home decors, the shopping and the cooking for this holiday. Never do I get depressed during Christmas. I wonder what must be bothering you?


• United States
3 Dec 11
I have two wishes for Christmas and will receive neither. I want my husband to recover from a massive stroke and I would love another shih tzu to replace one we had to put down after he began having multiple seizures every hour. Since I currently rent, the shih tzu will not be forthcoming. And my dear husband has made little progress over the past two years. He can neither speak nor walk and one arm is useless. But, I love to cook for the neighbors and I'm going to paint the inside of our house with the landlady's permission. I think not having the freedom to move around as much as I want is the major problem, although no longer owning my home is also a factor. I used to join the crowds shopping and it got my motor revving or putting up decorations with the family. Now I shop online and decorate alone. But one way or another, I will climb out of this funk!


• United States
3 Dec 11
Grab something of great interest and do it. I've decided to paint the inside of our house.

• Philippines
3 Dec 11
Not really, i get the opposite. I am excited lol and can't stop thinking of what gifts to buy for my children. I get excited when i know i can buy them something..well the bonuses did excite me. Anyways, maybe you are just nostalgic because this season can be so nice you know..with all the gift giving. Laugh my friend. its only once a year we get to decorate.