What Makes You Smile & Happy? :-)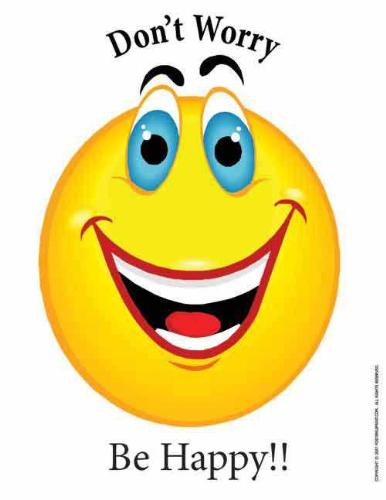 Philippines
December 10, 2011 6:28am CST
I know it's a very so common or basic question to ask you guys, but just out of my curiosity mind...I'd just like to know from you all, what really makes a person (you)smile or let's use 'happy' in other term? May we find it from people, things, love, etc... What's truly the key of real happiness? Any ideas, opinions? Just share your thoughts and let's find out of what makes a person happy and smile... :-)
9 responses

• Philippines
12 Dec 11
welcome to the wonderful world of mylot. there are a lot of things that makes me happy. but there are simple things that makes me happy that i dont need to spend nor to work hard for it. like a hug from my wife and my son, if they add a kiss then that would be double happy. even when my son farts makes me laugh loud and makes me happy. a night cup with my wife makes me happy. as of now i am abroad... a chat or to see them on web cam makes me happy.

• India
9 Jan 13
Time with family is always a happy moment, and always welcome.

• Australia
11 Dec 11

I'm quite a pessimistic person so I tend to feel pretty down each day but I find ways to make myself happy. Eery night I would always exercise and jog. Apparently, exercising actually makes you feel way better and more happier. When you exercise, your brain releases these "happy" chemicals that just make you feel all better about your day. It really does get rid of the stress that's been on your shoulders for quite a while. After that, I would go online and find a few things to laugh at to make me happier. I have few favorite comedians on youtube and I tend to watch their videos and laugh at their jokes. That really makes my night and I go to sleep a happy person. My friends like to joke around too so I enjoy their jokes and I laugh too. So really, I reckon laughter is what makes a person happy. When someone is down, my friends would be all over them trying to make them laugh and it really does work. It makes them feel all better and more bright!

Nothing beats a good laugh really.

• Philippines
11 Dec 11
Hello Triple0, I believe in what you said. I have read an article about this. Exercising releases happy chemicals in the body, I think that chemical is called serotonin. I would also like to engage myself in a daily routine to help relieve stress.


• India
9 Jan 13
I like it when my near ones are happy and healthy. I also like time together with them, whether at home or outside. Also, when things go as per plan and I can do a lot of things, that is what I like the most.

• China
11 Dec 11
In the world,there are a lot of things can make me happy. When I was rewarded after effort, I felt happy. When I saw the poor became richer,I will smile. When I saw the stray cat was adopted,I felt happy. When I saw other person happy, I felt happy too,because happiness is infectious. In short, when things get better,I will be really happy.

• Philippines
11 Dec 11
My family makes me happy at all times. For now, I am working in a place which is far away from home. Every time I have a time to go home, I always grab it. When I spend my time with them, full happiness is what I am feeling.


• Philippines
11 Dec 11
Hello mel0482,

There are many things that make me happy. Simple things, really, like a new book, a new haircut, a new friend, etc.. I feel happy the most when there are no pressures coming from everywhere. Like in work, when I just do what I have to do and end the day without going through the hassle of tolerating not so pleasant boss or office mates.

I also feel happy when I hear from my old friends. I like plain and simple life so I am happy when there are no unnecessary stressful events that happen


• Canada
10 Dec 11
I think to answer that question it is simple enough at the beginning (smile) but gets harder at the end (happiness) while some might have lofty ideas mine is rather simple really. I find when I feel accomplished it makes me smile. It can be anything really, even to share a laugh with someone or even something as simple as to write something of what I feel. I do feel sometimes what I write might get passed over, you know it does go into the big rolling data base of obscurity but if I think I've touched someone or made a little difference or made some kind of connection then that is something that makes me smile. They say small things amuse small minds, well that might be true in my case. Now happiness is another story. What makes you happy? If in my head I can be happier than not happy well that's something and if I am reasonably happy and something makes me even happier what a delight it is. I don't think of happiness as a perm condition.

• Indonesia
10 Dec 11
There are many thing can make me smile. I enjoy each moment in my life, thanking the God giving and enjoy the God's creatures. Seeing other person smile and laugh makes me so glad. Gathering with my big family and friends always give me more exciting for me. Doing good things or sharing something for those who need it also give me much pleasure. In my opinion, the happiness can be gotten by giving others. We'll influenced by their happiness from our giving. Let's make the world brighter by smiling to other and sharing our happiness.