Customized cute little Christmas tree....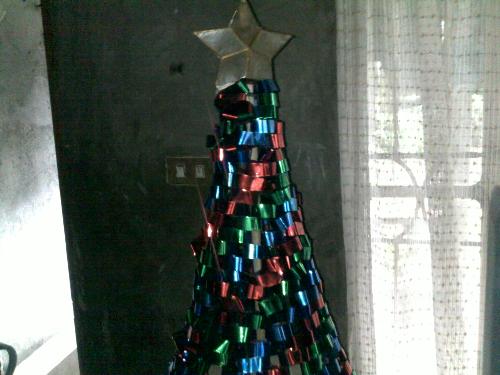 Philippines
December 11, 2011 3:06am CST
Hi mylotter friends,have a nice day to everyone. just to share... When I got home from overtime work yesterday,I see my brother doing something on the table.When I walked nearer,I saw him making customized little Christmas tree.It is made of recycle materials like old card board, colored foil paper left from the project in my youngest brother's project,strings from my father's tool box and a small star from our old Parol. I have attached our little cute Christmas tree.
7 responses

• Philippines
11 Dec 11
Wow! I admire your brother for doing such an adorable Christmas tree. You can help him enhance his skills. He can start an small business. Remember this, big businesses started with small ones. Kudos to your brother!

• Philippines
11 Dec 11
Yeah I admire him for that.His patience in connecting those foils and make it a chain.We do place it beside the TV. Thanks.

• United States
12 Dec 11
I have a small tree that lights up, and it has snowman ornaments with my brother's name and my name on them. And since my brother isn't alive anymore, it gives me some hope that part of him is still around.

• Philippines
11 Dec 11
That looks cool. The most productive thing I've made with recycable materials is more donation to junkies who sell junks to other people. I'm not really the artistic type when it comes to re-using materials to create something cool such as a Christmas tree.

• United States
11 Dec 11
Amazing. I was walking in town earlier today, and thought about trees and what we put on top of them, and my thoughts quickly went from the angel what I now have to a star. I haven't had a star on the Christmas tree in so many years. I think a star was one of the first toppers I had when I was away from home for the first time. Your little tree is beautiful and I really like it. That was very sweet of your brother to create such a tree for you.

• United States
11 Dec 11
That looks like a lot of crafting going on. I think it looks great as well. I hope it lights up at night too..

• United States
11 Dec 11
I am proud of your brother for doing this. It shows that he has talents and that he is truly creative. He might be able to make this into a business at some point. I msde small trees out of pine cones this year and they were really cute!