mothers really feel this way right?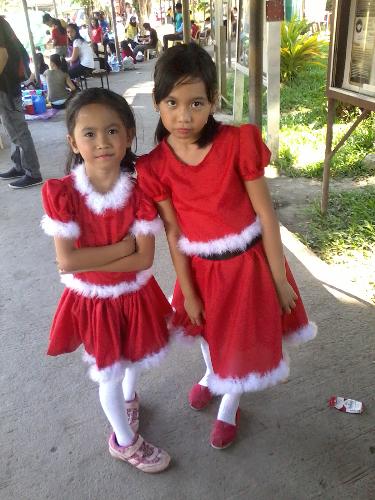 Philippines
December 11, 2011 9:09pm CST
Or i am just really a doting mom. Lol. Yesterday was my daughter's Christmas dance presentation. Their costume was a santa costume and i really had it made.. and i put feather laces on the edges as supposed it should.. and when i saw her dance, she is really cute.. or i thought i am. My husband was happy looking at her dance, i even had a video of it..though its not that clear because it was so crowded and noisy.. so many kids. All in all, i know it was worth it and its one of those precious moments that i want to put in bottles as memory.
5 responses

• Philippines
12 Dec 11
Yes jazel , that's how mother's feel when they see their daughter participate in school activities. They themselves will be fretting about everything needed. When our daughter was still in her prep and kinder school, my husband and i would take our leaves of absences, just to document such occasions. Now, when we see those pictures, we cannot help ourselves from being nostalgic of those days.

• Philippines
13 Dec 11
It is indeed nostalgic.. it is nice to those pictures again and again and again..


• Philippines
13 Dec 11
When they have grown up, and see those pictures, you couldn't help but cry remembering those happy times when they were kids. I am that way, whenever i look at my daughter's pictures when she was still a kid.


• Holiday, Florida
12 Dec 11
aaawww, how beautiful. ive always been the same. have pics all over my FB and here and every where. very proud. thats how it is when you are a wonderful mother.



• United States
12 Dec 11
Your daughters are beautiful! And the costumes are very nice, my compliments to the seamstress. I would hope that all Moms are as doting as you. I would love to dote on my children more, I do what I can. I bet their dance was beautiful and I hope you were able to take many pictures and videos to capture their memories and make time stand still.

• Philippines
13 Dec 11
hahaha yes i was able to take a video of it but it is not as clear as it..but i have lots and lots of picture of it..

• Philippines
12 Dec 11
I'm a mother too that feels like yours whenever I saw my daughter doing a presentation whether at school or to other programs. You just made her costume?! Wow, that's great! I want to learn to saw also. I want to make my family something to wear personally. Happy parentin' jazel!

• Philippines
13 Dec 11
Hahaha yes its like feeling of happiness which is hard to explain and something that will really last..not like the same happiness when you get a new gadget..its different.. the costume, well i did not made the red part, i have a tailor did it..lol i do not have time to sew it but i did the white part..the feather lace.. i sew it by hand.. and it does not seem obvious but i actually ran short of it! lol the back part of the skirt does not have any feather lace .. which my daughter did not mind..


• Philippines
12 Dec 11
I do think mothers are all stage moms. I would have been jumping and clapping if it were my daughters' presentation. It is a happy and proud moment for us whenever we see them excel or just participate and we know that they enjoyed it. If we can just snap every move to make an album we would, right?