Be a Wise Learner...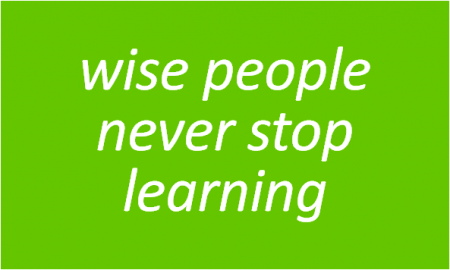 Philippines
9 responses

• India
23 Dec 11
learning is an ever going process, it can never stop. Every day something new is there for us to learn, so sometimes i become wise by learning things and sometimes i become selfish.

• Singapore
15 Dec 11
'Wisdom' acquired from reading and learning is not enough as that is only knowledge gained and hopefully retained. A wise person is one who reads, studies, understands, reflects and meditates on what he has learnt or experienced. He is then able to make good and sound judgement and responses. He may make mistakes but he learns from them and try not to repeat them. He is also able to advise others in relationship or other matters. He also knows when to or when not to open his mouth. A wise man is one who knows when to speak his mind and when to mind his speech.

•
14 Dec 11
Honestly, I do not consider myself a wise person. Learning is a continuing process and as we grow older, we gain more wisdom and become more wiser. But human and intellectual wisdom is nothing if we do not know the word of God which is the source of all knowledge and wisdom.

• India
14 Dec 11
The general fallacy in understanding is that it is just important to learn for a degree or a certificate that ensures a well paying job. But there are wisdom quotes that give a good insight into how to treat learning and I always recollect them as often as I can: [i]Education is what is left after you have forgotten every thing you learnt at school [/i] [i]Let noble thoughts come to us from every where [/i]
Education is the manifestation of perfection already in mankind
I am wise and I have therefore emphasized on continuous learning to grow personality on my blog!



• Philippines
14 Dec 11
I am wise..I am wise to think ,first God,and last the things that need physically.I am always asking to have life that is directed by God's ways,and to be matured,filled with His wisdom...Life is important,meaningful,and must use it in real life with God.......

• United States
29 Mar 12
Nice to hear! just don't get left behind trying to figure out GODS plan buddy!Practice some ROTE LEARNING on your Free Time- Education is Communication, Come-On

• United States
6 Feb 12
Yes! Life is full of things to focus on and learn from, not just going thru life doing the same thing & thinking the same thing. It can be addictive to go thru the motions but incredibly boring. Plus people will think you're ignorant if you do or think or talk about the same things in a continous cycle. It's good to stimulate the mind not just to feel like life is worth it, but that it's good for the brain & helps you cope with changes that come into your life. It's mentally healthy,

•
25 Dec 11
I guess I am wise but at times pragmatic. Wise with people whom I can trust, and perhaps pragmatic with those who cant be bothered with me but still Want to take advantage of my goodwill;There is a God, yep, I go to church every saturday, the date is a bit unusual due to the pastor's schedule, but I would say going once a week makes a difference to my life. Anyway, Merry Christmas and a Happy New Year! Hohoho, now who's naughty this Christmas? :)