Learn Self-Control...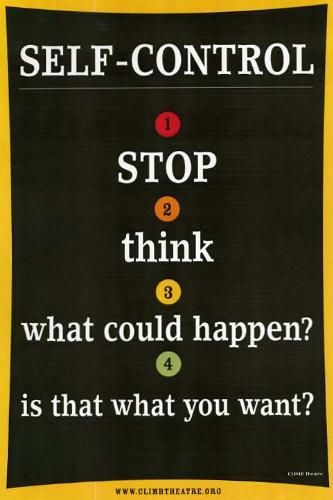 Philippines
December 14, 2011 7:17am CST
You will meet people who disagree with you. Sometimes you are right and sometimes you are wrong. Your goal must be to learn the truth, not to win an argument. The desire to win an argument is selfish. The sad thing is that the truth nearly always loses in an argument. When someone disagrees with you, the first thing to do is to listen carefully to what that person says. As you take time to listen, your own feelings will calm down. Then you'll be more concerned about learning the truth than about winning a fight. How do you learn self-control in every situations you may ever face or dealt with in life?
3 responses

•
14 Dec 11
Yes, if we fail to realize truth because the ego-mind only wants to "win" then this will be a problem for each of us. Winning arguments for the sake of winning will only hold us in ignorance - the ego rarely has our own well-being as a priority - the ego is only interesting in strengthening his own position. Because as a Zen practitioner I meditate every day, I have developed a greater ability to remain detached and that it really doesn't matter who is right or wrong. Of course, sometimes I may have some issues and feel myself getting drawn into some emotional reaction, but that is why we are here in my opinion, to be able to transcend out opinionated minds and get more of a spiritual experience. The problem is that nobody can really contol the need to compete and win by pretending it's OK when it is not. We need to fully acknolwedge that we have been drawn into a "battle of wills", and admit if first of all to ourselves and then to share it with the person we are arguing with. Let them win, and then we will begin to see that there is nothing to win at all. That we each created each other in our experience, and therefore when we hurt those "creations" we are really hurting part of ourself..

_Derek

• India
14 Dec 11
I Just try to stay clam where ever there is an argument.But Some times one has to participate in that. But I believe in "ACTIONS SPEAK LOUDER THAN WORDS". Have a Nice day

• Philippines
15 Dec 11
Hi mel, This is true. Sometimes out of anger we tend to argue and fight for the things we believed in. Sometimes I get lost too and be in an argument. But I have learned that we can just let it pass for sometime. When we have cooled down then we can talk to the person calmly.