Eating Chocolates

Philippines
December 18, 2011 6:16am CST
Everytime when someone from abroad goes home, I know that I will given boxes of chocolates. I have relatives who works abroad and also my father. They always bring chocolates. Now that my father has arrived, there are so many chocolates. He brought packs of chocolates like Tobleron, Sneakers, Kisses, Ferrero Rocher and the other one which I don't know yet because I haven't opened it. I eat and eat.
8 responses

• Philippines
19 Jan 12
Oh I love chocolates! When my grandparents were still living in the US, they would send us LBC boxes full of clothes, magazines, stuff and of course- chocolates! I especially love the M&Ms and Hersheys and Hershey kisses! Chocolates reminds me of my childhood.


• Philippines
31 May 12
Hello cearn! Long time since I've been in this discussion

It's a coincidence, I just ate a chocolate awhile ago. I had Nestle Crunch!


• Philippines
18 Dec 11
Yeah they usually buy chocolates when then arrive from abroad to give to love ones.I like eating chocolates too like Kisses and Cadbury as one of my faves.

• Philippines
19 Jan 12
Oh yes, whenever a relative from abroad, they would bring big Cadburys. Each and everyone at home will be given one . My husband , daughter and i will take our time in consuming them. Just be careful my friend. Drink lots of water after eating chocolates, so those sugar will be washed.


• Philippines
19 Jan 12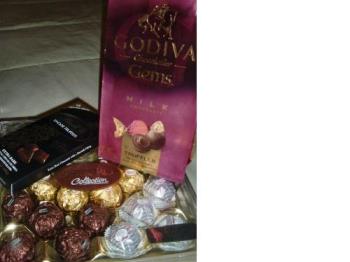 Chocolates are just so delightful so I can't blame you if you can't stop eating. But make sure you watch your size. Chocolates are fattening remember so if you won't stop eating and eating chocolates this means you are growing bigger and bigger and before you know it you might just end up obese. So control your appetite for chocolate. Instead of eating and eating why don't you just give and give and don't forget to give me even just the Ferrero Rocher please!


• Philippines
19 Dec 11
Chocolates are really expected. I used to buy chocos too to sent home. Now that I am home I am waiting for my brother to send us chocolates too. When my dad came back home too he has bought some chocolates. It has been lessened since we, his kids, have grown up already. But unlike before, when we're still young, he used to bring home a lot and sometimes we are buying some in the Mall here - because you know relatives will be queuing for it too


• Philippines
30 May 12
Yeah my friend. Going home from abroad can't be complete without chocolates. I am also waiting for chocolates my friend but I don't know when it will arrive. Maybe I will just wait. When my father brings chocolates or sends them, I have all of them since I am the only daughter. I so love chocolates.

•
18 Dec 11
Why is chocolate the best gift to bring home while there are so many alternative gifts that people can buy.

• Philippines
18 Dec 11
Hahaha, I bring chocolates back home as well when I came back from working abroad. Chocolates/sweets are so easy to find and much more easier to bring home because they don't rot like fruits, and they don't really consume that much space. the problem is just that sometimes I experience excess baggage because of the chocolates. Internationally it's allowed 30 kg, but when I fly to my city, only 15kg is allowed.