Manila by night.

Malaysia
December 18, 2011 9:43am CST
I can really feel the atmosphere of Christmas while in Manila. With the glitters of the beautiful neon lights in every nooks and corners of the streets and buildings it has turned the whole nation into a city of lights. Santa must have arrived earlier to this beautiful country where the majority of the people I think are strong believers in the christian faith. Together with my mother and siblings we had a fruitful visits to few churches and a faith healing centre in Taygatay. We had the opportunity too to join in the mass at Quiapo church. Many believe that praying to the Black Nazarene can produce miracles. Our first day was a long road journey to Baguio city which took 6 hours drive from the airport and only reached the place at around 10pm. On the way to Baguio city we stopped over for dinner and had the first taste of Filipino foods at a beautiful restaurant which I forgot to see the name of that restaurant. Paying 9,000 peso for 12 pax was a little over priced I think as the dishes weren't that much but probably because of the nice setting of the restaurant that added to the cost. Mom was so mesmerized by the live musicians that serenaded beautiful songs while we ate, generously tipped 500 peso much to my shock as I thought that it was all in the bill. But can't blame her as it is in her nature of being overly generous. She would put out her hands in the moving coach to give to the street children who came rushing during the traffic jam. There wasn't much to see in Baguio city but maybe it was only a night stay and a day for sightseeing before moving to Manila city. We went for the horse ride, went to see the mansion, grotto and a church. Bought few souvenirs from the handicraft stalls there before another long drive to Manila. Sitting long hours in the coach can be very tiring but the colourful and beautiful lightings that lined up the streets swept away my tiredness and released me of the thoughts of the distance. It could have been a dull and boring journey travelling on a pitch dark night without street lights in most areas but the glitters of the neon lights saved us from falling asleep. And I truly enjoyed the travels during the night. In between our programmed sightseeing we took off to do some shopping in those famous places like greenhills, tutuban, sm malls and Robinsons. Did not really enjoy the shopping as we have to fight our way among the sea of christmas shoppers. Really it wasn't a good time for shopping but we had a good bargain for most of our purchases. We came with one luggage but returned with three luggage per person! Luckily we pre purchased our extra luggage capacity with the airlines so wasn't too worried of the excess weight. Some of my siblings who were first timers to the Philippines were so overwhelmed with the much cheaper goods they get there compared to our pricey goods in my country promised to come back in the very near future for more shopping sprees. My elder sister bought a lot of religious stuffs which are of limited choices in my country. Unfortunately, time was so limited that I did not manage to go online to get in touch with other mylotters otherwise it would have been a real life meeting with people that I often interact here. Maybe I would be there again next year to venture to see more interesting places in this beautiful country.

11 responses

• Philippines
19 Dec 11
I am happy that your family loved Manila and its neighboring towns , during your stay here. You could have also gone to the provinces and see those scenic sights and recreations that can be given by nature , such as swimming in the white beaches. It is always what is being said by those who come to the Philippines, the clothes and accessories are cheaper than when abroad. That's because, here your money's equivalent is PhP43.00 greater than our peso if it is in US Dollars.

• Philippines
29 Dec 11
Indeed my friend! Those from abroad are lucky that thier dollars could be exchanged in 43 folds of pesos!They really can shop so much with there small amount of dollars already !


•
21 Dec 11
Wow! What experience you have in our beautiful country. I am happy that you were able to visit our place. This is what we are proud of and it is really a blessing to us Filipinos. Our faith in a living God. Hopefully you can visit our country in the coming years especially during Christmas. MERRY CHRISTMAS AND A BLISSFUL NEW YEAR!

• Delhi, India
19 Dec 11
Hi Zandi! Your post makes an interesting reading. I felt as I was travelling along with you and was enjoying every moment of festivity on your way to Manila. I feel that such kind of decoration and atmosphere could be so wonderful to experience that we wish that we should enjoy as much as possible and time should stop over there for few hours.

I have not had such experience in my life.

• Philippines
19 Dec 11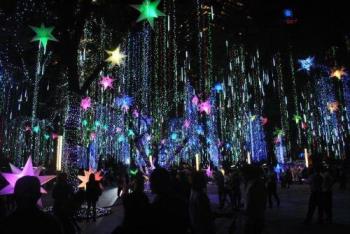 So visited our country!!! You paid 9,000 pesos for 12 pax. Yes it is not just a little but over-priced. There are lots of eat-all you can restaurants for as low as only 500 in the Metro Manila area and they offer real great tasting food. Well at least you enjoyed the setting and the music. And yes, the whole Manila is glittering at night. It is just so colorful because of Christmas lights hanging beautifully here and there. This happen only during Christmas season and it really adds up joy. I myself love the place during the night because I feel the cheers all the more. Were you able to visit the Ayala Square? It is raining with lights even and really so mesmerizing! And also the shopping spree has seemed overwhelmed you. The prices here are really comparatively lower. I also have compared our prices with that of other countries and it makes me feel blessed. Well you really have to come back again to see more of what Philippines could offer.


• Malaysia
19 Dec 11
I later discovered that there are many good choices of foods which are fantastically delicious at much cheaper prices. But probably our tour guides wanted to give us good impression of fine dining in a 5 star kind of restaurant. It was night time so we didn't really see the beauty of the restaurant except for the area we sat for our dinner. If am not mistaken the place is called 'Idaas'. Yep, the Philippines is a good place for shopping as the choices are unlimited.


• Australia
13 Jan 12
Hi Zandi. First of all, I want to thank you for visiting our country Philippines. Despite all the negative publicity it's getting from other foreign media. I enjoyed reading this post of yours. I can feel how you felt seeing all those Christmas lights and the beauty of the streets during that festive season. I haven't spent Christmas in my country for 7 years now, and I am planning to spend my time there Christmas this year. Second, I recommend that you visit Makati area which is one of the main shopping destinations in Manila. You will also love the beaches in Clark or Subic in Olongapo City, as well as the famous Pico De Loro in Batangas. I can't believe you left the Philippines with heaps of luggage hahahah! Thanks for this discussion.

• Malaysia
13 Jan 12
Seeing is believing they say and media reports are nothing but false reports to smear the good name of your country just to create sensation to boost their papers sales. Every big cities in this world could not deny the fact there are social problems in their midst. As a seasoned traveler I find your country quite safe as security is everywhere especially in the busy shopping malls where everyone are screened at the entrance before being allowed in. This doesn't happen elsewhere. Yes, visiting your country during the month of December invoke christmas mood while shopping as the malls are beautifully decorated and christmas songs are played everywhere. I've been to Makati once during my first visit to Manila. I love to go there again in future. I'll be in Clark in May and hope to see more of that place.

• Philippines
12 Jan 12
I'm so glad that you enjoyed your sat here in Philippines! Baguio! I love Baguio a lot! Last year I went there around 2 to 3 times I think but I wasn't able to get my parents to come with me. My mom is terrified of travelling there via bus :P I'm hoping to persuade her after summer. Hopefully we can go there again. Have you been to 50's diner? They serve enormous sandwiches there! I love arriving at Baguio during night time. While the bus is till far from the city proper, you can see the lights up on the hills. I find that scene breathtaking whenever I go to Baguio. I haven't been to all Tourist spots there but I've been to famous ones. I've been wanting to visit Asin Hot Springs again, Tamaw-an Village and Dominican Hills for some picture taking. The first time I went to Baguio was for the "Panagbenga" festival or Baguio's Festival of Flowers. Yes, the streets are packed and the tourists spots are crowded with people but the festival is worth waiting for. The floral floats are awesome! I suggest you visit Baguio at that time if you can. It's too crowded though. This February we'll be heading to Sagada. A place higher up from Baguio. It's in the Mt. Province area. I've been there once and did some trekking and spelunking. It's awesome! Manila's a great place for a tourist. The malls are awesome and of course, there's bargain places like Divisoria (which I frequent. Have you been to 168, 999 and City Gardens? They're all within the vicinity and offers more things for you to buy at affordable prices) and various SM Malls (I assume you've been to SM Mall of Asia) are a blast :D I sure hope you visited Manila Ocean Park and Intramuros. If you ever get a chance to visit Philippines again, visit other provinces like Palawan, Pampanga, Bataan, Cebu, etc.


• Malaysia
12 Jan 12
I am a keen traveler and have been to most of the neighboring countries. It was my third visit to the Philippines and have booked another trip in May but this time it will be in Clark where I am going for a refresher course in baking. I love the pastries and desserts. Then would proceed to Manila for shopping spree. Yes, went to few shopping malls there, Tutuban, sm mall, Divisoria, greenhills but didn't go to City Gardens. There may still be a long list of shopping centers that our guide didn't bring us around. The terrible jam in Manila is another factor that stop short our visits to many other interesting places for shopping. Went to Taygatay too and managed to visit a faith healer. Was told that many of my countryman frequent this place when they come to Manila. Just for curiosity sake we went to visit this center. The center is spiritual in nature but being commercialized by the owner which I think defeat the whole purpose of helping those who need to be healed. I truly enjoyed my stay in Manila and looking forward to another great visit in May.


• Philippines
19 Dec 11
Wow! So you've been in Baguio City? I live in Baguio City. It is sad that you were not able to go around the city to enjoy the place. It is nice however, that you were able to go around some other places of interests in Manila. You should allot more time to go around the Philippines. There definitely are more places to visit.


• Malaysia
28 Dec 11
Unfortunately I didn't see much of Baguio City except for a brief drive around the city before rushing back to Manila. It is a beautiful country except for the huge crowd that coincide with christmas shopping that limit our shopping time. Maybe I'll go there again in May when it is not too busy there.

• Holiday, Florida
18 Dec 11

wow that sounds wonderful. its so nice to know that someone on here is getting to go to far away places and see things like that. it sounds like so much fun. very happy for you my friend.

you do a great job of discribing it all. all most like we were there. thanks.


• United Kingdom
18 Dec 11
I like the lights in a city after dark especially if I am sitting by the water.The lights appear to flicker about over the other side of the water. I am really pleased that you enjoyed your journey Zandi and looked out of the window at the passing scenery. It was a shame time was limited but you fitted a lot into the time you had available. I always put heavy stuff in my hand bag because it is not weighed. I always buy souvenirs and keep space in my luggage for them. I wish you lots more happy travels.

• Malaysia
19 Dec 11
Hi maxi, it is great to be in a country where the night life is very much alive which makes a short vacation more meaningful. Unfortunately, there is a strict rulings with our airlines as we are only allowed to carry 7 kg for our hand luggage. So travelling in groups is an advantage.

• Lapu-Lapu City, Philippines
11 Mar 12
this is too late zandi but there is really not late on mylot.

anyways, thanks for spending some time to visit our place. i will not talk about too much about your stay here because i will only feel sorry that i missed you when you were here. i just want to let you know that the next time you will be able to come again, you may find to include cebu in your itinerary. and hope that when you do, i will find time to be with you too or even be your city guide.