Rosie's in Jail!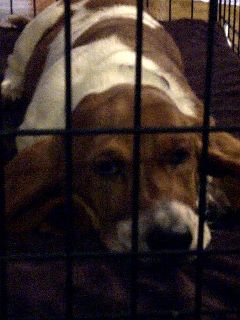 United States
December 19, 2011 2:05pm CST
Oh.. she just is so not liking her crate. My first thought is that she is in jail. Look at that cute little face. She is barking and crying because she wants to get out of her crate. Her mom and dad have gone shopping, so they need her in her crate. They spent a lot of money on her crate, so she will need to get used to it. Oh.. but don't you feel sorry for her?

She wants to make me feel bad about her being in jail...

9 responses

• United States
19 Dec 11
Awww, that sweet little face!! She looks so sad lol. A crate definitely takes some getting used to. My one dog ended up loving it and she would go in it even if we were home. But my mini dachshund hated it. The first night we had her she literally barked all night and we got no sleep. So she ended up sleeping in the bed with my mom under the covers and that kept her quiet lol. Even when we kept her in it during the day when we were gone she hated it and never went in it on her own.

• United States
19 Dec 11
She is quiet now...

Your mom's experience is a lot like ours... rosie is sleeping with her parents now at night... that's the only way any of us can sleep.


• India
20 Dec 11
OH ! Was it night time there 3 hours back. I thought it must be day time because I find u are from Atlanta. Now time is shown as 19.57 monday. If she is quiet then fine. let her sleep. Will she enjoy some music being played when she sleeps?


• United States
20 Dec 11
I guess they just get lonely at night and want to be near us lol. That first night we hardly got sleep because of her and ever since then she's slept with my mom and she's happy as a clam under the covers. I think that they're probably quiet in their crates when nobody's home but if people are home, then they want to be out and play with someone.

• United States
19 Dec 11
I am curious, she is in her crate while you are there? Because usually a dog doesn't mind a crate unless someone is around making them want to go out and play. All my dogs loved their crate and my girls still go inside and lie down for the fun of it..

• United States
19 Dec 11
I'm in my part of the house, and she isn't allowed into that part due to it being filled with his grandma's furniture and better carpeting... my daughter and her hubby are gone and I am in my room. She doesn't like her crate. She is supposed to sleep in it at night, but she won't ... she barks and barks and keeps everyone from sleeping at night... so now she sleeps with them... she knows how to work her humans.

• United States
19 Dec 11
Yep, it sounds like it..lol

• United States
20 Dec 11
LOL, they always feel that way at first, it takes awhile to get use to it. This would be a great way to potty train her. You let her out to go outside potty every 20 minutes. Then she knows the only reason she is getting out is to go potty.

• United States
20 Dec 11
She will be going to get spayed soon in about six weeks. She will be crated for a few days to keep her quiet so she can heal. I hope she will learn to go out then. She is getting out but sometimes we aren't in time and she uses the pads.

• India
20 Dec 11
She will try to get out of the crate by barking and making more noise. But after repeated attempted getting failed she will get used to it. That is why she is sleeping now. After a few hours she may start barking.


• United States
20 Dec 11
Yes she will continue to do this until she gets used to it.

• United States
19 Dec 11
I'm confused why does she have to be in a crate when her owners go out shopping? Is she still a puppy? If so then I understand why. I had to do the same thing with my dog when I was still training her. If I didn't then I would come back to a mess. Chewed up garbage everywhere not to mention her business on my carpet ...LOL So glad those days are now over.

• United States
19 Dec 11
She is in her crate because she cannot have full run of the house with her mom and dad gone. She will try to chew on wires, pull up on carpet and everything. She is a baby.. just 10 weeks old. We are trying to get her used to her crate. She has quieted down now... she just wanted someone to let her out.


• United States
29 Dec 11
She doesn't mind it now. She just goes to sleep. She goes in her crate when her parents go away for a little while. I'm not allowed to walk her because she pulls pretty hard already. I think she likes having her own space now. She also has a bed between the two chairs in the den/bedroom they have. She lives it.

• Lippstadt, Germany
24 Dec 11
looks like, pleeeeease get me out of here, will you? I promise you to not pee or poo on the floor if you get me out of here..........

• United States
25 Dec 11
Yeah, she does look like that, doesn't she? She is such a blessing to us. S gets tears in his eyes he is so happy to be her daddy.

• Garden Grove, California
23 Dec 11
hi P ointless she is one smart doggie, giving you that sad, sad, look what you did to me look.lol I feel a bit sorry for her but still she

has learned how to push her grown ups buttons. she is a real cutie and does the woeful face to perfection.


• United States
23 Dec 11
Oh yes, Hatley… she has her family wrapped around her paws. She is slowly getting used to her crate. Kim puts her in it every day for a little bit, because when we go to church Saturday night for our candle light service, she cannot have the run of the house. She does know how to give those sad eye looks. She is also very vocal and she talks and you should hear all she says! She has grunts, groans, and all kinds of noises.. and she sits up on her haunches in her bed and puts her paws on her prison bars… she is so funny looking and so cute. She sleeps with her mom and dad at night.


• United States
20 Dec 11
Haaa! I love it. I know little Brady is a doll. I just live Rosie's ears. She looks like a cartoon dog that might just fly. I'm kind of put in mind of Under Dog. I'm also put in mind of Dumbo the elephant because he could fly with his ears.