A lot can happen over a coffee :)

India
December 20, 2011 2:48am CST
coffee is a delicious and wonderful smelling,refreshing beverage. The subject is a tagline for one of the most famous coffee chain. It's surely a conversation starter and sometimes you can really say that it brings the best in you. I just love having coffee anytime. :P
6 responses

• Philippines
20 Dec 11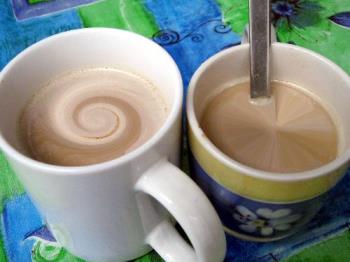 hello abhi285, indeed it is right. there are a lot of things can happen over a cup of coffee. hence, having a cup of coffee with an acquiantance friend will somehow get you more close to him/her. since, you can share each others idea on things that you loved most. and not only that, who knows, your interest are almost the same. thus, having a cup of coffee to somebody will really bring another level of a better relationship. knowing him/her deeply prior to your first meeting. and having a cup of coffee is one of my ways to have myself relaxed. as my mind feels calm from thinking so many things. aside from that, i am able to think of a much better way in approaching my life's path.


• Philippines
5 Apr 12
Well, coffee is a nice beverage that I can take whenever I'm on the computer, whenever I'm reading a book, or just starting my day with a morning show. Not just in the morning, I like drinking coffee in the afternoon too. And when the afternoon gets hot, it's nice to have some ice coffee.



• Indonesia
20 Dec 11
coffee is a delicious drink ever, i really enjoy to drink it especially on the cold place or in the morning to increase my concentration. As I know coffee contains of caffeine which is good for my brain work. I could work better after drinking it. Spending my time with all of my friends drink coffee is my favorite activity, we can do it for long time. Have you done it with your friends?