Here is a little history on our special Christmas Ham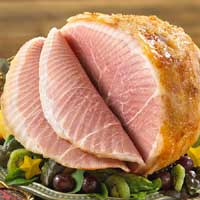 United States
December 21, 2011 7:32pm CST
When I had all five of my children home and we used to spend the weekends and even weeks up at Lake of the Ozarks in Missouri, There was a restaurant we used to love to go to family owned because we loved their breakfast with country ham. One day we inquired about them and they told us to go visit their smokehouse in California Missouri. So we took a drive up one day. We got the full tour of how these hams were made. What has always been awesome to me is the man that started all this was in 1952 the same year I was born. So this is a business story for him, but its our holiday story we tell everyone about because we love his ham so much. Here is the story and at the end I will leave the link so you too can maybe enjoy a special time with one of his hams. Burgers Smokehouse Simple Traditions since 1952. 1952 is generally recognized as our offical starting date. It was the year our founder E.M. Burger cured 1,000 hams for the first time. However our roots can be traced to 1927. E.M. sold six hams that year. The following year, he sold 12. And by the 1930's he was curing 24 hams a year. E.M.'s mother Hulda a native of Germany passed down the family tradition. She brought the age-old art of meat curing with her to the new country. As a young boy, E.M. learned the recipes, principals and craft of preserving meats. A COMPANY BUILT ON NAILS Back then there was hardly any electricity outside of towns. Most folks didn't have iceboxes, much less refrigerators. But they had a hog or two which meant curing hams was a necessity. The process was simple. Hams were rubbed with a curing mixture, wrapped bagged and hung from nails to cure. From there Mother Nature took over. Some hams cured several months. Others for over a year. The length of aging and smoking determines the flavor of a ham. Today we continue to cure hams using the same old age process. The nails are still in our sheds and barns where hams were hung in the old days. We are proud of those nails that built our family business. It STARTED WITH A DISH TOWEL Early on, our operation was simpler. Natalia Burger would hang a white dishtowel on a tree outside the house. That was the signal to E.M. who was farming the bottomland that there was a customer at the door. But things changed. In 1955, Harry S. Truman presented Morris (E.M.'s son) with the Grand Champion Ham Trophy at the Missouri State Fair. By 1956, the company was producing 5,000 hams annually. And on July 23 1956 Burgers Smokehouse became the first country cured meat company in the nation to recieve federal inspection. The little dishtowel business grew up. THE SMOKEHOUSE TODAY We got our start in ham. But out business has evolved. Today we offer an extensive assortment of specialty foods that are just as meticjlously prepared. From turkeys,bacons and sausages, to chicken, seafood and buffalo. Just to name a few. Each is prepared with its own time tested process for a robust distinctive flavor you won't forget. Burgers Smokehouse comprises 300,000 square feet on the original site in California Missouri. As the nations largest producer of country ham and specialty smoked meats,m we produce over 750,000 hams annually. Our products can be found in grocery stores, restaurants, and kitchens all over the country. If you ever are in that area stop by and visit the smokehouse. It holds all the original tools and items to make the very first hams. when you enter the smokehouse through a covered bridge there will be a theater so you can see how they were made. Tours are offered to explaihn their different types of ham and how they have controlled temperature rooms that contain hams. The attic ham is one of the longest. It moves through all 4 seasons at various stages to ensure an aged and robust ham. I hope you like the story on hos this family became a household word name in up in the neck of the ozarks started by one family who had one ham to eat and asked neighbors over to share their meal. It led to him making 2 the next year and on it went to the wonderful family business it is today.Take time to delve in the hams I buy two different kinds The spiral sliced country ham, and also you can buy the country ham in biscuit size cuts. It makes for a special weekend to have a few cuts of this special ham in the house. here is the link for those that would like to learn more about the hams and what the business has to offer. www.smokehouse.com If you ever get one share with me and let me know what you thought. I am sure you won't be disappointed. I know a lot of times I try to buy a ham at the store and they turn out really salty. These do not. When I get this ham in I know its Christmas. Merry Christmas everyone and hope you liked the story of Burgers Hams
3 responses

• United States
22 Dec 11
What a beautiful and precious story! Thank you for sharing it. I am deeply moved by remembrance of an "America that was" and is no more. A time where hard work, excellence, and family prevailed. A time when people from all over the world came to the "land of opportunity" to worship freely and brought with them their native crafts, gifts, and talents, given them by our Creator. And they shared them in this new and wonderful "melting pot" nation where they became "unified" into one United States, endowed by our Creator with life, liberty, and the pursuit of happiness through hard work and perseverance and living by God's principles............. And, now?

• United States
23 Dec 11
Glad you liked the story. They are a family owned business and 3 generations running it. I know what you mean I did ceramics for 25 years. Made a business and now you can hardly find anyone doing ceramics anymore. I cross stitch now and even younger women say I could not see to do that or I would not have the patience. I just smile sweetly and say it helps ease my pain that I have (health) and that now that I can't use a brush I use a needle and floss so I call my hobby Painted Needles now. Sometimes I sell a few cross stitch cards, and Christmas cross stitch ornaments on Ebay. But today everything is instant and most people have no idea how long it takes to make something handcrafted and so you are lucky to get pennies on a dollar. Have a wonderful Christmas And Happy Mylotting!

• United States
23 Dec 11
Thanks again for your heartwarming story. I'm happy that you are still carrying on a tradition of excellence. Happy Everyday! Merry Christmas in the name of our Lord and Savior!

• United States
22 Dec 11
Love the story and the hams sound wonderful. What a nice little tradition you started from just a local visit. Enjoy your ham.

• United States
23 Dec 11
yep got a 10 lb ham Hubby is gonna kill me when he sees the price LOL I usually only get around 5 to 6 lb but I figured I could use half and freeze the rest. Also has the bone in so it will make some really good beans and ham.

• United States
23 Dec 11
I hear you about the price of hams, they are really expensive. We had some at my Sister-in-law's on Thanksgiving and my husband said if our kids gave us gift cards for groceries again we were getting some chicken and ham. We got some so guess what we will be getting. Yup you guessed it. Chicken and Ham.

• Philippines
22 Dec 11
That was a nice story and tradition you just wrote.I have never eaten country ham but i would love to taste if i had a chance. have a wonderful christmas marie2052 =)

• United States
23 Dec 11
Awww I would love to share some with you. It truly does have a great flavor. Hope you enjoy your Christmas and the new year as well!