What do you think about this legend ?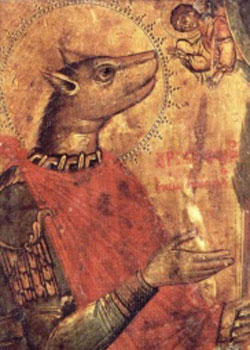 Romania
December 21, 2011 8:54pm CST
One day Apostle Andrew reaches an island.He leaves the boat and start to look if there are any people he can teach them about Jesus.And the first person he meets ...has a dog head.:D The Apostle is scared to death and he runs back to his boat.But suddenly he can feel a very nice smell of incense.He realizes it is the God`s will to spread the word of Gospel among the dog heads people.He goes back,he finds their village and it looks like they were very nice people but they were mutilating their own bodies to look terrifying because they thought that will keep their enemies far away. Looks like there are a lot of writings about the people with dog heads and you can find them in every culture from ancient Egypt to the writings of Marco Polo.You can read more about them here on Wikipedia : http://en.wikipedia.org/wiki/Cynocephaly What is more weird we have such a saint in the Eastern Orthodox Church.He is Saint Christopher or Hristofor (Hristo + foros means Christ carrier or Christ bearer ) and it is sometimes painted in the church having a dog head and Christ is on his shoulder. I only discovered this thing today,i had no idea about this saint before.How cool is this story ?

4 responses

•
22 Dec 11
Every religion is full of weird stories like this and stories of people with dogs heads or people with no heads but their faces in their chests are quite common St Christopher is a well known Christian saint in fact the is the saint of travelers and medallions with his image on it carrying Christ used to be very popular but I don't see so many these days

• Romania
22 Dec 11
Here you can find more images of St. Christopher and on many he actually carries Jesus. There are a lot of them,sometimes he has a dog head ,sometimes he has a normal head and sometimes he has a human head but he has the dog head on a plate. http://www.crestinortodox.ro/sfinti/sfantul-mucenic-hristofor-sfantul-cap-caine-88840.html


• Calgary, Alberta
22 Dec 11
its kind of creepy

of all disguises God will use, He will choose to look like a dog. I wonder why the show "ancient aliens" havent used it in one of their episodes. Anyway Eastern orthodox church is not Catholic Church, Correct me if I'm wrong but that religion is widespread in Russia.

• Romania
22 Dec 11
Oh he is not God he is a human...well if we can call that a human being.On the other hand if he was a human then maybe God wanted him to hear the word of the Gospel.The story is this man was a martyr,he was killed because he looked scary but he was a nice guy and he was already a christian.That`s why the Orthodox church call him a saint. Yes the Eastern Orthodox Church is different from the Catholic Church and it is the dominant religion in the Eastern Europe.

• Calgary, Alberta
22 Dec 11
I wish there are some documentary about him, cos his story is kind of intriguing. Its hard to imagine someone with dog's head preaching to people.

• Romania
22 Dec 11
Oh it is most likely that he didn`t had a dog head.He looked like a dog.There are some tribes even today where people are mutilating their bodies to look scarry. The legend is he was huge,probably more than 2 meters tall.And the emperor has sent 200 soldiers to kill him but he converted all of them.So he was a good preacher.



• Romania
22 Dec 11
Here it is what we "know " about this from old writings. "His Second missionary journey started off the same, but after getting to Georgia, he passed down to Parthia (Persia) through Kurdistan, and then further on to the Cynocefaloi people in the desert of Gedrozia (now Balochistan) near the coast and the present Pakistan-Iranian border. This Cynocefaloi bit is pretty fascinating stuff as the name means "the dog head people". It seems that Alexander the Great and Marco Polo both had run ins with this tribe. George Alexandrou theorizes they were a tribe in the area known to, "Cut their cheeks from mouth to ear, filed the teeth, cropped the ears, and reshaped the skulls of their babies so that they would grow into a very ferocious aspect." This is also a likely explanation of the Saint Christopher icon who has the head of a dog as he said to have come from this tribe. In the Syriac text of the story it is said that after meeting St. Andrew and converting they were transformed into normal human beings. Alexandrou interprets this to mean that after their baptism they stopped mutilating themselves as that would be against Christian beliefs."

• Sweden
22 Dec 11
Hmm.. there are lots of fairy tales about wolves - one swallowed both Little Red Riding Hood and her grandma..

I wonder where they have got this legend to the church..?? Looks creepy..