Twins born with single heart and two heads difficult for mother to caring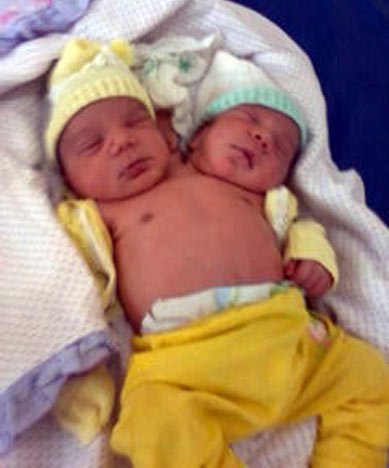 India
December 24, 2011 3:30am CST
OMG!!! a shocking news twins born with single heart and two faces. I opened the yahoo for seeing my answers in yahoo answers but suddenly I saw a news a twins born with single heart and when I opened the link of news and see the images then I was shocked because all 10 photos are separate like one head two hearts, one heart two heads, two legs are conjoined etc. You can also watch all photos with the help of this link and read the news also. http://in.news.yahoo.com/photos/conjoined-twins-share-single-heart-1324630069-slideshow/#crsl=%252Fphotos%252Fconjoined-twins-share-single-heart-1324630069-slideshow%252Frare-birth-deffects-photo-1324628420.html
5 responses

• United States
24 Dec 11
Two of them are already split they had the operation from last year. I think the girl with the one leg will need lots of help getting around.

• India
24 Dec 11
Ohhh thats nice but now single heart and two head is danger and I think this is very difficult for dr. also to separate the head.

• United States
24 Dec 11
Yes,this is true and soon they will work on her two. Maybe the will get a new heart and gift it to the child.

• Delhi, India
24 Dec 11
Hello Fanta, Its really a tragic news.

Its really painful for the kids to live like they are.

Hope doctors finds a way to separate them but i feel its very difficult for doctors too to keep both kids alive as they have a single heart.


• India
24 Dec 11
Yes this is really tragic news and difficult for dr. to separate the head or cut the head.

• United States
25 Dec 11
That is so unbelievible and sad! I had heard of a set of conjured twins like this in Minnesota who are teenagers. Most of their organs are not shared. These twins might not be able to survive as they get older! With one heart I don't think they can seperate them with out one dying. This is heartbreaking! I feel sorry for the twins and the mom! The out look doesn't look good.



• India
22 Aug 12
Aunty Dr. completed the operation successfully I read this news recently in yahoo. but yes when born their mother may be depressed.

• Philippines
24 Dec 11
I saw a similar case on the news, once, it was so sad that the doctors couldn't help the children live. They had to wait for the twins to die eventually, because they share one heart, having to support two bodies, the heart is over worked and weakens easily. If the doctors do anything to the heart... it would kill the baby anyway... it was so sad...


• India
24 Dec 11
Yes DR. couldn't help to those child. One heart and two head it is very hard to seperate it.