How was Christmas for you this year?

India
December 26, 2011 12:45am CST
For me Christmas is all together a new experience for me every year. There is something new to it every year. New memories, new people, making Cribs, decorating the Christmas tree and getting plenty of Christmas Gifts. This year I had a rocking Christmas and had the time of my life. My dad gifted me a brand new Samsung Galaxy Note. I really love the phone a lot. For the mid night mass I wore a brand new suit and i got a lot of complements form my girlfriends. We had an overnight party at my place. I feel Christmas keeps on getting better and better every year... Would you like to share your Christmas experience???
9 responses

• Philippines
26 Dec 11
So far so good. On the eve of December 24th, my parents were just sleeping but I woke them up when it is already 12AM! We ate the food we prepared for noche buena like fruit salad, spaghetti, puto, chiffon cake and a lot more. My boyfriend went to our house to celebrate with us. My father also gave me a Samsung Galaxy but Ace cellphone.

• India
26 Dec 11
oh wow... that's a good phone too as long its android...

• India
26 Dec 11
This year I had a great Christmas with fun. We enjoyed the christmas a lot. This time we had a lot of fun by just decorating the trees and crip also we takes the role of santa which made fun a lot. Hope i will have next christmas with more fun.

• India
26 Dec 11
dressing up like Santa is always fun....this year I dressed up like Santa and the kids were thrilled

•
26 Dec 11
Sad for us here in Cagayan de Oro Philippines,because Typoon Sendong hit our town, which thousands of lives vanished,other are homeless,with lack of water and food. But since it's Christmas we still celebrated it, going to Church and prepare some foods for my family.

• India
26 Dec 11
I'm sorry to hear that...I wish I could have helped. Hope you and your city recovers soon from this natural calamity... anyways Merry Christmas and its good to hear from you... :-)

• Philippines
28 Dec 11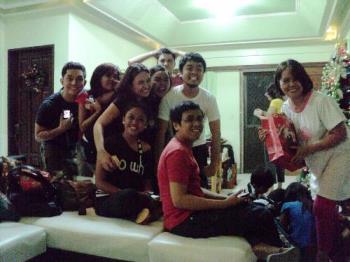 Togetherness brightens up the celebration of Christmas. So my whole family and relatives make it a point to gather up in this very special occasion to commemorate the birth of Jesus Christ. December 25 is of course not the exact date He was born but the very event is what we celebrate, the fact that He was indeed born on that first Christmas morn which date is unknown. No matter what that date was, what is more important is the very fact that the Savior came on earth one day to fulfill the redemption plan. So my family do make each Christmas very, very special. We celebrate it with all happiness and joy. We pray together to thank the Lord for His goodness, then we eat bountiful meal, then do lots of parlor games and exchange lots of gifts.




• India
27 Dec 11
Christmas was really awesome for me this year. I had lots ups and downs and in 2011 but Christmas was like bringing once again joy and happiness in my life. We enjoyed a lot this Christmas and are still enjoying it and making Christmas special. After the midnight mass, we played some Christmas carols and had a Christmas party. Me and my village friends every year we make a big crib and convey a message from the bible through crib. We enjoy making crib and this time there is competition in our society for the best crib so far. So little excitement, anxiousness and having parties around Christmas has made me feel special this year.

• India
26 Dec 11
My Christmas is great because i have earned a lots of money, online.

• United States
26 Dec 11
I had a wonderful Christmas and I hope it gets better each year.

• Philippines
26 Dec 11
Christmas this year was not so great. I did not expect it to be good though because it is always like this because of my dad. He just ruins everything. We planned on going to church on 24. The mass starts at 10 pm so we will be n church close to 12 midnight. Last minute, he went out and get drunk. He then came home and scolded us and told us we are no good and stuff. Me and my sister still went to church and we did not want to go to our house at all but we have to because we are scared that he might do something bad if we don't go to the house early. So to sum it all up, it was awful. I hate him. I can't wait to live with my mom.