nothing special on my christmas

Philippines
December 26, 2011 8:53pm CST
it was nothing unusual. as every christmas is just the same for me. i remember one time i even spent christmas the whole day alone at home as i got chickenpox and can't go out when i was a teen. and so since then till now. nothing has changed. my christmas has always been predictable and boring not most of the time, all the time. but at least i was safe and nothing bad happened thing to me. that is one thing i always thank God for.
5 responses

• United States
30 Dec 11
Yes, safety in some areas is, in and of itself, an important gift. So read a lot of stuff on mylot about X-mas and if you can get and watch youtube, look up Christmas ideas. Maybe it's up to you to "shake up" Christmas a little. Maybe the things you find on your property, in your house, or something can be recycled to make decorations or gifts or something to make someone smile. Maybe the stuff on youtube won't be right for you,but you might learn a different way of looking at things and it might help you to see things in a different way to use things differntly around the house.

• Philippines
28 Dec 11
I thought I was going to spend Christmas in solitude so I agreed with my boss to do some 500 words articles on anti-virus protection. I thought I would be spending the whole day writing but before lunch time, visitors started to arrive and my time was spent cooking and entertaining them. It was fun but I was worried of the articles I was supposed to write because it has a deadline. To make it up, I had to stay late in the night finishing my job and wake up early in the morning to send the finished documents through email.

• Philippines
28 Dec 11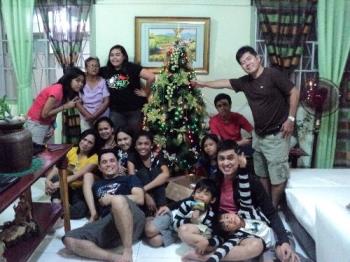 Well not for me. Every Christmas is joyful day for me and my family. It is a time to celebrate the birth of our Lord Jesus so we have all reasons to rejoice. It does not matter whether you have money or what, what matters is the real joy brought about by the real and the very reason for this season which is none other than Jesus. So for me it is a time to gather as a family to pray and thank God for the greatest gift of all. After that we do give each other gifts which we open altogether and then enjoy the whole day eating and having fun. We make each Christmas a special day worth remembering.



• United States
27 Dec 11
I was wondering about you and here our posting. I wish you at least had some fun.