Do you know that the digital camera also needs to keep warm?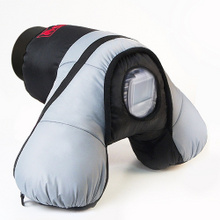 Guangzhou, China
December 28, 2011 2:38am CST
Just now when I surfed the online store, I noticed a stuff which looks like a heavy coat for the digital camera. As the digital camera also needs to keep warm when you use it in the cold place. But it looks very funny. Since in my city it will not snow and therefore I don't need such a stuff. But perhaps it is necessary for the snowy place.
6 responses

• Norway
2 Jan 12
That looks like it is also supposed to help keep the camera steady, if you are out in strong winds for example. Or you can rest it on it and put your fingers in you pockets to keep them warm :-) I don't have a coat for my camera, but when I take pictures and it's below zero, I usually put the spare battery in my pocket to keep it warm. When one runs out, I swap with the warm one, thus they last much longer.

• Philippines
29 Dec 11
Oh really? I have never heard of that. Well thank you for the information. Yeah it doesn't snow in our place either, so I guess I can't really make use of that.


• Malaysia
28 Dec 11
Hi! That is true, I have experience this before when I went to a snow house where the temperature were as low as -10°C. My digital camera work fine for about 20 minutes and later it started to became unstable, and finally it shut off and cannot be on anymore. At first I though it was spoiled but after I leave the snow house, and I try to on it again, it work perfectly just like normal. So, I think it will also catch a cold and sick when the weather is too cold.


• Australia
28 Dec 11
Oh I didn't know that, I have seen a plastic casing for underwater cameras but a coat, that is very interesting I will have to look into that.

• United Kingdom
14 Jan 12
It is interesting to hear that a digital camera needs to keep warm. When not in use I keep my digital camera in a padded bag. I hope it keeps warm in it. Some camera users live in cold places like your city where in the winter it can snow. I took photos of my dog when he was a puppy in the snow in Bridge.