Would you add something to the top of these boxes?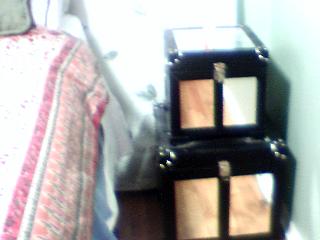 United States
January 4, 2012 5:35pm CST
These are two storage boxes made with mirrors on the front. I was thinking of putting two plants on them. There on each side of the bed. But,Adrian likes them like this I can live with that. I was wondering what you thought would be nice like even a candle set or something. Thanks for your advice..
5 responses


• United States
5 Jan 12
I am going to look through my daughters stuff and see if I can find a nice picture. She loves taking pictures.


• United States
5 Jan 12
I have a small plant here on this table. Thanks.

• United States
3 Feb 12
A candle or flameless luminary would look great on those storage bins. The mirror would refelct the light and make it look good, I think flameless luminaries would be much safer and the way to go with this. A plant would take up too much room and take away from the simplicity that the storage containers have.

• United States
9 Jan 12
First of all, I think that stacking the storage containers the way that you have really does make a pretty bedside table type of arrangement. As far as putting something on top of them, I honestly think that plants on top of them would really be a little much. But, I do think that putting candles on the top of them would be very lovely. Not only would it look pretty when they are not light, they would look spectacular when they are lit.