Who Wants to Buy a Baby for $3?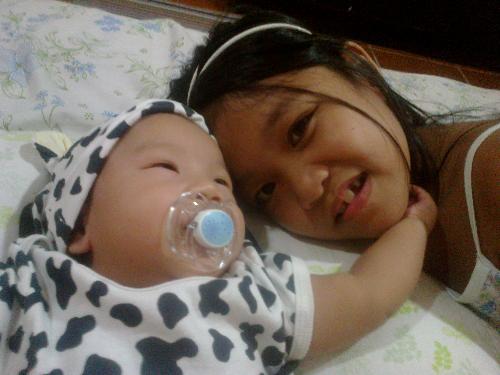 Philippines
January 6, 2012 2:54am CST
My cousin along with his family,visit us to show off the new addition to our family. They ask Grandma to bless the child and keep him every night in her prayers. Because the baby is so cute,my daughter asked my cousin to let her buy the baby for $3 :-D They thought she is just kidding so they indulge her and talked to her about the selling price:-) (to out mistake). They want her to raise the price to $300 dollars just so we can have the baby. When it was time for them to go,my daughter cried a lot while giving them the $3.She said that she don't have lots of money to buy the baby and will ask her father to send us money so we can pay Baby Ellie(baby's name) :-D .They don't know how to pacify her.I just told daughter that we need to ask her father first to send us money just so we can buy baby Ellie :-( Poor little girl.Now Hubby and I really need to give daughter someone to take care of. :-D What you say guys??Have you also done such things like my daughter when you were a kid?or do you have kids who wants to buy a baby for $3? :-D
9 responses

• Philippines
6 Jan 12
The baby is so cute! No wonder you're daughter wants to keep her in your house

Only thing I can think of is for you and husband to have another baby so she will have someone to take cafe of

We are living near all our relatives before so we can have a baby anytime. Some of our relatives keep having new babies in their family LoL! Now, all of them are ll grown up now.

• Philippines
6 Jan 12
I still need to buy an oven so I can bake one tamirs

And if you can hand me the ingredients when I have already bought the new oven then I would appreciate it much


• Philippines
6 Jan 12
suny

that is why I need to bake one when I have the oven, I need to save some money to buy a new one so I can make my own to keep forever.



• Bhubaneswar, India
6 Jan 12
Hi tamirs

A month earlier I was on sale for just a few chocos... Offer expired last month when I found(okay, so what if I forced her to buy me

) me a Godmom. I always love kids and their innocent behaviors really wants me to re-live those great days. You and hubby are the best judge if you want to gift your daughter to have someone to care for... (as I have been through some of your discussions recently and I personally feel there are some other things that should be sorted out before you thought of this gift).


• Philippines
6 Jan 12
"you were on sale" Buyers thought to just eat the chocos :-D My husband will surely kick me out if i give daughter a baby without him as co-maker. lolzzz.. :-D You are right.A lot of things need to be fix first before giving daughter a little brother or a sister :-)



• Philippines
7 Jan 12
Your daughter made me laugh my dear

(good thing my nose did not blew) hahahaa- lolz Okay, I remember my son says one time.... "mama, let's go to SM an buy a baby" I said what?... and my son replied.. yes, "they say, there's a sale going on at SM- Baby for sale-buy one take one"

My goodness...! And why do I need to buy babies (yes,babies since it's a buy one take one sale) lolzzz

• Philippines
7 Jan 12
Isn;t that cute well, well i think that was the most heartwarming story I have ever read, that baby must have been really cute for your daughter to want her so badly, but anyway i think that some point in our lives as a kid we might have thought of wanting something so bad that our parents were not able to passify us immediately. Oh I just saw the picture yupp i would definitley wanna buy that cute baby, but if i was the parent even 3 million pesos won't do. Anyway hope that this year brings us more money and bring blessing to all families. Happy new year tamirs.

• Philippines
7 Jan 12
$3 to buy a baby is a very cheap price. But that is all your little girl could afford and she desperately likes to own that baby. Ha!ha!ha! I actually have head the same kind of story to other mothers. I think children have the natural tendency to love infants and so whenever they see one they want to bring the baby home. Well in you case, the best solution is to make a baby for her. She needs a playmate.


• Delhi, India
6 Jan 12
Hello tamirs, It happened with me as when i went to my SIS in law's home her son asked her mother can't we keep one of my kids at their home

her mama said no baby we can't as they can't live without their mother just like you and the boy replied no mama i can live without you so can we now keep the baby then my wife said OK i will leave one of the kid here but then will you come with me

he said NO and did not say anything after that *hehehe*