... my kids are always fighting with their toys!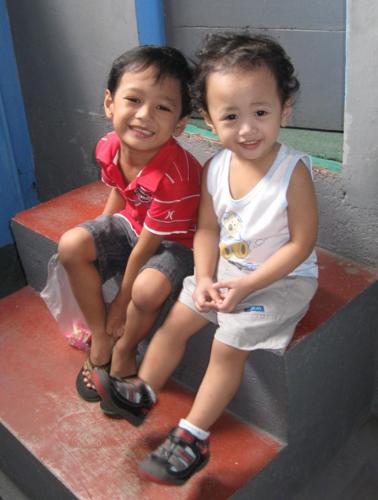 Philippines
January 6, 2012 3:47am CST
Andrei is going 5 years old and Aedrel just turned 2. They gave me headaches everyday for their kids fight. I'm always letting them to learn the word "share"! *sigh! It's really not easy to take care of small children. Patience... patience... patience! Where can I buy those? I'm draining *LOL ... I can't concentrate MyLotting *sigh again *LOL But well, it's also a pleasure to have kids at home. Kids way... fighting and also loves each other! I just wonder how my mother deal with us 5 children when we're that young too! She's a single mother then... took all the responsibility that my father left to her. *sigh!
9 responses

• Philippines
7 Jan 12
Well kids will always be kids, but hey the pleasure of having them around is more beneficial than if they are not. Before my grandparents always dreaded having me and my cousins around all the time but when we had to be away from them, they ended up getting in the hospital because my grandpa got too fat because we used to be his work-out running around to chase us and my grandma had issues with depresssion because she always laughed when we do naive and stupid things but they are better now since my cousins already provided them with Grand kids... ( These are my grandparents from my step-mom) So kid's are great. however kulet they maybe.

• Philippines
8 Jan 12
I agree with Lhenni, deodavid! That's a nice story. When my nephew was still with us, we're always happy, and our house looked like a Toy Story. He was two years old that time. He never stopped talking, playing, and running the whole day. Toddlers are indeed very active.


• Philippines
6 Jan 12
Hello, Lhenni!

I am not yet a mother, but I think I can give you a very good advice. It's normal for kids to fight, and yes to love each other. I understand that you're busy with myLot, but your kids are more important. You may try talking to them and telling them that starting tomorrow, you will be their playmate. They need to share the toys with you, and you'll also share yours to them. I think this way, you can teach them sharing in a fun way.

• Philippines
8 Jan 12
Yes Witty! My kids been my priority that's why I opted to be a stay home mom and not working for 3 years now :p We had a lot of playtimes together... I just said that they've been a distractions in my MyLotting... But seriously... they are! hahahaha

• Philippines
8 Jan 12
Wow! I am proud of you, Lhenni.

Your kids are so lucky because you're always with them. If I will be distracted by those adorable kids, I would love to be always distracted.

I love kids. I always "borrow" my goddaughter's three month old baby girl. She's such a joy. If you still remember the movie Baby's Day Out, this baby girl has so many similarities to Baby Bink. There is no time that this baby is not smiling. Whenever we're talking, she also wants to talk with us. She's trying to talk but she can't. One time, I almost forced her to say "hi". I never thought she'll repeat after me. She said "haaaaai". So cute! Lhenni, when does the baby start to talk?


• Philippines
8 Jan 12
I think 5-6-7 months they can say the word "ma" or "pa"... my youngest talk good words when he reached his 1st birthday... then it will go fluency if a baby can be around for carer who loved to always talk and talk to her, seems like she understands all the words we are throwing *LOL A cute smiling baby can get our stress out, right witt?!


• Philippines
6 Jan 12
Me and my elder brother used to fight too when we were young even up to our college times

It's normal with kids, but they will mature as they grow older. Well your mom might have a lot of patience. Our mom is so strict before and we are scared when she's getting angry


• Philippines
8 Jan 12
My nanay (mother) was also strict way back but not now *LOL. I'm the one who's strict with her hahaha. She's so active in her religious group that she came home very late at night... my father told me about that. Well, my tatay (father) and nanay (mother) we're 12 years together now... after their separation of 15 years. What a story,right?!

• Philippines
8 Jan 12
My father was then a policeman in Pateros until he decided to work in Taiwan to have a more bigger income as we his children were growing and our needs were growing too. There's this saying, "driver, sweet lover"... but in my father's case, this humor saying fits to him. he's so womanizing having a good looks *naks! He had a "chicks"... not an ordinary other-woman, but a rich other-woman! That girl manages her own catering services in Pateros and running the canteen of the place Catholic school and she is also managing a factory canteen in FTI... she has so many businesses. My father was then showering with so much luxuries *LOL. That girl even visited my father in Taiwan huh!... head over heel to my father's charm hahahha Until 1994 or 19995 when he decided to be with my mother again. At first my mother been keen in accepting him but my father didn't wait that long that my mother gave my father a second change again. That girl been mocking on my mother to the point that she will go to my parents home and make a scene! Well, she's a past tense to my father and my father ignore the luxury she's offering. Well good! He's made-up his mind really that he didn't do anything that my mother will be hurt. I think that's destiny. My parents were destined to be on each other's arm forever! Just sharing their story en! Until now, they are together. Through thick and thin!


• United Kingdom
8 Jan 12
Young siblings find it very difficult to share. I believe turn taking games help them learn how to share. It helps to have a toy box for each child and they can swap a toy with the other child when they like. It can be tempting to two the same of each toy. I believe in praise then the kids are behaving well. I use positive language like "kind" and "gentle". I use time out if one of my children needs time to reflect on their behavior. Then he or she comes back in the room and says sorry. Yes, it can be challenging to have siblings fighting a lot of the time. Your mom had five young kids at home on her own. The more the children the better the games can be. Just two kids can quarrel and fight. Three, four or five would be easier due to all the company. Good luck.

• Philippines
8 Jan 12
Nice words maximax! Got your point... thanks! Being a responsible parents is really difficult and yet very challenging! I picked also what I think should be the right words I should use to them. It's tough! I salute my mother for raising us 5 children. Thanks to her!

• Philippines
7 Jan 12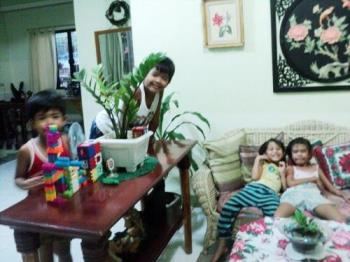 Yes I know your situation. I am dealing with kids every day of my life because I have grandchildren (by my nieces and nephews) who frequent our home. They'd play and then in split seconds they'd quarrel over petty things mostly about toys. Then one would cry, the other would scream, one would run to seek my help and the other would reason out his brother does not wanna share his toys with him. Oh my goodness, sometimes I don't know if I'd laugh or cry. Ha!ha!ha! They don't just turn my home into a playground but they also convert this into a fighting arena.

Nevertheless, I enjoy the fact that after fighting they'd easily kiss and make up and in most cases they show love and concern for each other. I just had to remind each of them that they should know how to share and to love one another because Jesus wants them to be good children. I make it a point to teach these little ones the fear of the Lord. It is important for a child to know there is God who is over and above all and that they should fear Him and they should follow His commandments. So I always tell them that God commanded us to love one another. Although they still fight over petty things ( that is natural to kids after all) I've noticed the fighting has been minimized. I am happy that they know how to fear God so that as soon as I remind them of God's command they'd stop and think and would patch things up and play happily again.


• Philippines
8 Jan 12
I'm wondering when I am a grandmother now and have lots of grandchildren! I should have lots of patience too like you had so that I can be a well loved lola for them too. I love children! So I think I can do what you are doing now to your grandchildren and extended kids. I want to teach them too the word of God that can be their foundation in their growing years. Nice picture Salonga!

• Philippines
6 Jan 12
hello Lhen, Enjoy it my dear, I promise you, you will surely miss those fighting once they grow up. My two sons also were fighting, even now that they're young teens (so hard to avoid -hahaha) During their younger age, I thought once they grow up,it would be easier to take care/deal with them(kids) But I was wrong- its easier to deal with smaller kids than grown up ones. Grown ups are smarter than us...duh!.. but I am enjoying them now...I can relate to them...we're like bros and sis


• India
6 Jan 12
Hi Lhenni, you have cute kids, even i have 2 kids who are aged 8 and 6, and they constantly fight over all silly and serious issues. sometime i interfere sometime i leave it. but they love each other very much. they support each other when ever i scold one of them. they care for each other, like, if one is ill the other takes care...hhahaha..all this is cute

...but when they fight its like omg

when will u stop, stop for godsake.....lol..


• Philippines
6 Jan 12
i think you are doing well as a parent. the fact that you are concerned about them is an indication that you are doing well. kids will always be kids, as they say. eventually they will learn. and they will grow up. so your patience will last until that time. it will happen soon, and when that time comes, you wish you knew and you had more, not patience, but time.

• United States
6 Jan 12
When we were little the toy man came in the middle of the night and took all our toys away. He left a book that said the toys were sad because all we did was fight and they didn't want to live there anymore. It was very effective. We earned toys back with note from the toy man and when we got out of hand they all disappeared. It did wonders. A child does not have the cognitive skills to understand share until about the age of 5 or 6. They can be taught the behavior, but no skills.

• Philippines
8 Jan 12
Well said trensue! I know it will help them to know at this very age the word share though as you said (and I think you have the point) they don't have yet the skills... as they grow, they will remember my "nagging" to them and will realize what I wanted them to learn and I believe they will learn! Thanks for the words!