My Beloved Naughty Cats

Philippines
January 6, 2012 6:06am CST
Hello to all my co-mylotters, but this discussion is especially to those who are animal lovers out there. I just wanna share my 4(four) beloved but very naughty cats. I don't know why i keep on loving my cats unconditionally despite of their naaughtiness

. They were very hyper in everything, they do love to climb on the top of drawers and cabinets that causes some of my clothes full of their hairs, they also do love to climb on top of my t.v and racks that causes some of my displays to fall down some do get broke, they also like to eat my chips and chocolates when i forget to left it on the table that causes mess around the house and most specially they do love to sleep on the couch and sometimes in my bed that causes it to get dirty, despite of all this unwanted things that my cats do i still love and continually give patience and take good care of them. How about do you experienced this kind of things or what can you say about this discussion thanks in advance

10 responses

• United Arab Emirates
6 Jan 12
Hello Xien :) I AM a CRAZZZZZZZZZZZZZZZZZZZZZZZZZZZZZZZZZZZZZZZZZY animal lover! i love alllll kinds of animals, they hold very special place in my heart. Specially CATS! they make me crazy.. Anyways I do not have a cat because my husband is anti animal lover.. it hurts me, because I am all the time dreaming of having a cat at my home.. taking care of her, feeding her, loving her,.. I just wish I could.. I have a birdie though.. Who I love alot, he is my little baby! He is a Lutino Peach face! Your very lucky, I wish I could visit your place and play with your cats!!

• Philippines
8 Jan 12
that was sad that your husband doesn't like pets in the house, maybe both of you can meet half way about you having a cat, if you just could go at my place i will welcome you and let you play with them. But i won't guarantee you any safety they could be very naughty sometimes and they can bite and scratch you lol

• United Arab Emirates
8 Jan 12
yaaa.. I know its frustrating for me because I really want a cat but my husband wont agree in any way - half or full! i would love to come over at ur place some day! and I dont mind be scratched.. Hehe, i would love them anyway.. I believe you need to gain trust from the animals, once they realize we are just offering them love then they stop being violent and give lots of love in return! Your really lucky my friend :D.. I wish one day i can keep a cat too.. and actually not one LOTS OF EM'!

• Philippines
8 Jan 12
it's a nice feeling to have lots of cats at home my friend i'm really sorry for your situation, you won't experience the joy of being loved and waited especially when i came from from work at night they love to round around my feet as if they were saying we miss you and welcome home.. i'm wishing for you to keep lots of them someday too goodluck my friend


• Philippines
6 Jan 12
We don't have cats at home. But we have 3 dogs. And one of them use to wake me up every morning. Sleeps on my bed whenever she has a chance. In fact this afternoon she was sleeping in my parent's bed. When I woke up this morning she was beside me and when I got up the bed she didn't even want to get out of the bed, she continued sleeping

She messed up with the new rug my mom bought, the mat is half now which my mom just threw in the garbage. When she was younger she used to pee and poop inside the house, but now I think she learned it's not right so she goes out in the yard to do it there

I think most of us are animal lovers and no matter what the naughtiness these cuties are giving us we still love them.

• Philippines
8 Jan 12
i've got also 3 dogs, but they were less naughty since they were inside the cage because i was afraid they might bite somebody since they were very snobish and they hate kids and all other people. The only bad thing they could cause me is that they were very noisy sometimes at midnight

• Philippines
8 Jan 12
Oh I do understand, it might cause you big trouble when they've bitten someone. In our case, our dogs are all free. only one is not because he is kinda abnormal now and a bit sickly. He is not caged but outside the house. While the two dogs are freely roaming inside the house.

• Philippines
8 Jan 12
i just can't afford to let them roam around the house since my cats are everywhere inside the house they might just rambled and get anyone be hurt. My dogs are a little bit bad at times they just let me get near them even my housemates are not in good terms with them


• United States
23 Jan 12
Hi there, Yes, I absolutely adore cats. Your 4 sound a lot like my brood. Mine do the same things and I love it. Even when it gets a little crazy, there's no way I could do without them. They add so much to my life. I have 11 inside and who knows how many outside. They really are my passion and I wouldn't trade them for the world.

• Philippines
24 Jan 12
wow you must have a big house to keep as many cats as that, can i ask something? why is that there are inside pets and outside pets? just curious friend hope you don't mind


• United States
26 Jan 12
I don't mind sharing my experience at all. As much as I love cats it was never my intention to have as many as I do. I wouldn't change a thing at this point but if someone told me that I would have a gazzilion cats I would say that they're nuts. About 6 years ago, I lost my 2 beloved cats, brother and sister, Cagney and Lacey. They were 13 years old. Shortly before they passed away, I started to feed and befriend the stray cats that lived outside my place. Then I started to take them inside. First it was 2, then another that I just couldn't say no to. Shortly after that a kitty that was pregnant came in my life and I kept her and her 3 babies. Cats are just like potato chips - you can't have just one. Well my brood got real big and I'm up to 11 full time indoor feline roommates. I'm finding out that I have a very hard time saying no to any of them. I think I'm a cat-a-holic!! Here's the crazy thing -
I live in a 2 bedroom apartment.
Isn't that a hoot? My boyfriend, who also loves cats, but isn't as nuts as I am, and I are getting serious in our relationship, so I will soon be moving my brood to a new home. That should be quite interesting and exciting.


• United States
26 Jan 12
Sorry, I forgot the second part of your question. There are still outside cats because I'm seriously running out of room for them all.

• Greece
10 Jan 12
I constantly hear that cats are naughty animals. Then my cat is not actually a cat. I have a male cat 3.5 years old and he is so logical animal, which is strange especially for cat .He never did a damage,he never climbed at the tables and other forbitten places,he knows which his things are and which are mines which he respects and generally he knows his place at home,what is forbitten and what it is not but i have never instructed him or imposed him of what he can do or not.It is like he understands all by himself. Really strange huh?

• Philippines
10 Jan 12
wow you've got a well behaved cat out there, but i think your right he's a little bit of an abnormal cat i'm very sorry for the term, i just think that sometimes when they do naughty things they looks a little more cuter and lovable the more... Ayways thanks for the comment

• United States
8 Jan 12
I understand your feelings perfectly. A few months ago, we had to put down our beloved "Sleepy". The vet did not advise an operation. Every time when I come in at night, I open the door slowly and step in carefully so that I won't step on him. In the evenings, my lap feels so empty. I'd have several cats if I could, but we decided not to get another cat. My husband is in his 80s and not very steady on his feet. Sleepy was always under foot. I imagine that another cat would be the same and could easily make one of us fall and break a bone.

• Philippines
10 Jan 12
This was sad but i guess you've made the right decision in not keeping another pets at home i understand your husband's situation and maybe pets could also harm his health.

• Indonesia
7 Jan 12
I love cats, so if their naughty, sometime i hate it, but most of the times it just makes them cuter! So i think its okay for them to being naughty sometimes, as long as they not make any dirty (like pooping or peeing everywhere)!

• Philippines
8 Jan 12
i agree with you my friend sometimes it really makes them more cute when they do some naughty act and it adds to their charm also that makes my heart melt when they do some tricks that sometimes breaks my things

• Malaysia
7 Jan 12
I am not a very huge pet lover. I don't hate them but i get really scared by them. I never harm them but somehow they freak me out. From this post I can make out that you have a very warm heart full of love. Actually had i been not scared of the pets I would have surely had some pets in my home. But I dont encourage having pets in your home if you have some child or if you cant look after the pet well.

• Philippines
8 Jan 12
first of all i might say that cats are very lovable and not scary if you could just have even one you'll know what i mean especially when you're the one who raise them from kitten to cat you'll get addicted to them since they have this charm that makes you fall in love with them eventhough they might get you angry sometimes because of their naughtiness Second, i'm sure i could take care of them since i choose to have them and i'm always thinking of their needs first before my own.. Third, there's no kids at my apartment since i'm living separately from my parents thanks for the comment

• Philippines
7 Jan 12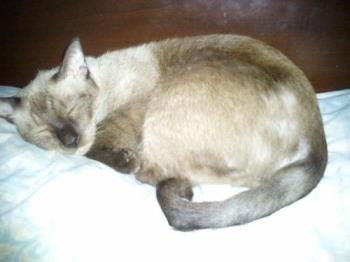 Well dear you are not alone. I have some friends who love cats too and not only do they consider cats as pets but also part of the family. I have one friend who is childless and so consider her cats as her kids. How funny! I am not a cat lover. I can't withstand seeing their hairs scattered around. I dread catching asthma so I keep away from cats. I also won't allow any animals to enter into my home so I don't keep cats at all nor other pets of mine are allowed entry. Even my aquarium is in my garden not inside my home.

• Philippines
8 Jan 12
that's okay since you have asthma and you can't mingle with them or you might lay your health on the line, but there's this friend of mine i don't know if you'll believe this, but she has an asthma but when she's in my house and there's a lot of pets here she's not getting sick even though sometimes my cats roam around her and sometimes lay beside her

•
6 Jan 12
I'm certainly a cat lover but I agree with you that they can drive you crazy at times. We only have one cat now, a Burmese called Jasper. He likes to be high up and quite often you can find him sitting on top of the refrigerator in the kitchen. There is an open field by the side of our house and a wood across the road so in the summer Jasper goes out on extended patrols and only returns home to eat. However we certainly wouldn't be without him even though vets bills can be very expensive.

• Philippines
8 Jan 12
yes i agree no matter how expensive their maintenance were i couldn't afford to lose them i love them very much and sometimes when i'm luck of money i will still buy their food first instead of mine, i will be very much upset if they don't eat so i do always think about them first before my needs

• United States
6 Jan 12
I have a LOT of cats, and I must say, there are certainly some I love more than others. But even when one of those is sick, I'm off running it to the vet to find out what's wrong. Going to bed is a task first started by dusting the cat litter out of it and some of my brats have been known to try and stick their silly heads into the plate for food - but a simple shoo will make most of them go away. Be careful with that chocolate, it is very dangerous for cats to eat.

• Philippines
6 Jan 12
taking care of pets is like a job and task that can make us earn happiness and contentment at the end of the day when they do sit or lay beside us and use their charm against us, it's somehow fulfilling yet tiring lol... i really don't know why they keep on snatching chocolates, maybe its just because it's a milk chocolate bar... thanks for the advice