Birthday traditions in your country?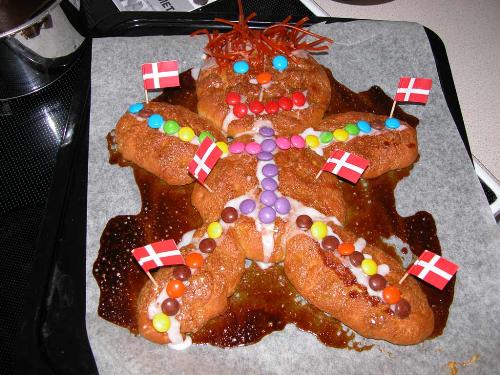 Denmark
January 11, 2012 2:37pm CST
Today is my husband's birthday and I cooked a dish called "Aeblekage" for him. It consists of apple porridge, biscuits and whipped cream. It isn't the traditional birthday cake in my country, but I chose that one, because the common birthday cakes in Denmark ("brunsviger" and "lagkage") are too big for two people, and we are not having a birthday party today. "Brunsviger" is very delicious and we usually decorate the cake with candy. Sometimes the "brunsviger" is created like a girl or a boy. What is the traditional birthday food in your country? What kind of other other birthday traditions do you have in your country?
8 responses

• Philippines
12 Jan 12
I got curious what is lagkage, and found out it looks so delicious and resembles graham cake we make here sometimes. In my country there is no traditional cakes. We just buy any cake for someone's birthday, whatever we like or the celebrant like we would just buy it... chocolate, mocha or whatever. We buy ice cream too. But normally in my country whenever there is a birthday spaghetti or any pasta will be there too.

• Denmark
12 Jan 12
Lagkage is very delicious

I love the one that my mother makes, but there are many other kinds and you can use different kinds of fruits etc. I had never heard about Graham cake, so I looked it up, it made me hungry, the pictures look very nice


• Philippines
12 Jan 12

That's really yummy. You should try to make one.


• Philippines
12 Jan 12
you forgot about the ever present pancit mel! it will make Filipino birthday celebrant life longer




• Philippines
16 Jan 12
Wow,you are great lovely wife , i am not married yet he he maybe soon future ,and enjoy your food .Here in our country, i think my family no birthday celebration hehe only of few but just to thankful.. But some did celebrate.

• Denmark
16 Jan 12
Actually I am not very good at cooking

but I wanted to make something for my husband anyway since it was his birthday. "Aeblekage" is very delicous and we enjoyed the cake to together. My husband told me that I must cook "Aablekage" next time we have a party


• Philippines
12 Jan 12
Here in the Philippines, when one is having a birthday, the family get to celebrate it with the celebrant and friends and relatives. We prepare foods like pansit which is believed to long life, ice cream and birthday cake. It is already the traditional. Part of the celebration also is having a karaoke.

• Denmark
16 Jan 12
What is pansit? Icecream and birthday cake sounds delicious. We also have birthday cake when we celebrate a birthday. I like the traditional Danish birthday cakes

You also mentioned karaoke. It is a such a long time since I have tried that, but it is can a lot of fun.

• Philippines
12 Jan 12
I'm from the Philippines and here in our country, There is no tradition when it comes to celebrating Birthday. Some would love to have a cake on the table but it's not that really important. My father would usually told us to go to church and pray for the gift of life.

• Denmark
12 Jan 12
In my country the birthday cake is important, it is a big part of the birthday celebration

Some people bake their own birthday cakes and some buy them in a shop, but some kind of cake is usually included in the birthday party. It is a child is celebrating his or her birthday we put candles on the cake (the child's age = the number of candles) When adults celebrate their birthdays we also put candles on the cake, but there isn't room for all the candles, so they just have a few candles.

• India
12 Jan 12
Well here we celebrate a day birthday ( the day we are born ) and the star birhtday ( based on the star ) under which we are born. The day birthday is normal, cake cutting, going out for dineer or party and the usual stuff, but the star birthday is something really different.. I usually have an oil bath early in the morning, go to the temple and also visit a few relatives..Mom makes this awesome spread of traditional Indian ( Malayali food ) and serves it in a banyan leaf and the whole family sits together and eats.. This is follwed by a sumptous kheer and varitey of sweets

.. I really do love my birthday

and always look forward to it..Cheers


• Denmark
12 Jan 12
It was interesting to read your description of the birthdays. I hadn't heard about star birthdays before, in my country we only celebrate the day that we were born. Your birthday celebration sounds great, you spend a nice time with your family and enjoy some delicious food as well. I don't live with my parents anymore, but when I was still living at home I really enjoyed the birthday cakes that my mother made for me especially her "lagkage" which is very delicious.

• United States
11 Jan 12
Hello porcospino. Here in the United States I do believe that every family has a different way of celebrating birthdays in the family. When I lived near some of my grandkids we would go out to a nice restaurant for the evening meal. If we told the waiter we were celebrating a birthday then they would bring a small cake with a candle and sing Happy birthday. In general my family really doesn't eat cakes unless it is a cake made with fruit such as carrot cake or raw apple cakes. Some people have simple or lascivious birthday parties depending on their income. Some people just have cake and ice cream and cake with kids bringing gifts.

• Denmark
12 Jan 12
In my country the waiters don't give us a cake or sing happy birthday for us if we are celebrating a birthday, but they place a small flag on the table. I sometimes go our for dinner on my birthday, but this year we are going to celebrate our birthdays at home in order to save money.

• United States
11 Jan 12
In the US there isn't really a traditional birthday cake it's what every cake you want or think someone might want. With little kids it's white cake or chocolate cake. There is normally a party for kids, and teens. Adults tend to do some kind of dinner and dessert. In the US the traditions will be different from family to family and how they celebrate it. My daughter first birthday is this month so we are doing cupcakes for her birthday and it's going to be vanillia.

• Denmark
12 Jan 12
It is interesting to hear that the traditions in the US are different from the traditions in my country, because we have a type of cake that we almost always use when there a birthday party. We use it when a small child is celebrating his or her birthday and we also use when we are adults. The last time I had the traditional birthday cake was in December when my grandmother turned 86. Cupcakes sound nice, have a great birthday party


• United States
11 Jan 12
Here in the US we just go and a simple birthday cake of vanilla or chocolate. Sometimes an ice cream birthday cake. We really don't have any traditions. We just basically buy any cake we like, put the person's name who's having the birthday, buy some ice cream with it if it's not an ice cream cake, and add some candles. Some people also bake the birthday cake if they have time. Nothing that big traditional compare to other countries.

• Denmark
11 Jan 12
Ice cream cakes are delicious

A traditional Danish birthday party consists of brunsviger, lagkage and ice cream. After brunsviger and lagkage there is a break and when we are hungry again we eat icecream and then the party is over