You signal for a lane change... but that bugger just speeds up~~~~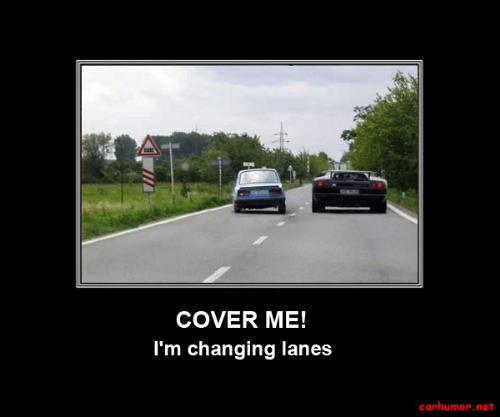 Singapore
January 11, 2012 11:47pm CST
~~~ to stop you from changing your lane. So you'd be thinking, ok, no biggie, I will slow down a little for him/her to pass. When you slow down, they slow down too!

So you think again, maybe that driver changed his/her mind, so you speed up to try and get that lane change. And that car speeds up again, preventing you from making that lane change.

Sounds all familiar, doesn't it? I can never understand the mentality of some drivers on the road. There are so many instances of do-nots to even list here. But the above scenarios are one of the many that makes you become an aggressive driver. Question is, is there a need? We gripe when no one uses the signal light when changing lanes or turning. But there are drivers who will antagonize you on purpose because you signaled your intention to turn or change lane. What a paradox of life!

8 responses

• Singapore
17 Jan 12
haha, that's one reason i don't drive and i don't like to travel on the road. Whenever possible, i prefer bus and trains because buses have the right of way.. haha

It's all because of such petty drivers, who either dun know how to drive or they are just fooling around on the road, i'm glad that there's a bus lane only for buses. haha

IN thailand, if the stupid driver keeps stopping him from lane changing, he would simply speed up ahead of the stupid car. If the stupid car bump him, that's it



• United States
12 Jan 12
So i do this to people myself and its like i dont uderstand why drivers wait to the last minute to get over to make there turn. I believe they should all have the respect and wait in the long line of traffic just like we all do. Its rude and disrepctful to get over in the front instead of the back of the line so yes i do speed up and make them have to go straight and do it all over again because they should of gotten over when all of us in line did so. I think everyone should do the same thing as everyone else and dont wait to get over till the last minute. People see that long line and iswear in there head they think oh ill cut someone off inline and make the turn. I dont get people sometimes i swear its just weird what people are thinking. So yeah im one of the ones that speed up to make someones life miserable and make then have to go straight instead of turning. I dont like doing it on purpose but i think once again wait in the line i hate to wait and sometimes it makes you have two wait till the light turns green two or three times but you live in a high traffic area and live with it its life.

• Singapore
13 Jan 12
I do that too sometimes when I am queuing to pass a toll. But I am referring to is when you are cruising on the highway, or just entering the highway and changing lanes to either get out of the highway or changing lanes to get into the highway. And yes, it is irritating enough to have to wait for a long time in a queue to pass a toll. No need for some impatient bugger to try cutting into your lane cos he wants to get a head when everyone else is waiting their turn.

• United States
12 Jan 12
Oh, the games drivers play. Let's add to the aggravation. How about the driver that sits in your blind spot? You speed up, so do they. Slow down, ditto. Do they really think that's fun? I use blind spot mirrors, but not everyone does. Some will just change lanes without looking over their shoulder. BAM! Blind spot driver is taken out. Oh yeah, great fun! NOT! Or it's night time and the other driver's bright white LED headlights are reflected in your side mirror making you lean way to the right to avoid being blinded. Excuse me, but I missed the memo that says when a driver signals a lane change that means to drive up to their rear bumper making it not only impossible for the other driver to change lanes, but making it hard for the other driver to see you! And yeah, let's aim our headlights right for their mirror. These drivers and their 'games' cause injury and cost lives. I've seen it. Guess what? You lose. There are no winners. *Blinded on I-95*


• Singapore
13 Jan 12
Yeah! I hear you brudder! I hear you! Another pet peeves are those that drive black cars and DO NOT turn on their headlights at night! I almost had a collision with one the other day! The fella was in my blind spot. Luckily I took a second look before I made my turn after signalling. Otherwise, it would be a very ugly scene!

• United States
12 Jan 12
Oh, I so hate when people do that! The last time someone did, instead of me slowing down, I stepped on it even more! Not a smart move, I know, but luckily my car is made to really get on it, so I was able to whoop that driver's butt easily and get in the lane I needed to get into. Happy mylotting!

• Singapore
12 Jan 12
i get that a lot when i'm driving on the road.

initially, i get really angered by this behaviour.

but then i learn how to deal with it. firstly, i do not signal until i'm going to change lane. that means, there is enough space for me to go in and i'm comfortably ahead of the other car. this way, there is no way they can speed up enough to prevent me from going in. another trick i learnt is that i signal to make them speed up. this is used when there is no space in front of me and i need to switch lane. the signal light seem to make them step on their accelerator harder. this way, i can get behind them.


• Singapore
13 Jan 12
the problem is, once you get behind them, they will drive so much slower than when you hadn't changed lanes. luckily most of the time, for such lane change, it is to get out of the highway at the next exit. otherwise, it would be a long drive!

• Canada
5 Feb 12
I so hate it when this happens. It's like 'make up your mind!'. If I'm feeling over generous, or just relaxed, I would just let this be and just wait for the other car to turn, or when I would turn so I wouldn't be behind it anymore. But if I'm already agitated, then there would be the alternating high and low beam headlights behind it!


• Australia
12 Jan 12
this is one of the reason why i still don't have my licence and i still prefer to take public transport... there are just too many reckless and crazy drivers out there and i don't want to risk my life because of them... i'm just too scared to drive because of the trauma i have in the past... take care and have a nice day...

• United Arab Emirates
12 Jan 12
Roads are filled with idiots but certainly you dont want to be the one of them.. so just do your right thing and let them do theirs. such are the people who bully others but just not go away like this. everyone has to pay for his dos so will them..