Bring your own plastic bags to supermarket

6 responses

• Philippines
16 Jan 12
Supermarkets encourage shoppers to bring their own shopping bags nowadays. This is to lessen the plastic bags that have found their way into the landfills and waterways. There are some areas where plastic bags are prohibited after realizing that these products have become the cause of clogged canals. During the rainy season, we find ourselves suffering from flooded streets and drainage because of the irresponsible habits of individuals of throwing their trash contained in plastic bags anywhere they choose. Most ignore the prohibitive signs and penalties since no one I know has ever been convicted of carelessness and irresponsibility.

•
16 Jan 12
In Malaysia saturday is no plastic bag day and one the state (Penang) is banned platic bags in there

•
16 Jan 12
Why waste all must learn to save the invorement

• Philippines
16 Jan 12
In my opinion, this is just another strategy of business giants to look more "environmentalist" than an "industrialist" that they really are. I mean, if they really want to save the environment, they won't use plastic bags in the first place. Instead, they made the plastic bags available for those who can buy it. Annoying trick of these entrpreneurs.

• Australia
16 Jan 12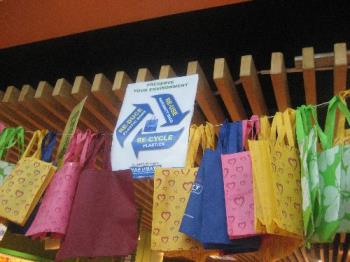 Here in Australia we are encouraged to use reusuable shopping bags, some supermarkets cahrge customers for plastic bags, I used to say I would never use the reusable bags as I used the plastic bage for my rubbish bin but the reusuable bags are so pretty, as soon as they brought out purple ones I was hooked, to be honest I don't know why they just didn't make all supermarkets buy biodigradable plastic bags which some do use..

• China
16 Jan 12
Now in my country the supermarkets charge for the plastic bags which are below 0.025mm in thickness to reduce the amount of plastic bags thus control the white polution and the hardship in dealing with the garbage. The supermarket will charge the plastic bags by its size. So now we gradually make a habit to bring a bag with us when going to a supermarket.