When is myLot account deleted by admin?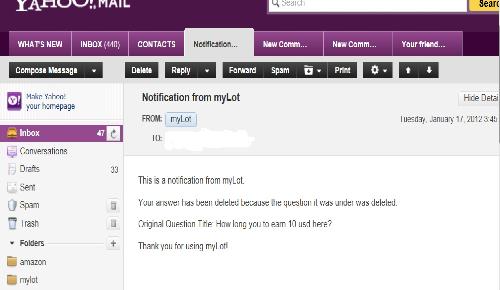 Philippines
January 17, 2012 3:18am CST
I always wonder when. Of course I don't want my account to be deleted.

As per guidelines, we need to take warnings from myLot staff seriously. Of course we need to. I would just like to clarify something with regard to this. How does warning from a deleted discussion differ from a deleted comment or response? In my whole time with myLot, I only received one warning that my discussion was deleted due to policy violation. Since then, I see to it that everytime I start a discussion, I'll not violate any myLot guidelines or policies. The problem is I already received I think more than five notifications that my comment or response has been deleted because the question it was under was deleted.
3 responses

• India
17 Jan 12
I would have received many notifications informing that my responses are deleted because the original discussions were deleted. My own discussions --two of them were deleted and from that time I tend to be more careful. When it is a gross violation --I think membership will be deleted.


• Philippines
17 Jan 12
Yes, ravisivan. I am more careful this time. I learned from one post that myLot does not give any warnings that they're going to delete a certain account. I had one friend from myLot who helped me a lot in creating my account and other stuffs here. After few days, I discovered that her account is already deleted. I don't want the same thing to happen to my account.

• India
17 Jan 12
wittynet: This is a news for me. I thought we will get some warning emails. So we have to be more careful hereafter. thanks for the info.


• India
17 Jan 12
Last month my account was deleted completely...there was no notification regarding this issue (or may be i have overlooked it in mail box).I was new to mylot.I didn't knew what happened? When i tried to log into my account..it said, the user doesn't exist..i tried several times....BUT LATER i REALIZED THAT THE DAY BEFORE MY account was deleted i started a discussion on my website with a view of promoting it.I had put several links to my website in that discussion.I didn't knew that it was against mylot policy.It did that completely out of ignorance,still i had to pay for it.I hope it never happens to me again.This time im trying to be extremely careful.


• Philippines
17 Jan 12
I have received so much notifications to. Not only five or ten. And I was given a violation too for a comment that tries to explain how one can earn well on myLot. Well the discussion of the person is still there until but only my comment was deleted. Since then, I avoid jumping into such discussion or as much as possible I try to limit my response on such same topic. I am not sure whether there is any limit on the notification. But I think as long as you don't keep spamming myLot or promoting links then there won't be a problem. We tend to participate in many discussions and most of the time even how safe the discussion is, it will be deleted. Coz sometimes that is because it has been discussed before.

• Philippines
17 Jan 12
I, myself, am always reviewing myLot guidelines. To be honest with you, I am really confused with personal milestone. I have seen a lot of discussions about personal milestone. Most of them are still in the site, some were already deleted. I wonder when the topic is considered personal milestone or not.


• Philippines
17 Jan 12
Well yeah I can see a lot of that which is still not deleted. But it will actually depend on how you write it. I think if you openly write it on the title it might get deleted immediately. If the Admin didn't see it you're gonna be lucky