Revenge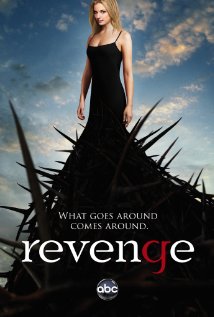 United States
January 21, 2012 11:30am CST
I am watching the new ABC tv show Revenge, If you haven't seen it it is about a girl that as a child people that she once cared about framed her father for something they did and he went to prison for a long time were he was killed and she had to grow up in a foster home, well now all grown up she came back to her old town to get revenge on everyone who done her wrong, well it got me thinking about all the people that did me wrong in my life. And although I would never do what this girl is doing in the show, I also am a firm believer of Karma so I would never do anything that would cause me bad Karma. Anyway a couple of years ago I was living with this guy who I was falling for and he broke my heart well months later I had a new boyfriend and ran into him at the grocery store, well this guy had the nerve to say hi to me (and the way he said was as if nothing happend) and I just stared at him then I said hi back well my boyfriend asked me out loud in front of him and I said no one important and we walked away. Now I know that that's really not revenge but at that moment I made him feel how he made me feel for months after breaking my heat.
4 responses

•
21 Jan 12
Revenge has recently been one of my favourite series. I haven't missed its single episode and can't wait for the next one to be aired again. I love the actress. She is pretty and her acting is real good. And I love the way how women are shown independent plus powerful in this series. Both Victoria and Emily are leading actress of this series and one hell of powerful women, one trying to get the revenge and the other protecting herself and her family. I just loved this series. And as for Karma, it always comes back and people have to pay for their sin. I am firm believer of karma and I think sooner or later every people get what they deserve.

• United States
22 Jan 12
Emily Van Camp has done some amazing acting work and I think that she's very underrrated. I hope she gets bigger roles out of this, in movies and other stuff. The actress that plays Victoria does a perfect job of creating this cold character who does want to take care of her family but is so controlling at the same time. I find myself looking at her face throughout the show because you can get so much out of her face while watching her. It sounds weird but her face gives me so much insight into her character and she is just really good. Like you I believe in karma as well.

• Philippines
21 Jan 12
Revenge has to be one of my favorite TV shows as of the moment. It's just so brilliantly done - music, storyline, characters - everything's just amazing. I find Emily Van Camp (the actress who plays Emily Thorne) an especially effective actress. Sometimes, I actually get chills when I watch her! Anyway, there are times when I think of what I would do if I were in her shoes. Honestly, I feel like I would extract revenge too, because what the Graysons did to Emily's father was just horrible. If that guy treated you like crap, he clearly doesn't deserve you. Looks like you're much happier with your new boyfriend. I wish you all the best!

• United States
21 Jan 12
Oh I agree she's great at it and draws you further in wanting more, and with them having flash backs to show what happened is even better. I never seen her in any other shows or movies but will most definitely watch her. and thanks for the complement :)

• United States
22 Jan 12
I love this show so much! It has got to be one of the best new shows this past season so far. I find myself asking myself whether I would do what Emily has done and whether I would go as far as she has gone. I don't know what I would do but I understand her hatred for these people because she did in fact lose everything and never got the chance to grow up a happy child with her father who loved her tremendously. I think the actress is doing such an amazing job in the show and I hope that the show remains for a long time. Good for you for doing what you had to do. I belive in bad Karma as well but there are times when you have to do something even if it is a small thing like what you did. But you can count on the fact that he was probably hurt a little bit after what you said to him, and it serves him right! Happy Mylotting!

• United States
22 Jan 12
I really like the show; it is one of the best new shows this season(fall). It shows that revenge is not as cut and dried or as easy as one might think. Like in the latest episode, she was thinking of backing off quite a bit until Victoria told her son that Emily's(Amanda's) father had raped her and that was how she got pregnant with Charlotte. That just fueled the fire and was really mean of Victoria. As far as your situation goes, I have had my heart broken and, unfortunately, may have broken some hearts; it can be hard to tell for sure. But the biggest heart break for me was when the girl that I have loved the most broke it off with me and I did what is supposed to be the good thing; if you love them let them go. Even to this day, I regret that I didn't pursue her more and had not followed that old saying. I think that now we would both be happier if I had been able to get her back.