Public transportation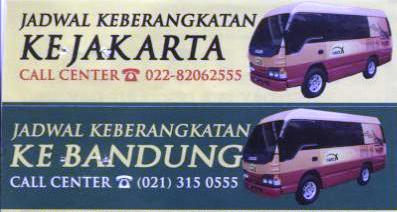 Australia
January 23, 2012 11:36pm CST
Our family recently visited Jakarta and relatives there took us to Bandung using Xtrans shuttle bus. I was quite impressed with the service. The bus is clean, driver is courteous, and departs/arrives promptly. The mini bus fits 12 passengers; and each passenger is ticketed and assigned a comfortable seat for the 2.5 hours journey. In our case, the bus is full with our 10-party family group; however, I was told that the bus will still leave on scheduled time even if it has only 1 passenger. For Rp60,000/passenger and a bottle of mineral water for the road, the cost is well worth the comforts. It's refreshing to find such a reliable means of transportation; especially in a country where the public transportation mostly ignore passengers safety and comforts.
2 responses

• Perth, Australia
21 Mar 17
@sishy7
That sounds really nice. I've only been on a bus sort of like that once. I think it was about a 5 hour drive. Was nice. I like long drives.

• Indonesia
24 Jan 12
wow...it`s impressing story.. is it your real story?? i never find the story about it when many passenger in Jakarta praise about the quality service of public transportation.. i always see many passenger is unhappy with the public transportation service..

• Australia
25 Jan 12
Well, you'll be praying for a loooong... time. Everytime I visit the traffic jam is always worse in Jakarta. Seems there is more and more motorcycles and not enough space to accomodate all road users. What can they do to improve that? I wonder if it has been a mistake since the beginning of the plan, and now it has become part of what Jakarta is and everyone there just have to accept it. However, one will never experience traffic jam in Jakarta if you are regarded as "somebody". Those VIPs just bypass all traffic leaving others to suffer even more.