Young Siblings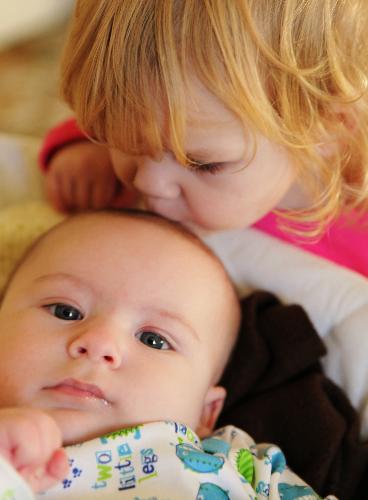 January 26, 2012 3:41pm CST
Hello Mylotters, My daughter turned two years old in December just before Christmas and my son will be six months old next week. Many people have told me that young siblings get jealous of eachother and can be aggressive or clingy or revert back to younger milestones for attention etc. So far I have experienced none of this. My daughter is very caring and loving towards her little brother and always gives him kisses and cuddles (see attached photo - yes that's my two little cherubs lol). They always giggle at each other and my daughter gets upset if her brother cries (he is teething currently). She asks for him as soon as she wakes in the morning an dalways says goodnight to him and gives him a kiss and cuddle before she goes to bed. In light of all the comments I previously had about young siblings, I now wonder about other people's experiences and if they experienced the same as me or the same as I was told to expect... So, what are your experiences with young siblings? Did you have children close together? Or were you yourself close in age to your own sibling/s? Any particular incidents that stand out in your memory?
7 responses

• Canada
27 Jan 12
i remember a lady from my church talking about her oldest daughter and their son who was quite small at the time (she probably was about 2). the lady left them alone for a minute and came back just in time to catch her daughter almost ready to bonk her brother on the head with a hairdryer! as for me, i am an only child and our 2 daughters are almost 4 years apart.

• Philippines
27 Jan 12
Hi! I believe it has something to do with the attention you give on both of them. If your child has a younger sibling, parents should explain to the older ones that younger ones need more attention without depriving the older ones of your care and attention. At one point in my life I also experience this jealousy but I was able to outgrow it as I matured. Parents should not give favoritism and should always be fair to each of their children.:))

• United States
27 Jan 12
My brother and I were about two and a half years apart and I never remember feeling any kind of jealousy towards him. My little sister, on the other hand, was six and a half years younger than me and I do remember being jealous of her when she was a baby. With that said, I tend to think that those children that are younger when their siblings are born are a lot less likely to be jealous than those children that are older when their siblings are born.

• United States
27 Jan 12
hi twardwfh, the bond of siblings is very special when that type of love is displayed... I remember when my children were 4 and 5 years old, my daughter got measles and my son played nurse to her...two weeks later my son got measles and my daughter played nurse....It was the sweetest situtation I had every seen and I will never forget... I have a 11 x 14 inch photo on my wall from when they were that same age, they were outside playing and a person passing them outside took a picture of my son kneeling down and his sister was standing up...my son was fasten/zipper his sisters coat so she would not get cold... it is just a lovely thought that they wereand still that close.... yes even as adults.... I am happy to say that I tried with all my might to instill in my children the importance of family and advised them you can pick your friends but you CAN NOT pick your family... I am glad to know that they remembered that ....

• Philippines
26 Jan 12
Some kids do feel jealous when new baby comes in the family. Good thing this never happens with my kids when they're toddlers. But now as they grow up, my second son is always jealous of his elder sister and younger brother. I tried to give him all the best attention, but still he keep complaining and jealous of her siblings. That's sometimes lead to trouble with his siblings....just petty quarrel though!

• Canada
26 Jan 12
Your children are very beautiful. My children were the same as yours. They always had fondness towards each other from the day the youngest ones came home. I honestly believe that it is because they were included in the experience of having a baby at home (allowed to help with bath, changings, feeding) and were not just pushed and did not feel as baby is all important now.