JSS Referral Commision???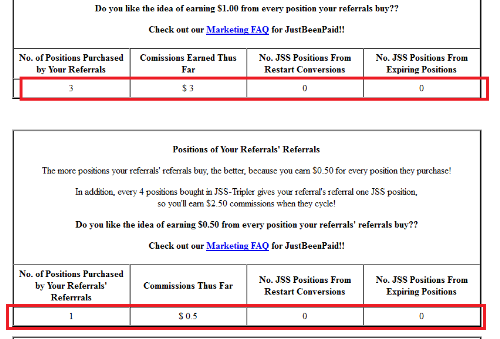 India
3 responses


• India
1 Feb 12
here is my payment proof http://investmentprograms.weebly.com/payment-proof.html I'm not talking about earning......... I'm talking about for my referral commission. when they pay me after their position expire or other method.


• Philippines
1 Feb 12
They probably just bought positions using the $10 loan that JBP provided. In that case, you won't earn commissions from those purchases. When they actually invest or purchase positions from their payment processor, then, you will be rewarded that commission. Also, if they purchase on the 50th day using the earnings they made from the $10 loan, then, you will also receive your respective commission as well.

• Philippines
1 Feb 12
If they join under the pay later of 10$ to start you will not see yet your one dollar commission for each level 1 referrals or .50 for each Level 2 referral, I understand that you only get these commissions when the purchases payment comes from real cash of your referrals not from the free to start 10$ from the program JSS. I have this expectation that when our free referrals get their purchases mature I guess the program will give us our referral commission at this time they will also deducted each position 10$.

• India
1 Feb 12
so without their depositing we not earn their commission but I think without invest they withdrawal their cash. I mean referrals withdrawal without invest right. thanx for this info.